Monica Crowley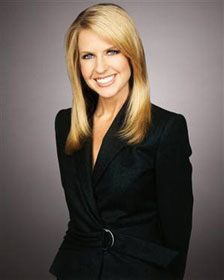 Born: 19-Sep-1968
Birthplace: Fort Huachuca, AZ

Gender: Female
Race or Ethnicity: White
Sexual orientation: Straight
Occupation: Pundit
Party Affiliation: Republican
Nationality: United States
Executive summary: Conservative commentator on FOX News
Crowley was hired as Foreign Policy Assistant to Richard M. Nixon (1990-94), after she wrote the ex-President a letter, having admired his books. She later wrote two works on her experiences in this period, giving her a foothold in the world of punditry.
An apology appeared in the Wall Street Journal regarding a 1998 article written by Crowley, with regards to apparent plagiarism:
There are striking similarities in phraseology between "The Day Richard Nixon Said Goodbye", an editorial feature Monday by Monica Crowley, and a 1988 article by Paul Johnson in Commentary magazine... Had we known of the parallels, we would not have published the article.
In 2017, CNN found 50 convincing incidents of plagiarism stemming from a variety of sources, in Crowley's 2012 book.

Crowley is now a conservative commentator on FOX News.

Sister: Jocelyn Elise Crowley (married to Alan Colmes)
Boyfriend: Bill Siegel (venture capitalist)


University: BA Political Science, Colgate University (1990)
University: PhD International Affairs, Columbia University (2000)


Council on Foreign Relations
Family Security Matters
Hoover Institution Media Fellow (2004)


TELEVISION
Connected: Coast to Coast Co-Host (Feb-2005 - Dec-2005)
MSNBC


Official Website:
http://www.monicamemo.com/

Author of books:
Nixon Off the Record: His Candid Commentary on People and Politics (1996, nonfiction)
Nixon in Winter: His Final Revelations about Diplomacy, Watergate, and Life Out of the Arena (1998, biography)
What the (Bleep) Just Happened? The Happy Warrior's Guide to the Great American Comeback (2012, politics)





Requires Flash 7+ and Javascript.



Do you know something we don't?
Submit a correction or make a comment about this profile






Copyright ©2019 Soylent Communications