Jacques Chirac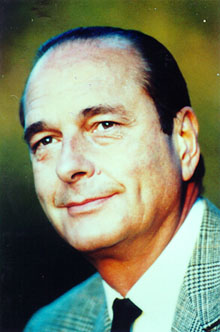 AKA Jacques Rene Chirac
Born: 29-Nov-1932
Birthplace: Paris, France

Gender: Male
Religion: Roman Catholic
Race or Ethnicity: White
Sexual orientation: Straight
Occupation: Head of State
Party Affiliation: See Note [1]
Nationality: France
Executive summary: President of France, 1995-2007
Military service: French Army (1954-57)
Former French President Jacques Chirac was the butt of jokes, a suspected crook, yet very popular with the French people. He was first elected President in 1995, then re-elected in 2002 with almost 82% of the vote. Chirac was the mayor of Paris from 1977 to 1995, and Prime Minister of France from 1974-76 and again from 1986-88. He first ran for President in 1981, but lost soundly to the socialist François Mitterrand. Chirac ran again in 1988, and lost again, then ran a third time in 1995 and won. Opponents and supporters alike call Chirac "the Bulldozer".
A few weeks after his inauguration, Chirac announced that France would resume testing nuclear weapons in the South Pacific. The people of the South Pacific made a ruckus, including violent protests in the French territory of Tahiti, quelled when Chirac sent in the French Foreign Legion. Six months after announcing the testing, France conducted its last nuclear test, and Chirac announced his support for a comprehensive test ban.
Chirac is implicated in several major scandals, but as President of France he was immune from prosecution until he left office. Investigators suspect he oversaw illegal party financing while he was the mayor of Paris. There are also messy questions involving pro-Chirac vote-rigging. Other investigators have questioned dubious disbursements of Chirac funds for his friends and family, and a once-secret multi-million-euro bank account in his name.
On 14 July 2002, a would-be assassin with links to the far right-wing fired a shot at Chirac's motorcade, but was immediately overpowered by nearby French civilians.
In 2002 and 2003, he led an international call for continued inspections to keep Saddam Hussein's Iraq in check, which put Chirac at odds with growing U.S.-led calls for war. Polls showed that most of the French public agreed with Chirac. This made Chirac and France the punchline of Americans' jokes and the focus of U.S. disdain.
As a young man, Chirac was a communist activist, and of course, this was used against him in his early political life. Before he became a prominent French leader, his ancient communist connections cause him some difficulty getting past U.S. Customs and visiting the United States.
In 2005, Chirac made several impolitic comments about English food. "The only thing they [Britain] have contributed to European agriculture is the mad cow." And also, "You can't trust people who cook as badly as them [the British]... after Finland, Britain is the country with the worst food."
---
[1] Union for a Popular Movement (UMP).

Father: Francois Chirac (company director)
Mother: Marie-Louise (nee Valette)
Wife: Bernadette Chodron de Courcel (m. 16-Mar-1956)
Daughter: Laurence Chirac
Daughter: Claude Chirac (Chirac's communication supervisor; i.e. press secretary)


High School: Lycee Louis-le-Grand, Paris (1950)
University: BA Political Science, Institut d'Études Politiques de Paris (1954)


President of France (7-May-1995 to 16-May-2007)
Mayor of Paris (19-Mar-1989 to 16-May-1995, a third time)
Prime Minister of France (20-Mar-1986 to 10-May-1988)
Mayor of Paris (20-Mar-1983, a second time)
Member of the European Parliament (10-Jun-1979, resigned 1980)
Mayor of Paris (20-Mar-1977)
Prime Minister of France (27-May-1974 to 1976)
French Minister Interior (1974)
French Minister Agriculture (1973-74)
Ig Nobel Prize Peace (1996)
Assassination Attempt Paris, France (Jul-2002)
Stroke 3-Sep-2005 (minor)
Animal Bite mauled by his poodle (Jan-2009)
Embezzlement abuse of public funds, allegedly disbursed €2.2M 1992-95 (charged 2010; convicted 2011)
Wedding: Francois-Henri Pinault and Salma Hayek (2009)
Risk Factors: Pacemaker


FILMOGRAPHY AS ACTOR
White Material (6-Sep-2009)





Requires Flash 7+ and Javascript.



Do you know something we don't?
Submit a correction or make a comment about this profile






Copyright ©2019 Soylent Communications