Charles Keating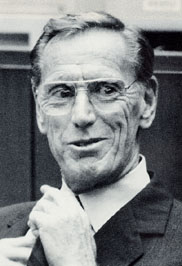 AKA Charles Humphrey Keating, Jr.
Born: 4-Dec-1923
Birthplace: Cincinnati, OH
Died: 1-Apr-2014
Location of death: Phoenix, AZ
Cause of death: unspecified

Gender: Male
Religion: Roman Catholic
Race or Ethnicity: White
Sexual orientation: Straight
Occupation: Business
Nationality: United States
Executive summary: Morality crusader, white-collar swindler
Military service: US Navy (trained as fighter pilot, did not see action, 1943-45)
Charles Keating is one of the primary reasons that Cincinnati has become engaged in high-profile attempts at prosecuting pornography. In 1956, the Rev. Nicholas Gelin challenged him about smut, "Well, Charlie, what have you done about it?" By 1957 he had founded Citizens for Decent Literature (which later morphed into the Children's Legal Foundation), and was involved in pornography prosecutions in the city. He served on Richard M. Nixon's U.S. Commission on Obscenity and Pornography, which came to the un-Keating-like conclusion that pornography was not, indeed, harmful.
"The decent people of America [...] are going to wage a holy -- yes -- a holy war against the merchants of obscenity [...] From this day forward I will not rest, and no one connected with CDL will rest, until every pornographer in America is out of business, in jail, or both."
In a strange move, Keating sold property in Cincinnati with illegal covenants on the deeds: restricting the content of lawful "adult materials" within the residences, and forbidding the subsequent owners or their tenants from receiving or abetting abortions. Keating also felt that homosexuals should be jailed based solely on their homosexuality.

Typical of other morality crusaders, Keating himself was morally bankrupt. He is nationally known not because of his views on pornography, but his 1992 conviction for swindling small investors of their money, in the collapse of Lincoln Savings and Loan. Keating received inappropriate loans, received compensation he was not rightfully entitled to, sold stock back to the company at inflated prices, spent company money on himself in inappropriate ways, and generally was treated preferentially over other customers of the institution because of his inside connection. He was sentenced to nine years in prison, overturned on a technicality.

Father: Charles H. Keating, Sr. (dairy farmer)
Mother: Adele Kipp
Brother: William J. Keating (US Congressman, chair of Cincinnati Enquirer)
Wife: Mary Elaine Fette (m. 1948)
Daughter: Mary Hall
Son: Charles Keating III


High School: St. Xavier High School, Finneytown, OH (1941)
University: Wooster University, Wooster, OH
University: University of Georgia
University: University of Cincinnati
University: Ohio State University
University: University of Cincinnati (1946)
Law School: University of Cincinnati (1948)


Keating, Muething & Klekamp
Keating Five
Bankruptcy
Securities Fraud convicted of 17 counts 4-Dec-1991, overturned 3-Apr-1996
Conspiracy convicted 6-Jan-1993, overturned
Fraud convicted 6-Jan-1993, overturned 2-Dec-1996
Racketeering convicted 6-Jan-1993, overturned
Transporting Stolen Property convicted 6-Jan-1993, overturned
Wire Fraud pled guilty 6-Apr-1999
Fraud (bankruptcy fraud) pled guilty 6-Apr-1999
Inmate: Los Angeles County Jail Sep-1990
Stomach Pumped swallowed shampoo (27-Mar-1998)
Savings & Loan Debacle
German Ancestry Maternal
Irish Ancestry Paternal
Risk Factors: Homophobia


FILMOGRAPHY AS ACTOR
Inside Deep Throat (11-Feb-2005) · Himself


Official Website:
http://www.charliekeating.com/




Requires Flash 7+ and Javascript.



Do you know something we don't?
Submit a correction or make a comment about this profile






Copyright ©2019 Soylent Communications