Samuel Alito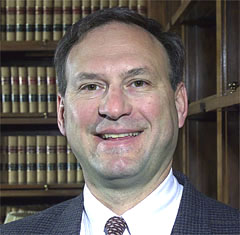 AKA Samuel Anthony Alito, Jr.
Born: 1-Apr-1950
Birthplace: Trenton, NJ

Gender: Male
Religion: Roman Catholic
Race or Ethnicity: White
Sexual orientation: Straight
Occupation: Judge
Party Affiliation: Republican [1]
Nationality: United States
Executive summary: US Supreme Court Justice
Military service: US Army Reserve (captain, 1972-80)
After graduation from Yale Law School, Alito clerked for Leonard I. Garth, 3rd Circuit (1976-77), then served as Assistant United States Attorney, New Jersey (1977-81), assistant to Solicitor General Rex E. Lee (1981-85), Deputy Assistant to Ed Meese (1985-87), US Attorney for the District of New Jersey (1987-90), where his assistant was Michael Chertoff, and then appointed by George H.W. Bush to the 3rd Circuit Court of Appeals, his confirmation occurring on 27th April 1990. On Halloween 2005 he was nominated to the US Supreme Court by George W. Bush after the derailed nomination of Harriet Miers.
Alito's judicial history is long and interesting. He helped strike down a Pennsylvania law prohibiting alcohol advertising in student newspapers (2004). In Planned Parenthood vs. Casey (1999) he was the lone dissent in favor of a law requiring spousal notification of abortions; but in 2000 he concurred in a ruling that an outright ban on late term abortions was unconstitutional, his requirement that an exception be made for the mother's health. In Saxe vs. State College Area School District (2001) he held that curbs on free speech that do not directly disrupt school are unconstitutional. Alito is a supporter of the 2nd Amendment, making his views visible in a 1996 dissent, stating that Congress had little power to regulate private possession of firearms.
Miers' withdrawal and the choice of Alito were both predicted by Bill Kristol.
---
[1] "A life-long registered Republican."

Father: Samuel Alito, Sr. (legislative director, d.)
Mother: Rose Fradusco (b. 1914)
Sister: Rosemary
Wife: Martha-Ann Bomgardner (m. 1985, one son, one daughter)
Son: Philip Samuel
Daughter: Laura Claire


High School: Steinert High School, Hamilton Township, NJ
University: BA, Princeton University (1972)
Law School: JD, Yale Law School (1975)
Professor: Adjunct, Seton Hall University School of Law (1999-2004)


US Supreme Court Justice (31-Jan-2006 to present)
US Appeals Court Judge, 3rd Circuit (1990-2005)
US Attorney District of New Jersey (1987-90)
US Justice Department Deputy Assistant to Attorney General Ed Meese (1985-87)
US Justice Department Assistant to Solicitor General Rex E. Lee (1981-85)
Assistant US Attorney District of New Jersey (1977-81)
Law Clerk Leonard I. Garth, 3rd Circuit (1976-77)
Yale Law Journal Editor
American Bar Foundation Fellow
American Law Institute 2003
The Constitution Project Sentencing Initiative (former member)
Federalist Society 1983
John Carroll Society Honorary Member
New Jersey State Bar Association 1975
New York State Bar Association 1982
Phi Alpha Delta Law Fraternity Honorary Member
Phi Beta Kappa Society
Draft Deferment: Vietnam
Italian Ancestry


FILMOGRAPHY AS ACTOR
Resolved (23-Jun-2007)





Requires Flash 7+ and Javascript.



Do you know something we don't?
Submit a correction or make a comment about this profile






Copyright ©2019 Soylent Communications