George Benson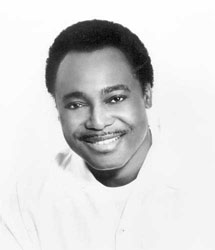 Born: 22-Mar-1943
Birthplace: Pittsburgh, PA

Gender: Male
Race or Ethnicity: Black
Occupation: Jazz Musician
Nationality: United States
Executive summary: Prominent jazz guitarist and vocalist
George Benson made an early start to his career in music -- singing, dancing and playing ukelele in a Pittsburgh nightclub at the tender age of 8. By the age of 10 he had made his first recordings as a vocalist and in his early teens he formed a rock and roll band, switching the concentration of his efforts from his voice to his guitar playing. Eventually he fell under the influence of Wes Montgomery and turned to jazz; in 1962 he began a stint as part of a trio led by Brother Jack McDuff, but by 1964 his solo career was already underway with the release of The New Boss Guitar (although still with the support of McDuff and his band). A deal with Columbia Records was made shortly afterwards, resulting in the mostly-instrumental jazz offerings Benson Burner, It's Uptown (both 1965) and The George Benson Cookbook (1966).
In the latter half of the 1960s a series of rapid moves between labels was made, a switch from Columbia to Verve in 1967 followed quickly by changes to A&M in 1968 and CTI in 1970. Output during this period firmly established Benson's reknown as a musician, and his demand as a session player increased accordingly: established names from Miles Davis to Tony Bennett were now enlisting his input for their own records. With his move to Warner Brothers in 1976, Benson once again began to bring his vocal skills to the fore; the result was Breezin', an album that -- fueled by the popular song This Masquerade -- would become the first jazz record to achieve platinum status.
Despite resentment from the jazz-snobs in his audience, pop success for the guitarist continued into the next decade, its peak being reached with the top ten title track to 1980's Quincy Jones-produced Give Me The Night. Towards the end of the 1980s, however, the ride on the pop charts was over and a return was made to his jazz roots with Tenderly (1989), an album of standards (with a cover of The Beatles' Here, There And Everywhere thrown in for good measure). This was followed by a collaboration with The Count Basie Orchestra, released in 1990 under the title Big Boss Band.
In 1996 Benson made yet another label jump -- this time to the "adult-contemporary" jazz stable GRP, with whom he has remained since. The new association was launched with the album That's Right, an R&B collection that met with mixed reviews: some considered a return to form, while others condemned it as uninspired jazz kitsch. Subsequent GRP releases (Standing Together (1998), Absolute Benson (2000), and Irreplaceable (2004)) have been given a warmer reception.
Grammy Record of the Year (1976)
Grammy Best Pop Instrumental Performance (1976)
Grammy Best Rhythm & Blues Instrumental Performance (1976)
Grammy Best R&B Vocal Performance, Male (1978)
Grammy Best R&B Vocal Performance, Male (1980)
Grammy Best R&B Instrumental Performance (1980)
Grammy Best Jazz Vocal Performance (1980)
Grammy Best Pop Instrumental Performance (1983)
Hip Replacement Surgery 1999

FILMOGRAPHY AS ACTOR
Listen Up: The Lives of Quincy Jones (3-Oct-1990) · Himself
Sgt. Pepper's Lonely Hearts Club Band (24-Jul-1978)

Official Website:
http://www.georgebenson.com/
Do you know something we don't?
Submit a correction or make a comment about this profile

Copyright ©2019 Soylent Communications