Barbara Kent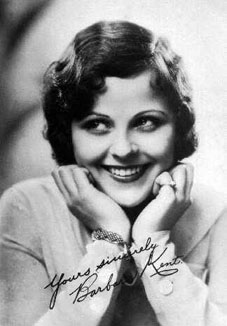 AKA Barbara Cloutman
Born: 16-Dec-1907
Birthplace: Gadsby, Alberta, Canada
Died: 13-Oct-2011
Location of death: Palm Desert, CA
Cause of death: unspecified
Remains: Cremated (ashes scattered at sea)

Gender: Female
Race or Ethnicity: White
Sexual orientation: Straight
Occupation: Actor
Nationality: Canada
Executive summary: Flesh and the Devil
Barbara Kent was one of the last surviving stars from film's silent era. Gorgeous, full-figured and baby-faced, she won the Miss Hollywood beauty pageant in 1925. She had never acted, not even in school plays, but she was immediately offered a contract with Universal Studios. The studio gave her a few brief acting lessons before she made her debut as the only woman in the western Prowlers of the Night, batting her eyelashes as she nursed the wounded sheriff back to health.
In the landmark 1926 film Flesh and the Devil, Greta Garbo played a deliciously wicked vamp, stealing John Gilbert while the lovelorn Kent displayed her broken heart in an Oscar-worthy supporting performance (but the Academy did not yet exist). In 1927's No Man's Law Kent swam nude on screen, generating great controversy and ticket sales, although Kent later maintained she had worn a bathing suit the same color as her skin. That film also featured Oliver Hardy in a serious role as the menacing villain, but top billing went to Rex the Wild Horse.
She starred in Lonesome and William Wyler's The Shakedown, transition films (mostly silent, but some scenes had sound as a "special effect"). Kent's natural voice was a bit too tinny for talkies, but she overcame the problem with voice lessons. Her career peaked when she played superstar Harold Lloyd's love interest in his first two talkies, Welcome Danger and Feet First.
Kent had featured roles in the first sound adaptations of Vanity Fair and Oliver Twist. In Reckless Decision, an early exploitation film, she played a teenaged girl -- a preacher's daughter -- seduced by the illicit pleasures of loose morals, alcohol, and jazz music. At 27, she was still believable as a high schooler, but her star was already fading.
Her husband, Harry Edington, was a longtime Hollywood producer whose credits stretch back to the silent epic Ben-Hur: A Tale of the Christ. He tried to revive Kent's career in the late 1930s, but her roles became smaller and her films less prestigious. Her last film was Guard That Girl in 1935, but she remained in Hollywood and continued occasionally auditioning for roles into the early 1940s.
After her husband died in 1949, Kent left show business. She has been living in a retirement home in Sun Valley, Idaho, for many years, refusing all requests for interviews. Even her neighbors are said to be unaware that she was once an actress.
Husband: Harry E. Edington (agent and film producer, m. 1932, d. 10-Mar-1949)
Husband: Jack Monroe (engineer, d. 1998)

High School: Hollywood High School, Hollywood, CA (1924)

Beauty Contest Miss Hollywood 1925

FILMOGRAPHY AS ACTOR
Under Age (24-Apr-1941)
Old Man Rhythm (2-Aug-1935)
Oliver Twist (28-Feb-1933)
Emma (2-Jan-1932)
Indiscreet (25-Apr-1931)
Feet First (8-Nov-1930)
The Night Ride (12-Jan-1930)
Welcome Danger (12-Oct-1929) · Billie Lee
The Drop Kick (25-Sep-1927)
Flesh and the Devil (25-Dec-1926) · Hertha

Do you know something we don't?
Submit a correction or make a comment about this profile

Copyright ©2019 Soylent Communications