Gary Glitter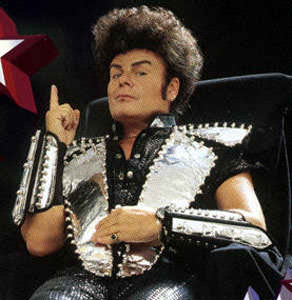 AKA Paul Francis Gadd
Born: 8-May-1944
Birthplace: Banbury, Oxfordshire, England

Gender: Male
Religion: Buddhist
Race or Ethnicity: White
Sexual orientation: Matter of Dispute
Occupation: Musician
Nationality: England
Executive summary: Rock and Roll Part 2
Gary Glitter is a British rock and pop performer who first rose to fame in the early 1970s. His unique style blended glam rock with a driving yet upbeat 1950s style rock and roll. Glitter's most popular hits include "I'm the Leader of the Gang (I Am)", "Do You Wanna Touch", and "Rock And Roll (Part 2)". His "Another Rock And Roll Christmas" remains one of the U.K.'s Top 30 Christmas hits of all time. Despite serious up and downs, Glitter's career produced 21 hit singles in the U.K., earning him a spot among the Top 100 most successful British chart artists. In the late 1980s and early 1990s, Glitter experienced a significant career revival, but the ride was cut short by his arrest on child pornography charges in 1997. After a lengthy investigation and trial, he was convicted in 1999 and served a short jail term. In November of 2005, Glitter was arrested in Viet Nam for committing obscene acts with two young girls. On 3 March 2006 he was sentenced to three years in prison.
Gary Glitter was born Paul Francis Gadd on 8 May 1944 in Banbury, Oxfordshire. An illegitimate child, he was apparently raised solely by his mother and grandmother, save for some time in foster care. In 1958, the young teen took the stage name Paul Russell -- borrowing the surname from his stepfather -- and formed his first band, Paul Russell and his Rebels. According to Glitter the group's first gig was at the Sutton Granada where they took part in a Saturday morning Skiffle contest. Supplementing their equipment with homemade instruments, the group performed a rendition of Buddy Holly's "Oh Boy". The future Godfather of Glam then launched into the London club scene, scoring gigs at Soho's famed 2 I's, the Safari club, Laconda, and various others.
His discovery by former movie producer Robert Hartford Davis looked like the big break Gadd, now billed as Paul Raven, had been waiting for. But his January 1960 release of the single "Alone in the Night" went nowhere. Similarly a 1961 recording deal with Parlophone, which produced the singles "Walk On By" and "Tower of Strength", fizzled with poor sales. The following year found Gadd was paying the bills doing studio warm-up on the set of British TV show Ready, Steady, Go. It was here that he met composer/producer Mike Leander who, in 1965 invited Gadd to join his Mike Leander Show Band. Although the band folded soon after, it was the beginning of many years of successful collaboration.
By the early 70s Gadd was finally developing his trademark style, a fusion of the glam rock then sweeping Europe and the old school rock-n-roll of childhood idols like Bill Haley and Chuck Berry, both of whom Gadd worked briefly with in different periods. Leaving behind the persona of Paul Raven, and Boston International, the band with which he'd been touring, Gadd rechristened himself Gary Glitter -- choosing the alliterative moniker over alternatives Vicky Vomit, Stanley Sparkle, and Terry Tinsel.
Already signed with MCA records via their new head, good pal Mike Leander, Gadd released his now famous "Rock and Roll (Part 2)" -- a chantlike anthem that was light on vocals and heavy on drum. Although only a small part of a larger project ("Part 1" became big in France), the song went on to become number two on the U.K. music charts, and to make the top ten in the US. With his "sound" discovered at last, Gadd/Glitter rose to potent but unsteady stardom. He sold out the London Palladium in 1973, and with Leander fueling his compositions, he became a frequent fixture on the U.K. hits charts for the next decade.
But in 1975 Glitter's career slumped, with new releases failing to hit the mark. In March of 1976 he announced his retirement, a move that was later proved a publicity stunt. Its payoff was potent but brief, and after a run of concerts he was again struggling. Glitter moved to New Zealand where he played a slightly pudgy Frankenfurter in a production of Rocky Horror and popped out a couple of minor hits for the U.K. audience ("A Little Boogie Woogie in the Back of My Mind" and "It Takes All Night Long"). Along the way he delved deeper into drugs and alcoholism, and his Glitter Band broke away to form an entity of its own.
In 1980 Gary Glitter's financial troubles came to a massive head. His expensive pop star tastes, including his hundreds of special-made silver "glitter" suits and scores of shiny platform boots and bouffant wigs, had driven him into such heavy debt that he was forced to declare bankruptcy. The sale of all his worldly goods, including his awards, left a hefty deficit of £180,000 in unpaid taxes. Ever resourceful, Glitter managed to reinvent himself, touring the college circuit, jamming with various punk bands, and playing roughly 80 shows a year. He even started hitting the charts again -- with a dance medley version of his greatest hits, "All That Glitters" and "Dance Me Up" as well as the now classic "Another Rock and Roll Christmas." The new Glitter embraced Buddhism and became a vegetarian.
Despite various set backs, including a third conviction for drunk driving and a ten year ban on his driving privileges, things continued to follow a general upswing for Glitter. Collaborations and appearances with popular artists like Rod Stewart and U.K. psychedelic band Doctor and the Medics were bringing him additional attention, and he was soon much in demand as a live performer. His live performance at Chicago's 1994 World Cup concert, which aired in 46 countries, was extremely well received. His "Rock and Roll (Part Two)" was now ensconced as a classic sports anthem, on two continents, and would later make an appearance in the popular British film The Full Monty. TV stations in the U.S. routinely use the tune as background music for sports segments.
Meanwhile a number of artists were rediscovering and retransmitting Glitter's work, either by incorporating elements into their own style (as with Alice Cooper, Adam Ant, Marco Pirroni, Kiss, Aerosmith, and The New York Dolls) or by cutting covers of Glitter classics. Most notable among the latter, in the U.S. at least, was Joan Jett's cover of with "Do You Wanna Touch Me (Oh Yeah)." In the U.K., Oasis gave Glitter the nod by borrowing lines from his "Hello, Hello, I'm Back Again", providing him with copious royalties. All in all he seemed well on his way to becoming a beloved rock and roll institution, buoyed up by the dual wave of nostalgia and belated respect. Even his ex-girlfriend's tabloid tell-all, revealing how the bald Glitter had made her wash his wigs, couldn't bring him down.
In 1997 he was poised to appear in the new Spice Girls film, singing his classic hit "Leader of the Gang", and he had just earned two million pounds selling the rights to all his songs. Things appeared to be reaching a new high, when Glitter was arrested on child pornography charges. According to police, the employees at the Bristol branch of PC World were repairing Glitter's computer when they stumbled across his large cache of hardcore kiddie porn. When police searched his home they found a hoard of some 4,000 images, most depicting children between the ages of three and six. Some showed children as young as two years old, and many showed graphic molestation. Meanwhile, Glitter's use of porn sites suggested he was swapping files with other pedophiles, increasing the seriousness of his case.
As news hit the papers, stores throughout the U.K. withdrew his records from the shelves. Glitter was promptly edited out of the Spiceworld film, and a scheduled Glitter performance for BBC's Children in Need benefit was cut. Then the next bombshell hit: a young woman came forward alleging that Glitter had engaged in sex with her when she was only 14 years old. If proven the allegation would lead to even heavier jail time for Glitter, and would add the legal stigma of prior convictions when his pornography case came to court. As it turned out, the young woman was none other than Allison Brown, the same ex-girlfriend who'd embarrassed Glitter in the tabloids in 1993. Brown eventually admitted the relationship had taken place with the blessing of her parents. And when it came out that Brown was being paid by the News of the World to come forward, and that she had been promised additional payments if her testimony landed Glitter in prison, her case was dropped.
But the kiddie porn charges stuck, earning Glitter a few months in prison in 1999 and official classification as a sex offender. When his stint was up he dropped out of sight, secretly leaving the U.K. to live in Cuba with girlfriend Yudenia Sosa Martinez. But the tabloids got wind of his location and Glitter again fled. When he resurfaced in Cambodia in April of 2002, government officials pressured him to leave the country, fearing that the presence of a high-profile sex offender would only add to their nation's image as a pedophile spa. But Glitter later returned to Cambodia, only to be jailed for two days by police and formally deported on 8 January. The following day Cambodian officials permanently barred Glitter from the country.
Although initially deported to Thailand, by 2005 he was living in Vũng Tàu, Viet Nam, and applying for permanent resident status. Meanwhile a documentary, Remember Me This Way, filmed while Glitter was at his first career peak in 1973, was re-released onto DVD. Glitter released a couple albums -- repackaged material in "The Remixes" and "Live In Concert" as well as totally new material in his 2001 album "On." All in all he seemed to be adjusting reasonably well to the role of tarnished expatriate artist. But on 16 November 2005 both the Vietnamese and British press reported that Glitter was on the run and under investigation for underage sex. Three days later Glitter was arrested in Ho Chi Minh City while trying to board a plane bound for Thailand.
In the police investigation that followed, Glitter was alleged to have been sexually involved with at least half a dozen underage girls. But the case eventually narrowed to sexual misconduct, and allegations of possible child rape, involving two girls, aged 11 and 12. Because of the rape charge, Glitter faced the possibility of death by firing squad if found guilty. But on 26 December, the rape charge was dropped due to insufficient evidence. Reportedly, Glitter paid financial restitution to the girls' families, who in return petitioned the courts for clemency on his behalf.
However, Glitter still faced the possibility of some seven years in prison for his offenses, which allegedly included kissing and fondling both girls, ejaculating on the stomach of one girl, and having the other urinate in his mouth. Locals interviewed about the case reported that Glitter was often seen in the company of young girls, although he has since claimed he is totally innocent of the charges against him and was merely tutoring the girls in English. On the day of his trial he told press that he was "framed by you know who." Meanwhile fellow expatriates in Vũng Tàu, more familiar with Glitter's past, were astounded and amused by his foolishness and naiveté, pointing out that given his fame and past conviction it would have been wise to avoid all underage contact -- innocent or otherwise.
On 3 March 2006 Glitter was convicted of sexually abusing both girls and sentenced to three years in prison, with the four months Glitter spent in prison during investigations counting toward his term. He was released from prison on 19 August 2008, and Vietnamese authorities promptly took steps to have Glitter deported.
In 2012 Glitter was arrested in what was dubbed "Operation Yewtree," the British crackdown on child abuse following the scandal involving BBC host Jimmy Savile. After some charges were dropped, he was convicted in 2015 of attempted rape, having sex with an underage girl, and four counts of indecent assault.
Wife: Anne Merton (div., 2 children)
Son: Paul
Daughter: Sarah
Girlfriend: Yudenia Sosa Martinez (Cuban)
Son: Gary Jr. (b. 2-Feb-2001)

Endorsement of Heinz
Bankruptcy £170,000 in back taxes (1980)
Drug Overdose sleeping pills (1986)
Driving While Intoxicated third time (1986)
Child Pornography Bristol, England (18-Nov-1997), convicted (12-Nov-1999)
Child Molestation arrested in Phnom Penh, Cambodia (25-Dec-2002), charges dropped
Deported from Cambodia (28-Dec-2003)
Child Molestation arrested in Ho Chi Minh City, Vietnam (19-Nov-2005), convicted (3-Mar-2006), sentenced to 3 years in prison
Attempted Rape London, England (convicted, 6-Feb-2015)
Indecent Acts London, England (convicted on four counts, 6-Feb-2015)
Statutory Rape London, England (convicted, 6-Feb-2015)
Coolest Headshots
Registered As Sex Offender 1999
Risk Factors: Vegetarian, Cocaine, Alcoholism, Urolagnia, Toupee

Rotten Library Page:
Gary Glitter
Do you know something we don't?
Submit a correction or make a comment about this profile

Copyright ©2019 Soylent Communications