Menno Simons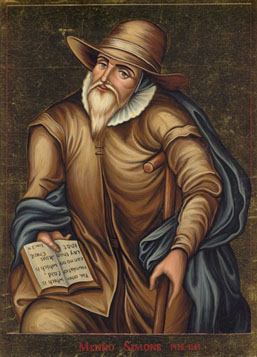 AKA Menno Simonsz
Born: c. 1492
Birthplace: Witmarsum, Friesland, Netherlands
Died: 31-Jan-1561
Location of death: Lübeck, Holstein, Germany
Cause of death: unspecified

Gender: Male
Religion: Protestant
Race or Ethnicity: White
Sexual orientation: Straight
Occupation: Religion
Nationality: Netherlands
Executive summary: Dutch Protestant reformer
Religious leader born in 1492 or 1496 at Witmarsum in Friesland. Of his parentage (apart from his patronymic) and education nothing is known. He was not a man of learning, nor had he many books; for his knowledge of early Christian writers he was partly indebted to the Chronica or compilations of Sebastian Franck. At the age of twenty-four he entered the priesthood, becoming one of two curates under the incumbent of Pingjum, a village near his birthplace. He accused himself, with the other clergy, of lax and self-indulgent living. Doubts about transubstantiation made him uneasy; some of Martin Luther's tracts fell in his way, and he was comforted by Luther's dictum that salvation does not depend on human dogmata. Hence he began to study the New Testament. The question as to the right age for baptism came up; he found this an open matter in the early church. Then the execution, in March 1531, at Leeuwarden, of the tailor Sicke Freerks, who had been rebaptized in the previous December at Emden, introduced further questions. Menno was not satisfied with the inconsistent answers which he got from Luther, Martin Bucer and Heinrich Bullinger; he resolved to rely on Scripture alone, and from this time describes his preaching as evangelical, not sacramental.
In 1532 he exchanged his curacy for a living at Witmarsum, in response to a popular call. Anabaptism of the Münster type repelled him. His first tractate (1535, first printed 1627) is directed against the "horrible and gross blasphemy of John of Leiden" -- though the genuineness of this tract has been doubted. A brother of Menno joined the insurgent followers of John Matthyszoon, and was killed at Bolsward (April 1535). Blaming the leaders by whom these poor people had been misled, Menno blamed himself for not having shown them a straight course. Accordingly on the 12th of January 1536, he left the Roman communion. There were now among the so-called Anabaptists four parties, the favorers of the Münster faction, the Batenburgers, extremists, the Melchiorites and the Obbenites. For a time Menno remained aloof from both Melchior Hofmann and Obbe Philipsz. Before the year was out, yielding to the prayer of six or eight persons who had freed themselves from the Münster spell, he agreed to become their minister, and was set apart (January 1537) to the eldership at Groningen, with imposition of hands by Obbe Philipsz, who is regarded as the actual founder of the Mennonite body. In fact, Obbe left the body and is stigmatized as its Demas. Menno repudiated the formation of a sect; those who had experienced the "new birth" were to him the true Christian church, which was limited by no decree of reprobation. His Christology was in the main orthodox, though he rejected terms (such as Trinity) which he could not find in Scripture, and held a Valentinian doctrine of the celestial origin of the flesh of Christ. His church discipline was drawn from the Swiss Baptists. Silent prayer was a feature of the worship; sermons were without texts. Neither baptism (by pouring on the head) nor the Lord's Supper (with the accompaniment of feet-washing) conferred grace; they were divine ordinances which reflected the believer's inward state. Marriage with outsiders was prohibited; women had no part in church government. Oaths and the taking of life were absolutely forbidden; hence the magistracy and the army were for the Mennonite unlawful callings; but magistrates were to be obeyed in all things not prohibited by Scripture.
The subsequent career of Menno was that of an active missioner; his changes of place, often compulsory, are difficult to trace. He was apparently much in East Friesland until 1541; in North Holland, with Amsterdam as centre, from 1541 to 1543; again until 1545 in East Friesland (where he held a disputation at Emden with John à Lasco in January 1544); until 1547 in South Holland; next, about Lübeck; at Wismar in 1553-54 (he held two disputations with Martin Micronius at Norden in February 1554); lastly at Wüstenfelde, a village near Oldesloo, between Hamburg and Lübeck, where he died on the 13th of January 1559. He had married one Gertrude at Groningen, and left a daughter, by whom the dates of his birth and death were communicated to P. J. Twisch, for his Chronyk (1619).
Menno's writings in Plattdeutsch, printed at various places, are numerous, with much sameness, and what an unfriendly critic would call wool-gathering; through them shines a character attractive by the sincerity of its simple and warm spirituality, the secret of Menno's influence. The collection of his Opera Omnia Theologica (Amsterdam, 1681), folio, in a Dutch version, comprises twenty-three tractates, with reference to nine unprinted. His main principles will be found in his Dat Fundament des Christelycken Leers (1539, 8vo). A selection (Gedenkblätter) from his writings, in a German version, in honor of the (supposed) tercentennial of his death was edited by J. Mannhardt (Danzig, 1861) with an appendix from the writings of Dirk Philipsz (1504-1570), brother of Obbe, and Menno's henchman. His writings are published in English at Elkhart, Indiana.
Wife: Geertruydt

Do you know something we don't?
Submit a correction or make a comment about this profile

Copyright ©2019 Soylent Communications