Parmigiano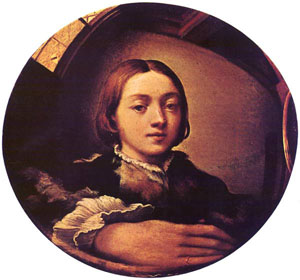 AKA Girolamo Francesco Maria Mazzuoli
Born: 11-Jan-1503
Birthplace: Parma, Italy
Died: 24-Aug-1540
Location of death: Casalmaggiore, Cremona, Italy
Cause of death: Fever

Gender: Male
Religion: Roman Catholic
Race or Ethnicity: White
Occupation: Painter
Nationality: Italy
Executive summary: Painter of the Lombard School
The name of this celebrated painter of the Lombard school was, in full, Girolamo Francesco Maria Mazzuoli, or Mazzola; he dropped the name Girolamo, and was only known as Francesco. He has been more commonly named Il Parmigiano (or its diminutive, Il Parmigianino), from his native city, Parma. Francesco, born on the 11th of January 1504, was the son of a painter. Losing his father in early childhood, he was brought up by two uncles, also painters, Michele and Pier-Ilario Mazzola. His faculty for the art developed at a very boyish age, and he addicted himself to the style of Correggio, who visited Parma in 1519. He did not, however, become an imitator of Correggio; his style in its maturity may be regarded as a fusion of Correggio with Raphael and Giulio Romano, and thus fairly original. Even at the age of fourteen (Giorgio Vasari says sixteen) he had painted a "Baptism of Christ", surprisingly mature. Before the age of nineteen, when he migrated to Rome, he had covered with frescoes seven chapels in the church of S. Giovanni Evangelista, Parma. Prior to starting for the city of the popes in 1523 he deemed it expedient to execute some specimen pictures. One of these was a portrait of himself as seen in a convex mirror, with all the details of divergent perspective, etc., wonderfully exact -- a work which both from this curiosity of treatment and from the beauty of the sitter -- for Parmigiano was then "more like an angel than a man" -- could not fail to attract. Arrived in Rome, he presented his specimen pictures to Pope Clement VII, who gladly and admiringly accepted them, and assigned to the youthful genius the painting of the Sala de' Pontefici, the ceilings of which had been already decorated by Giovanni da Udine. But while fortune was winning him with her most insinuating smiles, the utter ruin of the sack by the Constable de Bourbon and his German and other soldiers overtook both Rome and Parmigiano. At the date of this hideous catastrophe he was engaged in painting that large picture which now figures in the National Gallery, the "Vision of St. Jerome" (with the Baptist pointing upward and backward to the Madonna and infant Jesus in the sky). It is said that through all the crash and peril of this barbarian eruption Parmigiano sat quietly before his vast panel, painting as if nothing had happened. A band of German soldiery burst into his apartment, breathing fire and slaughter; but, struck with amazement at the sight, and with some reverence for art and her votary (the other events of the siege forbid us to suppose that reverence for religion had any part in it), they calmed down, and afforded the painter all the protection that he needed at the moment. Their captain, being something of a connoisseur, exacted his tribute, however -- a large number of designs. Rome was now no place for Parmigiano. He left with his uncle, intending apparently to return to Parma; but, staying in Bologna he settled down there for a while, and was induced to remain three or four years. Here he painted for the nuns of St. Margaret his most celebrated altarpiece (now in the Academy of Bologna), the "Madonna and Child, with Margaret and other saints."
In spite of the great disaster of Rome, the life of Mazzola had hitherto been fairly prosperous -- the admiration which he excited being proportionate to his charm of person and manner, and to the precocity and brilliancy (rather than depth) of his genius; but from this time forward he became an unfortunate, and it would appear a soured and self-neglected, man. In 1531 he returned to Parma, and was commissioned to execute an extensive series of frescoes in the choir of the church of S. Maria della Steccata. These were to be completed in November 1532; and half payment, 200 golden scudi, was made to him in advance. A ceiling was allotted to him, and an arch in front of the ceiling; on the arch he painted six figures -- two of them in full color, and four in monochrome -- Adam, Eve, some Virtues, and the famous figure (monochrome) of Moses about to shatter the tables of the law. But, after five or six years from the date of the contract, Parmigiano had barely made a good beginning with his stipulated work. According to Vasari, he neglected painting in favor of alchemy -- he labored over futile attempts to "congeal mercury", being in a hurry to get rich anyhow. It is rather difficult to believe that the various graphic and caustic phrases which Vasari bestows upon this theory of the facts of Mazzola's life are altogether gratuitous and wide of the mark; nevertheless the painter's principal biographer, the Padre Aff˛, undertook to refute Vasari's statements, and most subsequent writers have accepted Aff˛'s conclusions. Whatever the cause, Parmigiano failed to fulfil his contract, and was imprisoned in default. Promising to amend, he was released; but instead of redeeming his pledge he decamped to Casal Maggiore, in the territory of Cremona. Here, according even to Vasari, he relinquished alchemy and resumed painting; yet he still hankered (or is said by Vasari to have hankered) after his retorts and furnaces, lost all his brightness, and presented a dim, poverty-stricken, hirsute and uncivilized aspect. He died of a fever on the 24th of August 1540, before he had completed his thirty-seventh year. By his own desire he was buried naked in the church of the Servites called La Fontana, near Casal Maggiore.
Grace has always and rightly been regarded as the chief artistic endowment of Parmigiano -- grace which is genuine as an expression of the painter's nature, but partakes partly of the artificial and affected in its developments. "Un po'di grazia del Parmigianino" (a little, or, as we might say, just a spice, of Parmigianino's grace) was among the ingredients which Agostino Caracci's famed sonnet desiderates for a perfect picture. Mazzola constantly made many studies of the same figure, in order to get the most graceful attainable form, movement and drapery -- the last being a point in which he was very successful. The proportions of his figures are overlong for the truth of nature -- the stature, fingers and neck; one of his Madonnas, now in the Pitti Gallery, is currently named "La Madonna del collo lungo." Neither expression nor color is a strong point in his works; the figures in his compositions are generally few -- the chief exception being the picture of "Christ Preaching to the Multitude." He etched a few plates, being apparently the earliest Italian painter who was also an etcher; but the statement that he produced several woodcuts is not correct -- he overlooked the production of them by other hands.
The most admired easel picture of Parmigiano is the "Cupid Making a Bow", with two children at his feet, one crying, and the other laughing. This was painted in 1536 for Francesco Boiardi of Parma, and is now in the gallery of Vienna. There are various replicas of it, and some of these may perhaps be from Mazzola's own hand. Of his portrait-painting, two interesting examples are the likeness of Amerigo Vespucci (after whom America is named) in the Studj Gallery of Naples, and the painter's own portrait in the Uffizi of Florence. One of Parmigiano's principal pupils was his cousin, Girolamo di Michele Mazzola; probably some of the works attributed to Francesco are really by Girolamo.
Subject of the John Ashbery poem Self-Portrait in a Convex Mirror.
Do you know something we don't?
Submit a correction or make a comment about this profile

Copyright ©2021 Soylent Communications