Andre Norton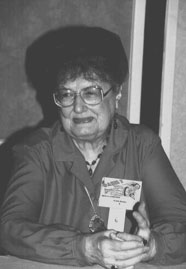 AKA Alice Mary Norton
Born: 17-Feb-1912
Birthplace: Cleveland, OH
Died: 17-Mar-2005
Location of death: Murfreesboro, TN
Cause of death: Heart Failure
Remains: Cremated

Gender: Female
Race or Ethnicity: White
Occupation: Author
Nationality: United States
Executive summary: Witch World series
The author of over 100 novels, principally in the science fiction and fantasy genre, Andre Norton is perhaps most widely known for her Witch World series. Initiated in 1963, the Witch World saga has grown to number some 35 books. One of the few science fiction notables to have entered the field by publishing books for children and young adults, Norton is also the first woman to have been awarded the Gandalf Grand Master of Fantasy and the Nebula Grand Master Awards.
Born Alice Mary Norton on February 17, 1912 in Cleveland, Ohio (she became "Andre Alice Norton" in 1934 after legally changing her name), Norton's love of books started very early in life. Her parents read to her often as a small child and her mother even recited poetry while doing the housework. Later, weekly visits to the library augmented her own growing collection of books (Norton's parents rewarded her with books in exchange for good grades), which featured Ruth Plumly Thompson's Oz novels.
Her writing career saw its first fledgling efforts while she was still a teenager at Cleveland's Collingwood High School. Here she contributed a number of short stories to and became literary page editor for the school's Collingwood Spotlight. During this period Norton also produced her first novel, Ralestone Luck, which would not be receive publishing until 1938 (following publication of her second effort, The Prince Commands). Upon graduation she attended the Flora Stone Mather College of Western Reserve University (now Case Western Reserve), intending to become a history teacher. Unfortunately, as was the case with many young people of her generation, her plans were drastically changed by the advent of the Great Depression. Forced to leave college after only a year, she took up full time employment for the Cleveland Library system. Although bright and talented, Norton found herself unable to advance (in title and salary) because she lacked a formal degree. Hemmed in by the nation's ongoing economic slump, she was unable to find other work and thus remained, working as Children's Librarian, for the next twenty years.
Meanwhile however, Norton managed to attend night school, taking courses in journalism and writing. In 1934 The Prince Commands was published and she changed her name (purportedly for marketability purposes) from Alice Mary to Andre Alice. Additional adventures for boys followed, and then in 1947 she published her first science fiction work, "The People of the Crater", published in Fantasy Book under the pseudonym Andrew North. Around or shortly after this time, Norton left her work as a librarian to become a reader for Martin Greenberg's Gnome Press. Although the work (and income) was sporadic, Norton continued with Gnome for several more years (simultaneously battling frequent attacks of vertigo). It was Greenberg who gave her the idea of writing books that could be sold as a series specifically marketed for teens -- leading her to publish (as Andrew North) Sargasso of Space, book one of the Solar Queen series. By the time she left Gnome in 1958, Norton had written twenty-three novels. And by 1978, she had added sixty-seven novels, three short story collections, five edited anthologies, and twenty-three short stories to her already her literary accomplishments.
Still writing (and publishing) in the new millennium, Norton's novels number well over a hundred. And not surprisingly given her talent and literary fecundity, she has garnered a slew of awards and acknowledgements. Her earliest recognition included Hugo Award nominations for Star Hunter (1962), Witch World (1964), and Wizard's World (1968). Later she earned, among many others, the The Phoenix Award in 1976 for overall achievement in Science Fiction, and The Gandalf Master of Fantasy Lifetime Achievement Award in 1977. In addition she has received such honors as The Balrog Fantasy Award (1979), The E. E. Smith Award (1983), The Fritz Leiber Award (1983), The Jules Verne Award (1984), and The Howard, World Fantasy Convention Award (1987). She has also received at least two lifetime achievement awards -- The Nebula Grand Master Award in 1984 and The Second Stage Lensman Award three years later -- as well as The First Fandom Hall of Fame Award in 1994.
Father: Adalbert Freely Norton
Mother: Bertha Stemm

High School: Collinwood High School, Cleveland, OH (1930)
University: Flora Stone Mather College of Western Reserve University

Official Website:
http://www.andre-norton.org/
Author of books:
Sargasso of Space (1955, as Andrew North)
Plague Ship (1956, as Andrew North)
Voodoo Planet (1959, as Andrew North)
Postmarked the Stars (1969)
Redline the Stars (1993, with P.M. Griffin)
Derelict for Trade (1997, with Sherwood Smith)
Mind for Trade (1996, with Sherwood Smith)
Black Trillium (1990, with Marion Zimmer Bradley & Julian May)
Golden Trillium (1993)
The Witch World (1963)
Web of the Witch World (1964)
Three Against the Witch World (1965)
Warlock of the Witch World (1967)
Sorceress of the Witch World (1968)
Trey of Swords (1977)
'Ware Hawk (1983)
Gate of the Cat (1987)
Lore of the Witch World (1980, Norton stories)
Tales of the Witch World (1987)
Tales of the Witch World 2 (1988)
Four From the Witch World (1989)
Tales of the Witch World 3 (1990)
To the King a Daughter (2000, with Sasha Miller)
Knight or Knave (2001, with Sasha Miller)
A Crown Disowned (2002, with Sasha Miller)
Horn Crown (1981)
Year of the Unicorn (1965)
Spell of the Witch World (1972)
Jargoon Pard (1974)
Zarsthor's Bane (1978)
The Crystal Gryphon (1972)
Gryphon in Glory (1981)
Gryphon's Eyrie (1984, with A.C. Crispin)
The Songsmith (1992, with A.C. Crispin)
Witch World: The Turning I (1991)
Witch World: The Turning II (1992)
Witch World: The Turning III (1994)
The Key of the Keplian (1995, with Lyn McConchie)
Ciara's Song (1998, with Lyn McConchie)
The Mage Stone (1996, with M. Schaub)
The Warding of the Witch World (1997)
The Elvenbane (1991, with Mercedes Lackey)
Elvenblood (1995, with Mercedes Lackey)
Elvenborn (2002, with Mercedes Lackey)
Steel Magic (1965, also titled Gray Magic)
Octagon Magic (1967)
Fur Magic (1968)
Dragon Magic (1972)
Lavender-Green Magic (1974)
Red Hart Magic (1976)
A Crown Disowned (2002, with Sasha Miller)
Atlantis Endgame (2002, with Sherwood Smith)

Do you know something we don't?
Submit a correction or make a comment about this profile

Copyright ©2019 Soylent Communications