Peter Mayhew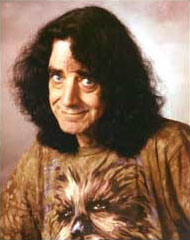 Born: 19-May-1944
Birthplace: Barnes, England
Died: 30-Apr-2019
Cause of death: unspecified

Gender: Male
Race or Ethnicity: White
Sexual orientation: Straight
Occupation: Actor
Nationality: England
Executive summary: Chewbacca in Star Wars
Peter Mayhew is the British actor who played Chewbacca, Han Solo's furry sidekick, in four of the six Star Wars movies. Mayhew was a hospital orderly who was "discovered" standing head and shoulders above the rest of the staff in a newspaper photo -- he is seven feet, three inches tall. In his first film appearance, he played a giant (with no lines) in Sinbad and the Eye of the Tiger with Patrick Wayne and Jane Seymour.
Due to his height, and the fact that his most famous role is behind a fur suit with the character's voice created electronically in editing, Mayhew rarely works as an actor -- he has survived for decades selling his autograph and attending science fiction conventions. Among his few other acting roles, he played giants in two British TV series, Hazell and Dark Towers. He also starred as Bigfoot in a low-budget and as-yet unreleased film made in 2001.
Mayhew became an American citizen in 2005, after marrying a toy dealer who specializes in Star Wars collectables.
Father: (policeman)
Mother: (homemaker)
Brother: (older)
Wife: Angelique Luker ("Angie", toy dealer, until his death, three children)

Naturalized US Citizen 17-Oct-2005

FILMOGRAPHY AS ACTOR
Star Wars: The Force Awakens (14-Dec-2015)
Yesterday Was a Lie (17-Jan-2008)
Star Wars Episode III: Revenge of the Sith (18-May-2005)
Comic Book: The Movie (27-Jan-2004) · Himself
Return of the Jedi (25-May-1983)
The Empire Strikes Back (21-May-1980) · Chewbacca
The Star Wars Holiday Special (17-Nov-1978)
Terror (1978)
Star Wars (25-May-1977) · Chewbacca

Official Website:
http://www.petermayhew.com/
Do you know something we don't?
Submit a correction or make a comment about this profile

Copyright ©2019 Soylent Communications