Uri Geller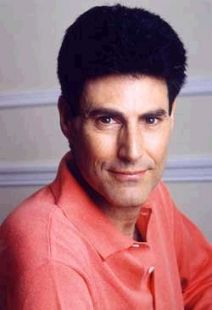 AKA Uri Geller Freud
Born: 20-Dec-1946
Birthplace: Tel Aviv, Israel

Gender: Male
Religion: Jewish
Race or Ethnicity: White
Sexual orientation: Straight
Occupation: Paranormal
Nationality: Israel
Executive summary: Thinks he has us snowed
Military service: Israeli Army (Six Days War)
As a young man, Uri Geller worked as a male model for two years, before marketing his powers of telepathy and psychokinesis -- his mind's amazing alleged ability to manipulate the physical world. Geller started performing in small nightclubs, then in larger venues, and soon spoon-bending paid better than modeling.
His first paranormality, Geller says, occurred when he was a young boy playing in tall grass, and he suddenly heard a high-pitched sound and was struck by a ray of light like a laser beam. He ran home to tell his mother, who gave him a bowl of soup ... and then his spoon started bending. Or so Geller says.
Ever since, no cutlery has been safe from Geller. And not just tableware, even keys have been bent by his unfathomable psychic powers. When he scrunches his eyebrows just so, watches stop keeping time. Of course, any of Geller's famous stunts can be performed by a competent sleight-of-hand magician, but Geller denies using any form of trickery. So it must be magic.
Over his long career, Geller has bent more than 10,000 spoons, or possibly bent the same spoon ten thousand times. He claims that he has been hired as a "psychic geologist" to help oil companies find crude petroleum reserves (but these companies' identities must remain secret). Geller also says that he has worked with both the FBI and the CIA, using what he calls 'mindpower' to "erase KGB computer files and track serial killers, to attend nuclear disarmament negotiations to bombard and influence delegates with positive thought waves so that they would sign the Nuclear Arms Reduction Treaty." We can only say, thank you, Uri Geller, for helping the world avoid nuclear catastrophe.
In 1973, Geller was invited on Johnny Carson's Tonight Show, to demonstrate his phenomenal powers by bending some spoons and identifying hidden objects. Geller accepted the challenge, but Carson also invited skeptic James Randi to ensure that no-one tampered with any of spoons, keys, or other trinkets subjected to Geller's mindpowers. The results were astounding: Geller was unable to perform any of his trademark stunts. He has also declined a long-standing offer of $1-million from Randi's organization, to subject Geller's amazing accomplishments to scientific scrutiny.
Geller has said that he probed Michael Jackson's mind and thus knew beyond doubt that Jackson was not a child-molester, so he was happy to have Jackson as best man when Geller and his wife renewed their wedding vows in 2001. Geller and Jackson, though, later had a falling-out when anti-Semitic remarks were attributed to Jackson.
At Geller's website, he sells personally autographed quartz crystals, pendants, "mindpower kits," and other paranormal supplies and souvenirs. For only £12.50 (about $23, in US funds) you can purchase a key chain (shipping and handling not included) featuring a miniaturized mirror image of a laser-beam cast of Geller's own remarkable right hand.
Father: Tibor Geller (British Army sergeant major, d.)
Mother: Margaret Geller
Father: Ladisalas Gero (stepfather, married Geller's mother)
Wife: Hanna Shtrang (m. 1979)
Son: Daniel (b. 1980)
Daughter: Natalie (b. 1982)
Son: (born to a girlfriend)

Austrian Ancestry
Hungarian Ancestry
Risk Factors: Bulimia, Vegetarian

FILMOGRAPHY AS ACTOR
Sanitarium (27-Dec-2001)
Whatever Happened to Harold Smith? (13-Nov-1999) · Himself
Dying of Laughter (12-Mar-1999) · Himself

Official Website:
http://www.uri-geller.com/
Rotten Library Page:
Uri Geller
Is the subject of books:
The Truth About Uri Geller, 1982, BY: James Randi

Author of books:
The Geller Effect (1986, with Guy Leon Playfair)
Unorthodox Encounters (2001)

Do you know something we don't?
Submit a correction or make a comment about this profile

Copyright ©2019 Soylent Communications