Tim Berners-Lee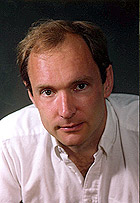 AKA Timothy John Berners-Lee
Born: 8-Jun-1955
Birthplace: London, England

Gender: Male
Religion: Unitarian [1]
Race or Ethnicity: White
Sexual orientation: Straight
Occupation: Computer Programmer
Nationality: England
Executive summary: Inventor of the World Wide Web
Born in London on 8 June 1955, Berners-Lee's education included Emanuel School in Wandsworth, and later Queen's College, Oxford. At Oxford he majored in physics and built his own computer out of spare parts. Berners-Lee was also caught hacking during his stay at Oxford and banned from using the university's computer. After graduating from Oxford in 1976, Berners-Lee worked on various programming projects before taking a position as a consultant/software engineer for CERN, the European particle physics laboratory in Geneva, Switzerland, in 1980. It was during his stint at CERN that Berners-Lee developed the first prototype of the World Wide Web. Called Enquire, the program was designed to help Berners-Lee keep track of the vast web of researchers and projects connected with CERN. The program was never released for public use.
Berners-Lee moved on to other projects, in 1984 he returned to CERN. He set to work on distributed real-time systems for scientific data acquisition and system control. He soon found himself again faced with CERN's vast and shifting networks of projects and researchers, plus CERN's own rather cranky internal system for sharing and distributing scientific information. Berners-Lee began to envision a global information space where computers around the world would be linked together, allowing researchers to surf from one body of data to another, gathering information related to their own work, while effortlessly sharing their insights and suggestions with other researchers. This system would allow researchers from far-flung nations and institutions to review and discuss not merely finished research, but also work in progress. Information could be available in days or weeks, rather than in the months or years entailed in standard print publication. Unlike CERN's current system, Berners-Lee's would be decentralized, allowing participation from various computer platforms, in various languages, without all the bureaucratic restrictions and delays. Ironically, when Berners-Lee submitted a proposal to CERN, in 1989, he received no reply. As he waited for the wheels of bureaucracy to turn he began working out the details of his system.
Drawing on the 1945 work of Vannevar Bush, as well as later work by Ted Nelson and Doug Engelbart, he wrote the Hypertext Transfer Protocol (HTTP) or language that computers would use to communicate hypertext documents via the Internet. He also worked out a scheme for locating the documents: each document would be assigned a Universal Resource Identifier, or URI, essentially its own unique address (now called a URL, or Uniform Resource Locator). By the end of 1990 Berners-Lee had written the first browser, or client program, for retrieving and viewing documents. It was this browser that he christened the WorldWideWeb. But the work was not quite done yet; Berners-Lee also had to write the first web server, the software that handles the storing and transmitting of web pages. He also had to create HTML, the Hypertext Markup Language, that describes the format and layout of material on the page.
With all this in place, and still no word of official interest in his project, Berners-Lee proceeded to set up the first web server, info.cern.ch. In 1991 he made his World Wide Web browser and web server software available on the Internet, advertising it through posts in various newsgroups, including alt.hypertext. Interest soared as users around the world began setting up their own web servers. As these new webmasters emailed him, Berners-Lee linked to their site from his own. He also utilized their feedback, and the resultant ideas from discussion groups around the world, to further evolve his design.
Once the number of users on the Web hit a certain point, its functionality, and hence its mass appeal, began to skyrocket. Scientists and other researchers discovered that it was easier to post information once, on their website, rather than to continually answer email questions and repost to Internet groups (whose traffic eventually buried most information). Government agencies also began embracing the web. But as the web grew it became necessary to develop a browser that could function on a broader variety of computers types and operating systems. With the popularity of Windows and the point and click interface, and whole new flood of potential users arrived, forcing further redesign. Other people began creating browsers to fill the gap. Most notable of these was Marc Andreessen, a then-student at the University of Illinois who developed first Mosaic and later the more familiar Netscape Navigator, followed later by the even more successful Microsoft Internet Explorer.
Unlike Microsoft founder Bill Gates, Berners-Lee's contribution to the World Wide Web did not lead to riches (although he did earn a couple of handsome cash prizes along the way). Instead he remained committed to making the web universally accessible, without patents or royalties due. To help ensure that the Web remained a free and open entity, independent of any particular government or corporation, he formed the World Wide Web Consortium in 1994. The Consortium helps to mediate the aims and conflicts of companies involved in the development of the Web and it also helps establish and promote standards and protocols that work for both web designers and for web browsers.
Berners-Lee became the first holder of the 3Com Founders Chair at MIT, where he is a senior research scientist. A Distinguished Fellow of the British Computer Society and Honorary Fellow of the Institute of Electrical and Electronics Engineers, he is both a member of the American Academy of Arts and Sciences and a Fellow of the British Royal Society. Hailed by Time magazine as one of the 100 greatest minds of this century, Berners-Lee -- or rather the Web itself -- has radically transformed the way technologically literate nations do business, entertain themselves, exchange news and ideas, and educate their children.
---
[1] "The parallels between technical design and social principles have recurred throughout the Web's history. About a year after I arrived to start the consortium, my wife and I came across Unitarian Universalism. Walking into a Unitarian Universalist church more or less by chance felt like a breath of fresh air. Some of the association's basic philosophies very much match what I had been brought up to believe. People now sometimes even ask whether I designed the Web based on these principles. Clearly, Unitarian Universalism had no influence on the Web. But I can see how it could have, because I did indeed design the Web around universalist (with a lowercase u) principles." Weaving the Web, p. 207-08.

Wife: (m.)


High School: Emanuel School, Wandsworth, England
University: BS Physics, Queen's College, Oxford University (1976)


World Wide Web Consortium Founder and Director (1994-)
American Academy of Arts and Sciences
British Computer Society Fellow
Ford Foundation Trustee
IEEE
MoveOn.org
Royal Society
World Technology Network
EFF Pioneer Award 2000
MacArthur Fellowship
Royal Medal 2000
Japan Prize 2002
Knight of the British Empire Jul-2004
Charles Stark Draper Prize 2007


FILMOGRAPHY AS ACTOR
The Internet's Own Boy: The Story of Aaron Swartz (20-Jan-2014) · Himself


Author of books:
Weaving The Web (1999, memoir)





Requires Flash 7+ and Javascript.



Do you know something we don't?
Submit a correction or make a comment about this profile






Copyright ©2019 Soylent Communications