Evel Knievel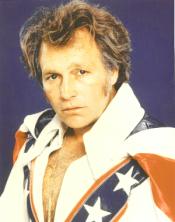 AKA Robert Craig Knievel
Born: 17-Oct-1938
Birthplace: Butte, MT
Died: 30-Nov-2007
Location of death: St. Petersburg, FL
Cause of death: Illness [1]
Remains: Buried, Mountain View Cemetery, Butte, MT

Gender: Male
Religion: Born-Again Christian
Race or Ethnicity: White
Sexual orientation: Straight
Occupation: Daredevil
Nationality: United States
Executive summary: Daredevil and one-time action figure
Military service: US Army
Robert "Evel" Knievel said that he was first inspired to jump over things when he was eight years old, attending an auto daredevil show. At 13, he obtained his first motorcycle, but crashed it while attempting a stunt. As a young man he was a competitive ski jumper and minor league hockey player, and he had numerous encounters with law enforcement over petty crimes. In 1953 he was charged with kidnapping Linda Bork, who became his wife six years later.
After injuring himself in a motorcycle race, he worked as an insurance salesman, then sold motorcycles before forming a traveling show called Evel Knievel's Motorcycle Daredevils in the mid-1960s. The show featured Knievel and cohorts jumping through firewalls, over rattlesnakes, and other crowd-pleasing stunts, but it was soon clear that he was the star, and Knievel began working alone. Longer and more spectacular jumps led to higher prices for promoters and ticket-buyers, so his jumps grew longer, more implausible and ill-advised.
In 1967 he jumped more than 150 feet across the fountains at Caesars Palace in Las Vegas, in 1970 he jumped 13 cars in Seattle, and in 1971 he flew over 19 cars in Ontario, California. Later that year he had his first high-profile wreck, failing to jump 13 Pepsi trucks in Yakima, Washington. He hired famed attorney Melvin Belli to try to secure government permission to jump the Grand Canyon, but was rebuffed. Instead he attempted to jump the Snake River Canyon in Idaho in 1974. It was his most celebrated jump, with some 16,000 people watching as he seemed to clear the gorge but was then blown backwards by a prematurely-deployed parachute, and drifted down to the water's edge with minor injuries. In 1975 he cleared 13 double-decker buses in London, but broke his pelvis in a rough landing and informed reporters he would never jump again. Five months later, he jumped 14 Greyhound buses in Ohio. In 1975, he again announced his retirement from daredevil antics after receiving a serious injury during a Chicago jump over a tank filled with live sharks. But the retirement was short-lived, and he continued making stunt jumps until 1980.
Reports on Knievel's antics usually mentioned how many bones he had broken, but the count was not necessarily reliable. His broken bones numbered 56 in media accounts of the Chicago shark jump, and over subsequent years the number varied from the low 30s to over 100.
In 1978 he spent six months in Los Angeles County Jail for the baseball-bat beating of Sheldon Saltman, author of a Knievel biography the stuntman did not enjoy reading. In 1994 he was arrested for beating the woman who would become his second wife five years later. In 1998 he was pinned under a motorcycle in his workshop, and rescued only after neighbors heard his cries for help. In 1999 he received a liver transplant after contracting hepatitis C. In 2007 he sued Kanye West over the rapper's video "Touch the Sky", which showed West in Knievelesque garb pretending to perform a motorcycle jump over a canyon. The lawsuit was settled with a handshake three days before Knievel's death.
---
[1] Hepatitis C (via transfusion), diabetes, and idiopathic pulmonary fibrosis.

Wife: Linda Bork (m. 1959, div. 1997)
Wife: Crystal Kennedy (m. 1999, div. 2001)
Son: Robbie Knievel (professional daredevil)


High School: Butte High School, Butte, MT (1956)


Endorsement of Little Caesar's (1993)
Brain Injury multiple
Coma Jan-1968
Hip Replacement Surgery 1998
Liver Transplant 1999
Stroke St. Louis, MO (Sep-2005)
Domestic Violence beating girlfriend Crystal Kennedy at a hotel in Sunnyvale, CA (10-Oct-1994)
Battery beats author Sheldon Saltman with a baseball bat (1977)
Theft stealing hubcaps (1953)
Kidnapping Linda, his future wife (1953)
Unlawful Possession of a Firearm 1995
Inmate: Los Angeles County Jail Apr-1978
Parodied As A Muppet Grover Knover
Risk Factors: Alcoholism, Hepatitis C, Diabetes


FILMOGRAPHY AS ACTOR
Viva Knievel! (15-Jul-1977) · Himself


Rotten Library Page:
Evel Knievel

Author of books:
Evel Ways: A Daring Approach to Life (1999, photo memoir, with Scott Bachman)





Requires Flash 7+ and Javascript.



Do you know something we don't?
Submit a correction or make a comment about this profile






Copyright ©2019 Soylent Communications