Sam Cooke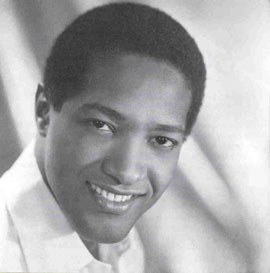 AKA Samuel Cook
Born: 22-Jan-1931
Birthplace: Clarksdale, MS
Died: 11-Dec-1964
Location of death: Los Angeles, CA
Cause of death: Justifiable Homicide
Remains: Buried, Forest Lawn Memorial Park, Glendale, CA

Gender: Male
Race or Ethnicity: Black
Sexual orientation: Straight
Occupation: Singer
Nationality: United States
Executive summary: Soul and R&B singer
One of eight children born to Rev. Charles Cook and his wife Annie Mae, Sam Cooke first began publically performing at the age of 9 when he formed the gospel trio The Singing Children with two of his sisters. This was followed by the group The Highway Q.C.'s and then, when Sam was 19, by The Soul Stirrers, a group that also included two of his sisters and one of his brothers. By 1951, Cooke had been promoted to lead singer for the Stirrers; by 1956, while still performing with the group, he released his first solo pop single Loveable -- but under the name of Dale Cooke to avoid conflicts with his gospel background. The effort to disguise himself failed, and a backlash from gospel audiences forced the expulsion of Cooke from the Soul Stirrers.
In place of the royalties due to him by the Stirrer's label Specialty Records, Cooke was offered a recording contract with new label Keen; the result was 1957's "You Send Me", a million-selling single and a crossover #1 hit. A string of other successful records followed ("Chain Gang", "Twistin' the Night Away", "Bring it on Home to Me"), preceeded by a change over to RCA records after a royalty dispute with Keen. In 1958 Cooke formed his own publishing company, and by 1963 had founded the independent labels SAR and Derby.
The popularity of Sam Cooke was still at its peak when he was killed in December of 1964. Contradictory accounts of his death have yet to be sorted out. On the evening of the 11th, Cooke had checked into the Hacienda Motel with 22-year-old Elisa Boyer, who subsequently ran off with the majority of Cooke's clothing. After breaking into the Motel office, where he apparently believed Boyer was hiding, Cooke was shot by the motel's manager.
Father: Charles S. Cook (Reverend)
Mother: Annie Mae Cook
Brother: Willie Cook
Brother: Charles Cook, Jr.
Brother: L. C. Cook (musician, songwriter)
Brother: David Cook
Sister: Hattie cook
Sister: Mary Cook
Sister: Agnes Cook
Wife: Barbara Cooke (until his death)
Daughter: Tracy Cooke (b. 6-Sep-1960)
Son: Vincent Cooke (d. Jun-1963)

Songwriters Hall of Fame
Shot Los Angeles, CA (11-Dec-1964)
Died Intestate
Autopsy

Official Website:
http://www.samcooke.com/
Do you know something we don't?
Submit a correction or make a comment about this profile

Copyright ©2019 Soylent Communications