Rosalind Franklin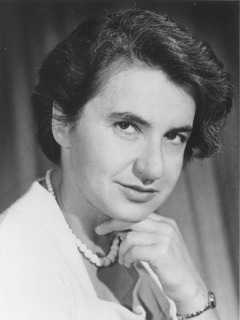 AKA Rosalind Elsie Franklin
Born: 25-Jul-1920
Birthplace: London, England
Died: 16-Apr-1958
Location of death: London, England
Cause of death: Pneumonia [1]
Remains: Buried, Willesden United Synagogue Cemetery, London, England

Gender: Female
Religion: Agnostic
Race or Ethnicity: White
Occupation: Chemist
Nationality: England
Executive summary: Photographed DNA's structure
As a student, Rosalind Franklin excelled at chemistry, mathematics, and physics, and at Cambridge she studied under J. D. Bernal, becoming a molecular chemist and x-ray crystallographer. She and Maurice Wilkins were peers in the laboratory at King's College London, where they worked on taking improved x-ray photographs of deoxyribonucleic acid (DNA), long linear polymers found in the nucleus of a cell and vital to the transmission of genetic information.
In the mid-20th century, however, women were widely seen as inferior to men, and though she held the same rank as Wilkins, he treated her as a technician, not as an equal. Franklin said that the time she spent at King's College was the most frustrating period of her life, and she stayed for only a few years before being forced out in large part by political pressure orchestrated by Wilkins. After leaving she spent several years studying viruses, then developed ovarian cancer and passed away in 1958.
The record suggests that Franklin was a top-level scientist who made major contributions to the DNA research that won Nobel Prizes in 1962 for Francis Crick, James Watson, and her uncooperative colleague Wilkins. At King's College, she pointed out inconsistencies in an early Crick-Watson theory that proposed three, not two, DNA chains, and she presented a seminar describing some aspects of the double-helix nature of DNA prior to publication of Watson and Crick's landmark paper. Watson acknowledged that it was Franklin's crystallographic imagery of hydrated DNA (shown to him by Wilkins, without Franklin's knowledge or permission) that inspired his "eureka moment" for unraveling the double-helix structure of DNA.
In his autobiography Watson criticized Franklin — for not wearing lipstick, for her unflattering choice in clothes, and for "belligerent moods" that made it "very difficult for [Wilkins] to maintain a dominant position." When she resigned from King's College, Wilkins wrote triumphantly to Crick that the "smoke of witchcraft" would soon be lifted from the laboratory.
Franklin made respected contributions to the study of coal, carbon, graphite, viruses, and, of course, DNA, and she published nearly 50 scientific papers, a remarkable achievement for woman of her era who lived only 37 years. She is the namesake of Rosalind Franklin University of Medicine and Science in Illinois, and the Royal Society's Rosalind Franklin Award, presented annually for outstanding work in science, technology, engineering. or mathematics. Her great-uncle, Herbert Samuel, was the first High Commissioner of Palestine.
---
[1] Though she was suffering from advanced ovarian cancer, the announced cause of her death was bronchopneumonia and secondary carcinomatosis.

Father: Ellis Arthur Franklin (banker, b. 1894, d. 1964)
Mother: Muriel Frances Waley Franklin (b. 1894, d. 1976)
Brother: David (b. 1919)
Brother: Colin
Sister: Jenifer Glynn


High School: St Paul's Girls School, London (1937)
University: BA Physical Chemistry, Newnham College, Cambridge University (1941)
Scholar: PhD Physical Chemistry, Cambridge University (1945)
Scholar: Biochemistry research, King's College London (1950-53)
Scholar: Biochemistry, Birkbeck College (1953-56)


French Official French Central Chemical Laboratory, Paris (1947-50)
English Ancestry
Jewish Ancestry Ashkenazi
Risk Factors: Ovarian Cancer





Requires Flash 7+ and Javascript.



Do you know something we don't?
Submit a correction or make a comment about this profile






Copyright ©2019 Soylent Communications