Chuck Hoberman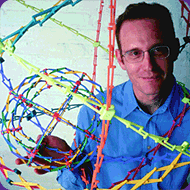 AKA Charles Hoberman
Born: 1956
Birthplace: Cambridge, MA

Gender: Male
Religion: Buddhist
Race or Ethnicity: White
Sexual orientation: Straight
Occupation: Inventor, Architect
Nationality: United States
Executive summary: Creator of unfolding structures
Chuck Hoberman is an artist, inventor, entrepreneur and architect who specializes in unfolding structures — toys, buildings, and devices which can be expanded and contracted. He worked as a robotics engineer prior to founding Hoberman Associates ("a multidisciplinary practice that specializes in transformable design") in 1990, and holds more than a dozen patents for folding and linkage systems, including his most familiar work, the Hoberman Sphere, a multicolored toy that expands from nine to thirty inches in diameter. In 2006 he applied his innovative engineering technique to design the RDS (Rapid Deployment System) tent, a compact box weighing just a few hundred pounds and easily transportable in an automobile, which can be expanded in minutes to become a large emergency tent strong enough to withstand 65-mile-per-hour winds and the weight of thousands of pounds of snow.
Father: (architect)
Mother: (children's book author)
Wife: Carolyn
Daughter: (b. 11-Aug-1998)

University: BFA Sculpture, Cooper Union, New York City, NY (1979)
University: MS Mechanical Engineering, Columbia University

Hoberman Designs Co-Founder (1995-)
Hoberman Associates Co-Founder (1990-)
Honeybee Robotics Engineer (1985-90)
Chrysler Award for Design Innovation 1997

Official Website:
http://www.hoberman.com/
Appears on the cover of:
Discover, Mar-1992, DETAILS: "The Unfolding World of Chuck Hoberman"

Selected edifices:
Expanding Geodesic Sphere, Liberty Science Center (1992)
Iris Dome, Museum of Modern Art (1994)
Expanding Hypar, California Museum of Science and Industry (1997)
Hoberman Arch, Salt Lake City Olympic Games (2002)

Do you know something we don't?
Submit a correction or make a comment about this profile

Copyright ©2019 Soylent Communications