Timothy Dalton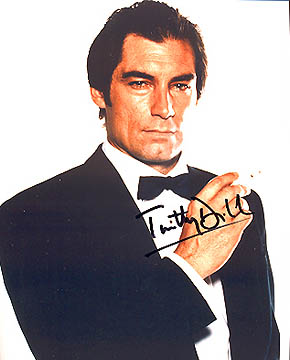 AKA Timothy Peter Dalton
Born: 21-Mar-1944 [1]
Birthplace: Colwyn Bay, Wales

Gender: Male
Race or Ethnicity: White
Sexual orientation: Straight
Occupation: Actor
Nationality: England
Executive summary: Played James Bond briefly
At 16, Timothy Dalton saw a performance of Macbeth on stage, and decided then that he would be an actor. After high school, Dalton worked with the National Youth Theatre in London. He even attended the Royal Academy of Dramatic Arts, but he didn't like it and left. He remembers a class where students "learned to walk about the stage like ballet dancers", and says it "took a year to undo the psychological damage that was caused by the oppressive teachers".
On stage, he earned good reviews acting in plays by William Shakespeare and Eugene O'Neill. He has also done a great deal of television work, some great (the 1978 miniseries Centennial with Richard Chamberlain) and some not-so-great (he played Rhett Butler in Scarlett, the awkward TV sequel to Gone With the Wind).
Dalton is best known for playing James Bond, in The Living Daylights and Licence to Kill. His was the most serious Bond, and after Roger Moore's seven increasingly slapstick 007 films, the character needed to be serious again. Dalton portrayed the spy as someone stuck in a job he didn't particularly like. The Living Daylights did brisk business, but for Dalton's second Bond film the producers tweaked their long-running and generally successful formula. Bond was now motivated by a personal vendetta instead of an assignment from M, and he fought the war on drugs instead of the usual "national defense" hokum. The tone was different, and even the title had to be dumbed down -- Licence to Kill was originally Licence Revoked, until a studio survey confirmed what executives suspected, that half of Americans didn't know what the word "revoked" means. For whatever reasons, the film bombed, and it was six years before another Bond film was made, with Pierce Brosnan replacing Dalton.
He also appeared in The Lion in Winter with Katharine Hepburn and Peter O'Toole, and played Mae West's husband in Sextette. His other films include Brenda Starr with Brooke Shields, The Beautician and the Beast with Fran Drescher, and Looney Tunes: Back in Action with Brendan Fraser. His ex-wife Oksana Grigorieva made headlines in 2010 as the scorned and threatened ex-lover of Mel Gibson.
---
[1] Birthdate given as 1944 or 1946, mainly because of conflicting statements Dalton has made about his age.

Father: Peter Dalton (advertising agent)
Girlfriend: Whoopi Goldberg (dated 1990-91)
Girlfriend: Vanessa Redgrave (dated in early 1970s)
Wife: Oksana Grigorieva (Ukranian model, m. 1995, div. 2002, one son)
Son: Alexander Peter Dalton (b. 7-Aug-1997)


British Ancestry
Irish Ancestry
Italian Ancestry
James Bond


FILMOGRAPHY AS ACTOR
Toy Story 4 (14-Jun-2019) [VOICE]
Everything or Nothing: The Untold Story of 007 (5-Oct-2012) · Himself
Secret of the Wings (16-Aug-2012) [VOICE]
The Tourist (8-Dec-2010) · Chief Insp. Jones
Toy Story 3 (12-Jun-2010) · Mr. Pricklepants [VOICE]
Hot Fuzz (14-Feb-2007)
Hercules (Apr-2005)
Looney Tunes: Back in Action (9-Nov-2003)
American Outlaws (14-Aug-2001)
Possessed (22-Oct-2000)
Time Share (18-Jun-2000)
Made Men (11-Jun-1999)
Cleopatra (23-May-1999)
The Informant (5-Sep-1997)
The Beautician and the Beast (7-Feb-1997) · Boris Pochenko
Scarlett (13-Nov-1994)
Naked in New York (1993)
Framed (27-Nov-1992)
The Rocketeer (21-Jun-1991) · Neville Sinclair
The King's Whore (14-Nov-1990)
Brenda Starr (20-Jul-1989) · Basil St. John
Licence to Kill (13-Jun-1989) · James Bond
Hawks (10-Sep-1988)
The Living Daylights (29-Jun-1987) · James Bond
The Doctor and the Devils (4-Oct-1985)
Florence Nightingale (7-Apr-1985)
Mistral's Daughter (24-Sep-1984)
Jane Eyre (9-Oct-1983)
Chanel Solitaire (16-Oct-1981)
Flash Gordon (5-Dec-1980) · Prince Barin
Agatha (9-Feb-1979)
Centennial (1-Oct-1978)
Sextette (3-Mar-1978)
Permission to Kill (17-Oct-1975)
Mary, Queen of Scots (Dec-1971) · Henry, Lord Darnley
Cromwell (16-Jul-1970) · Prince Rupert
Wuthering Heights (9-Jun-1970)
The Lion in Winter (30-Oct-1968) · Philip II


Official Website:
http://www.timothydalton.com/




Requires Flash 7+ and Javascript.



Do you know something we don't?
Submit a correction or make a comment about this profile






Copyright ©2019 Soylent Communications