Malachi York-El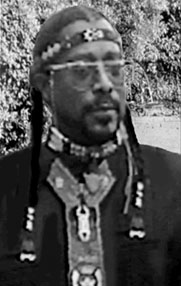 AKA Dwight York
Born: 26-Jun-1945
Birthplace: Sullivan County, NY

Gender: Male
Religion: Cult
Race or Ethnicity: Black
Occupation: Religion
Nationality: United States
Executive summary: E.T. leader of United Nuwaubian Nation of Moors
Former Black Panther, founded the Nuwaubian Islamic Hebrews in Brooklyn in the mid-70s. On 24 January 2003, York entered a guilty plea to state charges, comprising 40 counts of aggravated child molestation, 34 counts of child molestation, one count of sexual exploitation, two counts of witness tampering (77 charges in total). On 18 November 2004, a federal court sentenced York to 135 years prison in the matter of the molestations of boys and girls whose parents were members of the Nuwaubians. The judge also ordered York's 476-acre compound in Eatonton be turned over to the US Government, reportedly valued at $1.7 million. York's attorneys filed an appeal with the 11th U.S. Circuit Court of Appeals.
From The Man From Planet Risq:
QUESTIONER: You Have Been Teaching Undisputable Facts For Over 25 Years How Did You Manage To Learn And Teach So Much lnformation For The Amount Of Years You Have?

YORK: I Am A Being From The 19th Galaxy Called ILLYUWN. We Have Been Coming To This Planet Before It Had Your Life Form On It. I Manifest Into This Body To Speak Through This Body. I Am A Entity An Etheric Being. We Watched The 3 Other Cycles Of 18,000 Years, Two Moons And One Sun Which Is Part Of Your 24,000 Year Cycle, The Equinox; The Removal Of The Dust Cloud From Light To Darkness Then To Light Again. I Incarnated Into This Realm From Time To Time. My Incarnation As An Ilah Mutajassid Or Avatara Was Originally In The Year 1945 A.D. In Order To Get Here I Travelled By One Of The Smaller Passenger Crafts Called SHAM Out Of A Motherplane Called MERKABAH Or NIBIRU.

Then In 1970 A.D., Was My Time To Come In Flesh To Start My Work Of Breaking The Spell Of Sleep Also Called The SPELL OF LEVIATHAN Or KINGU, The Moon Spell Or Lunatic State Of Mind With The Power As The "Sun Of Righteousness" (Malachi 4:2). Earth Astronomers Thought It Was A Comet, Which They Called Bennett That Appeared On March 16, 1970 A.D. Four Months Before My 25th Birthday June 26, 1970 A.D. - The Opening Of The Seventh Seal Which Marked The Beginning Of The Aquarian Age. An Astrophysicist Named Ricarrdo Ciacconi Sent Up A Satellite From Kenya, Africa In The Year 1970 A.D., To Study X-Rays In The Sky For Three Years Trying To Map Our Coming. The Satellite Was Called "Uhuru" Which In The African Language Called Swahili, ls "Freedom". Swahili Is Made From Two Different Languages Called Bantu And Arabic That Was A Language Created For The Slave Trade That Occured In Zanzibar Between The Arabs And The Scientists Were Well Aware Of Our Coming And Called Us Bennett.

I, YAANUWN, Am An ANUNNAQI Or What You Would Call An Extra-Terrestrial; Extra Terra-Astral; Look At This EXTRA- Meaning In Addition To; TERRA-Of The Earth; ASTRAL- Of Or From The Stars. I Am What You Call An Angelic Being, An Eloheem From The 8th Planet Called RIZQ Which Has 1 Moon SHESHQI Of Its Own. This Galaxy, The Nineteenth Galaxy Called "ILLYUWN" Originally Referred To As Heaven Known As Elysium In Greek, Has 3 Suns: 1) SHAMASH 2) UTU 3) APSU Which Means A Tri-Solar System With 38 Moons And 19 Planets. Each With Its Own Number Of Moons. I Have Incarnated Here In This Form To Act As A Human Being For The Sole Purpose Of Saving The Children Of The ELOHEEM (ANUNNAQI), The Banaat, Which Is The Same Word As Bennett, The Chosen 144,000. Just As Mary Of 2,000 Years Ago Was Chosen By The MOST HIGH, ANU, Called An ALIEN, Which Is 'ALI' And 'EN' (AN), Both Of Which Are Names For ANU, To Breed The Holy Thing Called Yashu'a Or Jesus', Real Name Tammuz, Called Horus. So Too, The Banaat Will Breed The Savior Of This Time; If They Hold Firm To The Rope On Your Planet Earth. The Planet Earth Is Also Referred To As Orb, Ard (Arduwt), QI, Terra Or Even Tiwawat And Tamtu Meaning "Maiden Of Life ". However, It Was Originally Called Tiamat. I, YAANUWN, Have Come To Save The Children Of The ELOHEEM (ANUNNAQI) From Being Killed As You Bring Your Planet Near To What Could Be Its Total Destruction.
Is this man nuts? Only time will tell.

Black Panther Party Former Member
Resisting Arrest 1960's, three years prison
Founded Religion
Child Molestation 2002 (charged with 74 counts, 29 aggravated)
Witness Tampering 2002 (charged with two state counts)
Rape 2002 (charged with one state count)
Racketeering (federal charges)





Requires Flash 7+ and Javascript.



Do you know something we don't?
Submit a correction or make a comment about this profile






Copyright ©2019 Soylent Communications