Oswald Mosley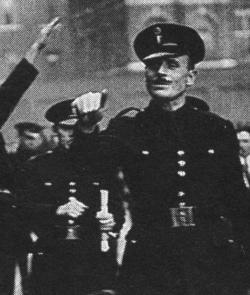 AKA Oswald Ernald Mosley
Born: 16-Nov-1896
Birthplace: London, England
Died: 3-Dec-1980
Location of death: Orsay, France
Cause of death: Natural Causes
Remains: Cremated (ashes scattered)

Gender: Male
Race or Ethnicity: White
Sexual orientation: Straight
Occupation: Politician
Nationality: England
Executive summary: Founder of the British Union of Fascists
Military service: Royal Flying Corps, British Army (WWI)
Born to an affluent family of landowners in Staffordshire, Mosley's parents separated when he was still a child. He was raised mostly by his mother and his grandfather, the fourth Baronet Mosley.
During WWI, Mosley was able to obtain a post as an observer in the Royal Flying Corps, forerunner to the RAF. He wounded his leg in a plane crash, and was reassigned to the trenches of the Western Front before his injuries were completely healed. His leg worsened and became infected and finally at the Battle of Loos he lost consciousness. Relieved of his duties he returned to England where surgeons had to remove two inches of the leg. Even fitted with special shoes, Mosley walked with a pronounced limp for the rest of his life.
After the war ended, Mosley decided to enter politics and in 1918 he was elected as a Conservative to the Harrow seat, largely on the strength of his family's name. At 22 he was the youngest member of the House of Commons and quickly gained a reputation for his fiery orations. In what was seen by some as a blatant ploy to advance his own political fortunes he married Lady Cynthia Curzon, daughter of George Nathaniel Curzon, former Viceroy of India. Whatever the reasons his interest in the family is perhaps suspect considering he eventually took both his wife's sister and stepmother as mistresses.
By 1922, Mosley was ready to leave the Conservative Party over its Irish policy which had created the Black and Tans and supported the violent repression of Irish Nationalism. Mosley, of Irish descent himself, sat the next two years as an Independent, eventually joining Labour in 1924. Unable to retain the Harrow seat as a Labour candidate, he tried to unseat Neville Chamberlain from his constituency in Birmingham Ladywood but was defeated by a narrow margin. He spent two years refining his economic policies, and when in 1926 a Labour seat fell vacant in Smethwick he returned to Parliament.
During the Conservative majority government Mosley was close with former Prime Minister Ramsay MacDonald, and when MacDonald was again named Prime Minister with the Labour victory in the general election of 1929 Mosley expected an important appointment but, having already alienated people with his notorious arrogance, he was excluded from the cabinet. In addition he was assigned the uneviable task of righting unemployment, which in 1929 was quite a snub indeed.
After the Cabinet rejected a couple of his labor proposals as too radical, he resigned in disgust and founded the proto-fascistic New Party. The fledgling party was destroyed in the general panic of the 1931 election when it lost all its seats. He then began laying the groundwork for the Union of Fascists, visiting Italy in 1931 to crib some ideas from Mussolini. Regarding the events surrounding the prominent members of the 1929 Parliament, author Kimmie Lee has commented:
Another bright light in this 1929 Parliament was Sir Oswald Mosley. He had a fatal flaw in his character, of overwhelming arrogance and an unshakable conviction that he was born to rule, which drove him on to the criminal folly of donning a black shirt and surrounding himself with a band of bullyboys, and so he became a pathetic imitation Hitler, doomed to political impotence for the rest of his life.
In 1932, Mosley founded the British Union of Fascists, and political impotence notwithstanding, its membership soon swelled to 40,000. A subsection of these card-carrying fascists formed the paramilitary members of the party that Mosley affectionately called "blackshirts", which regularly marched into Black and Jewish neighborhoods, inciting riots and street brawls. Eventually Parliament was forced to pass a law banning the use of uniforms associated with political parties.
An increasing influence at this time was his mistress Diane Mitford, who attended the first Nuremberg rally with her sister Unity. At the time Diane was married to Bryan Guinness, son of the first Baron of Moyne and heir to the Guinness fortune. Eventually, Diane left her husband and soon afterward Mosley's wife Cynthia died of peritonitis. Despite not being able to curtail his polyamorous ways, Diane married Oswald in a very secret ceremony witnessed only by Adolf Hitler, and Joseph Goebbels.
Diane and her sister Unity were instrumental in convincing Hitler, who described the pair as "angels", to use Nazi money to fund Mosley's nascent Fascist movement in Britain, eventually securing as much as £50,000 from the cash-strapped jackboots. Diane became extremely fond of Hitler whom she described as possessing "mesmeric eyes".
Around this time Mosley formed an organization which sought to repatriate English African immigrants to their country of origin by providing them with an initial stipend equal to the average yearly income in their home country. This program was, not suprisingly, largely unsuccessful. During the years immediately preceding the outbreak of hostilities in WWII, Oswald sought, curiously, to lay blame for the war atmosphere at the feet of the "international Jewry." In an article published in his Fascist newsletter Action the day after the German invasion of Poland he opined:
We have said a hundred times that if the life of Britain were threatened we would fight again, but I am not offering to fight in the quarrel of Jewish finance in a war from which Britain could withdraw at any moment she likes, with her Empire intact and her people safe. I am now concerned with only two simple facts. This war is no quarrel of the British people, this war is a quarrel of Jewish finance, so to our people I give myself for the winning of peace.
Less than a year later, Mosley and his wife Diana were interned under Defence Regulation 18B which provided the British government with the power to detain indefinitely persons it saw as subversive. Later, in 1943, he was released and placed under house arrest. This was due to his ill health, as authorities feared he would die in prison and become a martyr for the fascist cause. Still there was much public discontent surrounding the event and no less a personage than Lady Mosley's own sister, author Jessica Mitford, decried the releases in a letter to the San Francisco Chronicle:
Like millions of others in the United Nations and the occupied countries, I have all my life been an opponent of the fascist ideology in whatever form it appears. Because I do not believe that family ties should be allowed to influence a person's convictions I long ago ceased to have any contact with those members of my family who have supported the fascist cause. The release of Sir Oswald and Lady Mosley is a slap in the face of anti-fascists in every country and a direct betrayal of those who have died for the cause of anti- fascism. They should be kept in jail, where they belong.
After the war ended the Mosleys were released from house arrest, and Oswald began work on converting the British Union of Fascists into the Union Movement which advocated one European Nation, and restricted immigration. The general public was perhaps even more disgusted with Mosley than before, and the Union's meetings were frequently disrupted, causing Oswald to quit England and move to France. He returned briefly following the 1958 Notting Hill race riots, hoping to capitalize on rising anti-immigration sentiment and rejoin the Parliament. He ran on a platform which included ending non-white immigration to England, but was soundly defeated. Soon after he retired from political life entirely, free to spin his increasingly radical theories from his country villa in Orsay, France, notably advocating the gift of nuclear weapons to Japan and India as a method of creating a more stable balance of nuclear power.
"The new guerrilla technique, baffling even the overwhelming power of America, was easily foreseeable. [...] It can and will be applied with far more effect in ever wider regions if we continue simply to rely on the orthodox military tradition. The soldier alone is insufficient, he must be preceded and accompanied by a political idea and those skilled in its use. [...] The political soldier who wins the support of the civilian population, and who is armed with the new light weapons science will provide, can defeat even great powers armed with nuclear weapons which cannot be used against an enemy interwoven with normal city life. It will then certainly be found that to win a war which is basically a war of ideas it is necessary first to have an idea." -- Oswald Mosley
Father: Sir Oswald Mosley
Mother: Maud Heathcoat
Wife: Lady Cynthia Curzon (daughter of George Nathaniel Curzon, m. 1920, d. 1933)
Son: Nicholas Mosley (b. 25-Jun-1923)
Wife: Diana Mitford (m. Oct-1936)
Son: Alexander Mosley (b. 1938)
Son: Max Mosley (president of FIA, b. 1940)
Slept with: Lady Alexandra Metcalfe (his first wife's sister)
Slept with: Grace Curzon (his first wife's stepmother)


High School: Winchester College
University: Royal Military Academy Sandhurst


Chancellor of the Duchy of Lancaster (1929-30)
UK Member of Parliament (1918-24)
UK Member of Parliament (1926-31)
Subversion detained under Defence Regulation 18B (1940-43)
House Arrest (1943-45)
English Ancestry
Irish Ancestry


Official Website:
http://www.oswaldmosley.com/

Is the subject of books:
Sir Oswald Mosley: A Pictorial History of the Blackshirt Movement, 2002, BY: Robert Edwards
Beyond the Pale: Sir Oswald Mosley and Family 1933-1980, 1983, BY: Nicholas Mosley
Rules of the Game: Sir Oswald Mosley and Lady Cynthia 1896-1933, 1982, BY: Nicholas Mosley
Oswald Mosley, 1975, BY: Robert Skidelsky
Oswald Mosley: Portrait of a Leader, 1937, BY: A.K. Chesterton


Author of books:
Revolution by Reason (1925)
Greater Britain (1932)
Fascism Explained: 10 Points of Fascist Policy (1933)
Tomorrow We Live (1938)
European Socialism (1951)
My Life (1968, autobiography)





Requires Flash 7+ and Javascript.



Do you know something we don't?
Submit a correction or make a comment about this profile






Copyright ©2019 Soylent Communications