Father Charles Coughlin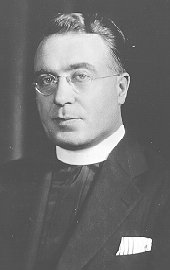 AKA Charles Edward Coughlin
Born: 25-Oct-1891
Birthplace: Hamilton, Ontario, Canada
Died: 27-Oct-1979
Location of death: Birmingham, MI
Cause of death: unspecified
Remains: Buried, Holy Sepulchre Cemetery, Southfield, MI

Gender: Male
Religion: Roman Catholic
Race or Ethnicity: White
Occupation: Religion, Radio Personality
Nationality: United States
Executive summary: Radio opponent of FDR
Starting in 1926, Coughlin built an audience of Sunday listeners of his religious/political radio program, reaching over 30 million at its peak. He initially supported President Franklin D. Roosevelt and his New Deal programs (coining the slogan "Roosevelt or Ruin").
At the same time, Coughlin had been an indefatigable supporter of ending the fiat money system and moving the United States to a silver-backed currency. He lobbied heavily for this, making many public statements in advocacy of monetary silver, which gained the support of Senator Elmer Thomas. Then in April 1934 it was discovered that options on 500,000 ounces of silver had been purchased in the name of "A. Collins, Royal Oak, Mich." This person turned out to be Amy Collins, the secretary-treasurer of Coughlin's Radio League of the Little Flower. Which meant that every time the price of silver went up, Coughlin's group stood to make money. Nevertheless, Coughlin continued to maintain that investing in silver was a sure bet:
"I congratulate the citizens of the United States who have invested in silver because they manifested their faith in President Roosevelt, who time after time, both in public and in private, has stated that he would raise the price level of commodities to the 1926 standard. Silver at that date was valued at approximately 64 cents an ounce. Today it is not much better than 44 cents an ounce."
In August 1934, however, the Treasury Department decided against propping up the price of silver any further. Over the next year the silver market collapsed, and Coughlin turned sharply against the Roosevelt administration.
"As I was instrumental in removing Herbert Hoover from the White House, so help me God I will be instrumental in taking a Communist from the chair once occupied by Washington." [2-Aug-1936]
The radio program drifted to the far right, delving into class warfare and anti-Semitism.

In 1942 his magazine Social Justice was banned from the mails under the Espionage Act. In it he had reprinted portions of the notorious hoax The Protocols of the Elders of Zion in 1938. Asked about this in 1955, Coughlin reflected: "First of all, the validity of the document was somewhat doubtful. But that's irrelevant. The main thing is that it was uncharitable to rake up all that ancient history."

The Archbishop of Detroit Edward Mooney and other higher-ups at the Roman Catholic Church saw to it that Coughlin's voice was removed from the radio. He was allowed to remain pastor of Shrine of the Little Flower Church, until he retired in 1966.

Sample verbiage:
"On this earth you must belong to the church militant or get the hell out of it. That's the right word. You're either with me or against me. There is no middle ground in this battle between Christ and the anti-Christ. If you step out of [the battle], you're worse than those boys who ran off to Norway, Sweden, those boys who deserted the government. You're deserters, rotten deserters." [11 June 1937]
Today Coughlin is considered one of the great demagogues of the 20th century.

Father: Thomas J. Coughlin (American citizen)
Mother: Amelia Mahoney Coughlin


University: St. Michael's College, University of Toronto (1911)
Teacher: St. Basil's College, Waco, TX
Teacher: Assumption College, Toronto (1916-22)
Professor: Assumption College, Sandwich, Ontario, Canada


America First Committee
Christian Front
National Union for Social Justice Founder (11-Nov-1934 to Aug-1944)
Ordained by the Roman Catholic Church 1916
Assassination Attempt bomb (30-Mar-1933)
Driving without a License Ferndale, MI (13-Dec-1934)
Sedition Espionage Act of 1917 (May-1942)
Heart Attack 1974
Irish Ancestry


Author of books:
The New Deal in Money (1934)
A Series of Lectures on Social Justice (1935)
Am I Anti-Semitic (1939)





Requires Flash 7+ and Javascript.



Do you know something we don't?
Submit a correction or make a comment about this profile






Copyright ©2019 Soylent Communications