Bob Kane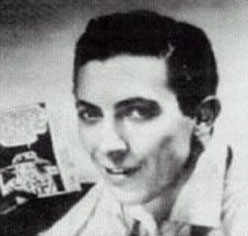 AKA Robert Kahn
Born: 24-Oct-1915 [1]
Birthplace: Bronx, NY
Died: 3-Nov-1998
Location of death: Los Angeles, CA
Cause of death: Illness
Remains: Buried, Forest Lawn Memorial Park Cemetery, Hollywood Hills, CA

Gender: Male
Race or Ethnicity: White
Sexual orientation: Straight
Occupation: Cartoonist
Nationality: United States
Executive summary: Co-creator of the original Batman comic
Illustrator who drew the first adventure of Batman, "The Case of the Chemical Syndicate," which appeared in Detective Comics #27 in May of 1939.
Kane has always been officially credited as the comic-book hero's creator, and by all accounts the original concept of a "Bat-Man" was his. The character's backstory, however, and virtually every detail we now associate with the Dark Knight — including Gotham City, the Batcave, the Batmobile, the Batsignal, the Batsuit, the mansion, the butler, the ears on Batman's mask, and even the murder of young Bruce Wayne's parents which launched his rebirth as a vigilante crime-fighter — were all invented by the strip's original writer, Bill Finger (1913-1974). Kane's work with Batman was minimal after the character's first few appearances in Detective Comics, and over the next several decades further embellishments such as Robin and villains including Catwoman, The Joker, The Penguin, and The Riddler were created by Finger and others, including illustrator Jerry Robinson (1922-2011).
In the mid-1960s, Finger began grumbling about the "Created by Bob Kane" credit that appeared in every issue of every Batman comic. Kane responded in part, "I, Bob Kane, am the sole creator of 'Batman'. Bill Finger has given out the impression that he and not myself created the 'Batman' as well as Robin and all the other leading villains and characters. This statement is fraudulent and entirely untrue. ... The truth is that Bill Finger is taking credit for much more than he deserves."
But in his autobiography Batman & Me, published long after Finger's 1974 death, Kane's version of events was quite different: "Now that my long-time friend and collaborator is gone, I must admit that Bill never received the fame and recognition he deserved. I often tell my wife, if I could go back 15 years, before he died, I would like to say, 'I'll put your name on it now. You deserve it.'"
---
[1] Many sources report his birth year as 1916. Kane's gravestone gives a date of 1915.

Father: Herman Kahn (engraver)
Mother: Augusta Kahn
Sister: Doris Atlas
Wife: Elizabeth Sanders (until his death)
Daughter: Deborah Majeski


High School: DeWitt Clinton High School, Bronx, NY (1933)
University: Commercial Art Studio
University: Cooper Union
University: Art Students League of New York


Changed Name (1933)
Jewish Ancestry Paternal


Author of books:
Batman & Me (1989, memoir)






Do you know something we don't?
Submit a correction or make a comment about this profile






Copyright ©2019 Soylent Communications