Brock Yates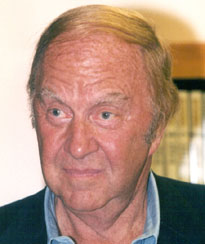 AKA Brock Wendel Yates
Born: 21-Oct-1933
Birthplace: Lockport, NY
Died: 5-Oct-2016
Location of death: Batavia, NY
Cause of death: Alzheimer's

Gender: Male
Race or Ethnicity: White
Sexual orientation: Straight
Occupation: Auto Racing, Journalist
Nationality: United States
Executive summary: Cannonball Run
Military service: US Navy (1955-60)
Brock Yates invented the Cannonball Run, which, before it became a silly movie, was an actual and very illegal high-speed road race across America's highways. Yates was a writer for Car & Driver, when, in early 1971, he announced a coast-to-coast race from New York City to Redondo Beach, California. The race had one rule: "All competitors will drive any vehicle of their choosing, over any route, at any speed they judge practical, between the starting point and destination. The competitor finishing with the lowest elapsed time is the winner".
If you think it sounds nutty, you're not the only one -- Yates himself, with two associates and his 15-year-old son, were the only team that showed up at the first race, but race they did. Yates wrote about his high-speed adventures in Car & Driver, and the next Cannonball Sea-to-Shining-Sea Memorial Trophy Dash, seven months later, had eight entrants. Additional Cannonball Runs were run in 1972, 1975, and 1979, the last with more than 40 racing teams. And winners received only a trophy, a "free-form sculpture" made of wrenches, hammers and pliers.
By the fifth race, though there had been no serious accidents, even Yates knew it was just a matter of time until something deadly brought his anarchist event to an end, so the Cannonball Run was quietly discontinued. The events' fastest time, for the trip from New York to California, was 32 hours and 51 minutes. Which, if you think about it, is a long way to go and a short time to get there.
Smokey and the Bandit was obviously Yates-inspired, and Yates co-wrote Smokey and the Bandit II. He also wrote the original Cannonball Run, and played himself, with dialogue like "You are certainly the most distinguished group of highway scofflaws and degenerates ever gathered together in one place."
The Cannonball Run has been revived, in toned-down form, as a "one-lap" event. Contestants are now penalized for arriving too soon, effectively putting a speed limit on the drivers. Yates, meanwhile, has authored numerous books on all aspects of automotive arts, and remained something of an anarchist.
Yates on Nader: "With a demagogue like Nader -- and make no mistake about it, Ralph Nader is a classic demagogue -- it is critical that he be surrounded by conspiracies, that every act of foolishness and incompetence be interpreted as a finely woven pattern of vicious deceit. Therefore [in Nader's mind] General Motors never simply errs by making an imperfect car, it consciously markets a lethal junker and then goes to elaborate lengths to conceal its deadly qualities from the buying public."
Yates on O'Reilly, after appearing on Bill O'Reilly's radio show in 2003: "The conversation went as expected, descending into a shouting match in which I accused him of being a New York City elitist who wouldn't know a good automobile if it ran over him in Times Square. I was in turn written off as a feckless toady in the pocket of the automobile industry."
Father: Raymond F. Yates (technical writer)
Mother: Marguerite Wendel
Wife: Sally Kingsley (m. 1955, div., one daughter, one son)
Daughter: Claire Lilly
Son: Daniel
Wife: Pamela Reynolds (until his death, one son)
Son: Brock Yates, Jr. (executive, Cannonball Enterprises)

High School: Lockport Senior High School, Lockport, NY
University: Hobart College (1955)

FILMOGRAPHY AS ACTOR
The Cannonball Run (19-Jun-1981)

Do you know something we don't?
Submit a correction or make a comment about this profile

Copyright ©2019 Soylent Communications