Stephen Colbert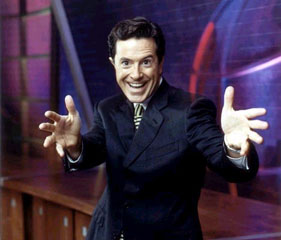 AKA Stephen Tyrone Colbert
Born: 13-May-1964 [1]
Birthplace: Washington, DC

Gender: Male
Religion: Roman Catholic
Race or Ethnicity: White
Sexual orientation: Straight
Occupation: Talk Show Host, Comic, Journalist
Nationality: United States
Executive summary: The Colbert Report
Stephen Colbert is, seriously, Catholic. He attends mass, observes Lent, and teaches Sunday school. "I love my church, and I'm a Catholic who was raised by intellectuals, who were very devout. I was raised to believe that you could question the church and still be a Catholic."
He started his career in comedy with the Second City improv troupe in Chicago. There he met actress/comedian Amy Sedaris (sister of author and NPR favorite David Sedaris) and comic Paul Dinello. Together, they developed the short-lived (but critically acclaimed) HBO sketch comedy series Exit 57, which won five Cable ACE awards in 1995 for best writing, performing, and comedy series.
In 1996, he was hired to write and perform sketches for The Dana Carvey Show (aka the "Mug Root Beer" Dana Carvey Show, aka the "Taco Bell" Dana Carvey Show). This was also a short-lived endeavor, but Colbert stood out as a Phil Hartman-like everyman capable of exuding both exuberance and despair in a single take. From there, he worked with Robert Smigel as the voice of Ace for Saturday Night Live's animated shorts Ace & Gary: The Ambiguously Gay Duo. Colbert has also contributed his vocal talents as Reducto and Phil Ken Sebben on Adult Swim's Harvey Birdman: Attorney At Law and several characters on Crank Yankers.
Colbert, Sedaris and Dinello struck a collaboration again in 1999, and developed Strangers With Candy for Comedy Central. Colbert has one dramatic role to his credit: an episode of Law & Order: Criminal Intent where he portrayed an antiquarian document forger who lives with his crazy mother. The storyline for this episode appears to be "ripped" nearly frame by frame from an episode of CourtTV's Masterminds.
In 1997, Stephen Colbert became a fake senior correspondent on The Daily Show, where he worked alongside Steve Carell, who does the voice for Gary, the other half of the aforementioned Ambiguously Gay Duo. Colbert left the Daily Show in 2005 to create the spinoff The Colbert Report, satirizing the self-obsessed, hard-boiled commentators on Fox News. On 29 April 2006, Colbert was invited to speak at the annual White House Press Corps awards dinner, using the event to skewer both the assembled journalists and the attending politicians, among them sitting President George W. Bush.
Colbert left The Colbert Report at the end of 2014, leaving his blowhard persona behind to succeed David Letterman as host of CBS's The Late Show.
---
[1] Stated his date of birth on-air to be 13th May. Previously thought to be 20th April.

Father: James Colbert (immunologist, d. 11-Sep-1974 airplane crash)
Mother: Lorna Colbert (homemaker, b. circa 1921, d. 12-Jun-2013)
Brother: Jimmy
Brother: Ed (attorney)
Sister: Mary
Brother: Billy
Sister: Margaret
Brother: Tommy
Brother: Jay
Sister: Elizabeth Colbert-Busch ("Lulu")
Brother: Paul (d. 11-Sep-1974, plane crash)
Brother: Peter (d. 11-Sep-1974, plane crash)
Wife: Evelyn McGee-Colbert ("Evie")
Daughter: Madeline
Son: Peter
Son: John


High School: Porter-Gaud School, Charleston, SC
University: Hampden-Sydney College, Hampden-Sydney, VA
University: BA Theater, Northwestern University (1987)


Innocence Project Artists' Committee
Endorsement of Frito-Lay Doritos (2007)
Endorsement of General Motors Mr. Goodwrench (2003), Cadillac (27-Mar-2013)
Hall's Mentho-Lyptus (2013)
Endorsement of Pepsi (2012)
Second City
Roast: Stephen Colbert (2008)
Emmy Outstanding Writing for The Daily Show (shared), 2004
Emmy Outstanding Writing for The Daily Show (shared), 2005
Emmy Outstanding Writing for The Daily Show (shared), 2006
Emmy Outstanding Writing for The Colbert Report (shared), 2008
Emmy Outstanding Writing for The Colbert Report (shared), 2010
Grammy Best Comedy Album for A Colbert Christmas, 2010
Peabody for The Colbert Report, 2008
Irish Ancestry
Risk Factors: Deafness


TELEVISION
Late Show with Stephen Colbert Host (2015-)
The Colbert Report Host (2005-14)
The Daily Show Correspondent (1997-2005)
Harvey Birdman, Attorney at Law Phil Ken Sebben (2001-07)
Strangers with Candy Chuck Noblet (1999-2000)
Saturday Night Live Writer (1996-97)
The Dana Carvey Show Various (1996)
Exit 57 Various (1995)


FILMOGRAPHY AS ACTOR
13th (30-Sep-2016) · Himself
Weiner (24-Jan-2016) · Himself
Mr. Peabody & Sherman (7-Feb-2014) [VOICE]
The Hobbit: The Desolation of Smaug (2-Dec-2013)
The Revisionaries (21-Apr-2012) · Himself
Revenge of the Electric Car (22-Apr-2011) · Himself
Conan O'Brien Can't Stop (13-Mar-2011) · Himself
Company (2011)
Monsters vs Aliens (19-Mar-2009) [VOICE]
A Colbert Christmas: The Greatest Gift of All! (23-Nov-2008) · Himself
The Love Guru (20-Jun-2008)
CSNY/Déjà Vu (25-Jan-2008) · Himself
Strangers with Candy (17-Jun-2006)
Bewitched (24-Jun-2005)
The Great New Wonderful (22-Apr-2005) · Principal Peersall
Nobody Knows Anything! (2003) · TV Newsman
Snow Days (1999)


Official Website:
http://www.colbertnation.com/

Author of books:
I Am America (And So Can You!) (2007)





Requires Flash 7+ and Javascript.



Do you know something we don't?
Submit a correction or make a comment about this profile






Copyright ©2019 Soylent Communications