Sade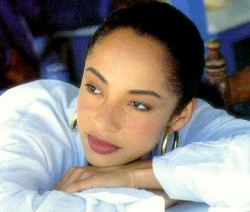 AKA Helen Folasade Adu
Born: 16-Jan-1959
Birthplace: Ibadan, Nigeria

Gender: Female
Race or Ethnicity: Multiracial
Sexual orientation: Straight
Occupation: Singer
Nationality: England
Executive summary: Smooth Operator
Sade ("sha-day") was born with the name Helen in Nigeria to a British mother and Nigerian father. The name "Helen" being alien to Nigerian ears, they called her "Sade", a variant of her middle name. Her parents divorced when she was an infant, her mother raising her in Britain. Sade worked as a model and fashion designer for several years, and was involved in designing outfits that Spandau Ballet wore on their first American tour. But her heart was in music, and at age 21 Sade joined Arriva, a Latin-influenced funk group, and co-wrote "Smooth Operator" with the band's guitarist, Ray St. John. Without a recording contract, though, the tune was heard only in nightclubs where Arriva performed.
In 1981, Sade joined Pride, an eight-person funk band, starting as a background singer but eventually being featured more prominently. When offered a record contract, she took three members of Pride with her. They formed a new band, also called Sade, and she convinced the record company that they could not sign Sade the singer without signing Sade the band -- guitarist/saxophonist Stuart Matthewman, keyboardist Andrew Hale, and bassist Paul Denman. Sade's first album, Diamond Life, included "Smooth Operator", which stayed on American charts a phenomenal 81 weeks. Sade's later hits have included "Paradise", "Nothing Can Come Between Us", and "Keep Looking", "The Sweetest Taboo", "Hang on to Your Love", "No Ordinary Love", and "Pearls".
Sade the singer stayed out of the limelight for a few years after her daughter was born in 1996. In 1998, she was charged with reckless driving in Jamaica. Sade's three bandmates have performed and recorded without Sade as Sweetback.
Father: Adebisi "Bisi" Abu (economics professor)
Mother: Anne Hayes (nurse)
Brother: Banji Abu
Husband: Carlos Scola (Spanish filmmaker, Ngira, m. 11-Feb-1989, div.)
Boyfriend: Bob Morgan (music producer)
Daughter: Ila Morgan (21-Jul-1996)

University: St. Martin's College, London, England

Disobeying a Police Officer Montego Bay, Jamaica (27-Feb-1997)
Disorderly Conduct Montego Bay, Jamaica (27-Feb-1997)
Reckless Driving Montego Bay, Jamaica (27-Feb-1997)
Failure to Appear Kingston, Jamaica (30-Jun-1998)
Grammy
English Ancestry Maternal
Nigerian Ancestry Paternal
Risk Factors: Smoking

FILMOGRAPHY AS ACTOR
Absolute Beginners (18-Apr-1986) · Athene Duncannon
Live Aid (13-Jul-1985) · Herself

Official Website:
http://www.sade.com/
Do you know something we don't?
Submit a correction or make a comment about this profile

Copyright ©2019 Soylent Communications