Frances Wright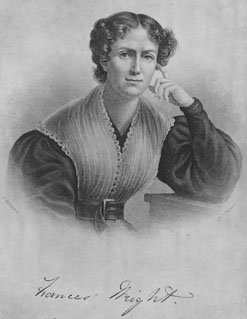 AKA Frances Wright D'Arusmont
Born: 6-Sep-1795
Birthplace: Dundee, Scotland
Died: 13-Dec-1852
Location of death: Cincinnati, OH
Cause of death: Heart Failure
Remains: Buried, Spring Grove Cemetery, Cincinnati, OH

Gender: Female
Religion: Atheist
Race or Ethnicity: White
Sexual orientation: Straight
Occupation: Activist
Nationality: United States
Executive summary: Utopian abolitionist
Frances "Fanny" Wright was orphaned by her wealthy parents as a young girl, and raised by her grand-uncle in 19th-century Scottish aristocracy. Given an uncommonly liberal education, she became a popular playwright and author of romantic verse, and she was already a minor celebrity when she came to America at the age of 22. Enchanted by the new nation, she wrote a glowing book about America, Views of Society and Manners in America, which was an international best-seller and drew praise from Thomas Jefferson, Henry Clay, and the Marquis de Lafayette. In her second visit to America she became a citizen, and set out to solve what she saw as her adopted nation's paramount problem, slavery.
In 1825 she wrote her controversial treatise, A Plan for the Gradual Abolition of Slavery in the United States Without Danger of Loss to the Citizens of the South, arguing for a slow, peaceful transformation from a slave economy to a free society. She proposed that freed blacks and progressive whites should live in the same community, with the whites "teaching" the blacks about freedom and responsibility. Unable to obtain Congressional funding to purchase land for this effort, but with support from the likes of future American President Andrew Jackson and Marquis de Lafayette, she proceeded to purchase and free fifteen slaves. She brought them to a two-thousand acre tract of land near Memphis, Tennessee, on the site of present-day Germantown, where, with a number of white volunteers, she founded her idealized community of Nashoba, in 1826.
Having spent the bulk of her fortune on freeing slaves and purchasing land, she left Nashoba almost immediately and returned to Europe to raise funds for the town's buildings and planned growth. When she returned she found that the experiment had effectively collapsed -- the whites had all left, and only the blacks remained, farming the land but generally unwelcome beyond their own community and uncertain of their legal rights in pre-Civil War Tennessee. In 1829, she arranged for the remaining black settlers of Nashoba to be resettled in Haiti, and paid the fare for their one-way voyage to Port-au-Prince.
She was also involved in Robert Dale Owen's socialist settlement at New Harmony, Indiana, and became a popular albeit always controversial public speaker. Her speeches challenged organized religion, argued for greater separation between church and state, proposed a system of free boarding schools, endorsed free love, and called for equal rights for women. She attracted large audiences of both men and women, which led to criticisms claiming that she led "promiscuous assemblies". For her critiques of the Christian church and calls for sexual freedom, she was widely smeared as "The Great Red Harlot."
Father: James Wright (linen manufacturer)
Mother: Camilla Campbell Wright
Sister: Camilla Wright (d. 1831)
Husband: Guillaume Sylvan Casimir Phiquepal D'Arusmont (physician, m. 1831, div. 1850)

Naturalized US Citizen 1825
English Ancestry Maternal
Scottish Ancestry Paternal

Author of books:
Views of Society and Manners in America (1821)
A Few Days in Athens (1822)
A Plan for the Gradual Abolition of Slavery in the United States (1825)
Course of Popular Lectures (1829)
Fables (1830)
Explanatory Notes Respecting the Nature and Objects of the Institution of Nashoba (1830)
England the Civilizer: Her History Developed in Its Principles (1848)
Biography, Notes, and Political Letters of Frances Wright D'Arusmont (1849, memoir)

Wrote plays:
Altorf: A Tragedy (1819)

Do you know something we don't?
Submit a correction or make a comment about this profile

Copyright ©2019 Soylent Communications