Charo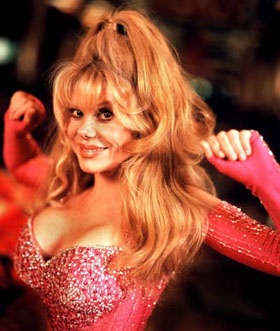 AKA Maria Rosario Pilar Martinez Molina Baeza
Born: 13-Mar-1941 [1]
Birthplace: Murcia, Spain

Gender: Female
Religion: Roman Catholic
Race or Ethnicity: Hispanic
Sexual orientation: Straight
Occupation: Singer, Dancer
Nationality: Spain
Executive summary: Cuchi Cuchi
To most American audiences, Charo is the voluptuous bimbo of game show fame, whose running gags include "cuchi cuchi" and mangling the English language. She has big hair, dangling cleavage, and usually she is the butt of her own jokes.
She was nicknamed Charo as a child, and started wiggling and saying "cuchi cuchi" to make fun of the family dog. She began playing the guitar at age 9, and eventually studied under Andres Segovia, considered one of the greats of classical guitar. She started appearing in night clubs at 19, performing the guitar and doing comedy, and recorded albums that did very well in the Spanish market. She was married to legendary big bandleader Xavier Cugat, and sang with Cugat's band.
When she came to conquer America, the U.S. made her rich, but also narrowed her niche. Charo was a semi-regular on Chico and the Man as a wacky aunt, and made numerous appearances on other sitcoms, usually as a sexy punchline. She was often seen on Johnny Carson's Tonight Show, The Love Boat, and Fantasy Island, wearing sexy outfits, wiggling her hips and squealing, "cuchi cuchi". On the big screen, she was featured in The Concorde: Airport '79, and sang "Let's Drink, Friend" in 1968's Tiger by the Tail. In 1978, Charo's performance of "Dance A Little Bit Closer" -- in English and Spanish -- was a huge international hit, and her 1995 album "Guitar Passion" went platinum worldwide.
In the late 1980s and 90s, while raising her son Shel in Hawaii, Charo concentrated more on being a mother than a performer. "I didn't want him to write a book when he grows up and call it Cuchi-Cuchi Dearest". With some exceptions, her musical and comedy work was limited to the Outrigger Hotel, near her home, but when Shel left home to go to college in 1999, Charo resumed a more active touring and Vegas presence, and again performs her famous "cuchi cuchi" on game shows.
---
[1] Vicki L. Ruíz and Virginia Sánchez Korrol (eds.), Latinas in the United States: A Historical Encyclopedia (2006): "Maria Rosario Pilar Martinez Molina Baeza, known popularly as Charo or the "cuchi-cuchi" girl, was born in Spain on January 15, 1942. Charo had a judge change her legal birth date to 1952." See also the wire story, "Charo Sheds 10 Years", Associated Press, 4 November 1977: "The Spanish-born singer swore in an affidavit filed in federal court Wednesday that she was 26. Her Spanish passport said that she was 36." The amended declaration gave her birthdate as January 15, 1951 in Murcia, Spain. This would have made her 15 when she married Xavier Cugat, and a scant 13 when she was initially engaged to him.

Father: (lawyer)
Mother: (housewife)
Husband: Xavier Cugat (big band leader, m. 7-Aug-1966, div. 1978)
Husband: Kjell Rasten (producer; m. 11-Aug-1978)
Son: Shel (drummer, metal band Treazen, b. 1982)


Charo
Endorsement of GEICO 2006
Naturalized US Citizen 1977


TELEVISION
Chico and the Man Aunt Charo (1977-78)
The Surreal Life Herself (Season 3, 2004)


FILMOGRAPHY AS ACTOR
Thumbelina (30-Mar-1994) · Mrs. Toad [VOICE]
Moon Over Parador (9-Sep-1988) · Madame Loop
Christmas at Pee Wee's Playhouse (1988) · Herself
The Concorde: Airport '79 (17-Aug-1979) · Margarita
Tiger by the Tail (1968)





Requires Flash 7+ and Javascript.



Do you know something we don't?
Submit a correction or make a comment about this profile






Copyright ©2019 Soylent Communications