Katie Couric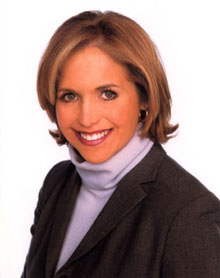 AKA Katherine Anne Couric
Born: 7-Jan-1957
Birthplace: Arlington, VA

Gender: Female
Religion: Anglican/Episcopalian [1]
Race or Ethnicity: White
Sexual orientation: Straight
Occupation: Talk Show Host, Journalist
Nationality: United States
Executive summary: CBS Evening News
Katie Couric began her career in television as a low-level assistant at ABC in 1979. Her job, she has said, consisted of brewing coffee, answering phones, and occasionally fetching a ham sandwich for anchorman Frank Reynolds. She left to work as an assignment editor and field reporter at the fledgling Cable News Network, where she covered the 1984 Presidential election, but she was released after a CNN executive was annoyed by her "squeaky voice".
She then worked at local affiliates in Miami and Washington DC, and won a local Emmy for a report she filed on a dating service for handicapped singles. She joined NBC News in 1989, and soon became the network's second-string reporter covering the Pentagon. Meanwhile, producers at Today, the network's morning show, had dealt with Jane Pauley's stubborn insistence on aging by replacing her with younger and prettier Deborah Norville, but audiences found Norville icy and the producers were looking for a replacement by the time Norville took maternity leave in 1991. The ratings went up when Couric was brought in to substitute, and it quickly became clear that Norville would never be coming back. On 5 April 1991, Couric was promoted from substitute to full-fledged host, alongside Bryant Gumbel and later Matt Lauer.
When Couric became pregnant in 1995 she continued working, and her pregnancy was a frequent topic on Today. After her husband's 1998 death from cancer Couric delved frequently into coverage of cancer research and prevention, and gave new meaning to the term "in-depth coverage" when she underwent a colonoscopy on TV -- the process involves inserting a roughly finger-width tube through the rectum so doctors can examine the colon lining. Couric had a similarly personal response to the 1999 massacre at Columbine High School near Littleton, Colorado, writing The Brand New Kid, a rhyming storybook encouraging children not to taunt classmates.
Her father, John Couric, was a reporter for The Atlanta Journal-Constitution and the now-defunct United Press Association wire service. He was later in charge of public relations for the National Association of Broadcasters, the TV and radio industry lobby. Couric's sister, Emily Couric, wrote Divorce Lawyers: What Happens in America's Courts after a tumultuous divorce, and later served as a Democratic state Senator in Virginia. She was considered the frontrunner as a candidate for lieutenant governor, but instead died of cancer in 2001. Emily Couric's son, Jeff Wadlow, is a rising Hollywood director whose best-known work is Cry Wolf, the 2005 high school horror movie with Jared Padalecki.
In a 2003 ratings stunt, Couric and NBC's Tonight Show host Jay Leno traded jobs for one day. Leno sat in her semi-newsy chair on Today, awkwardly interviewing newsmakers like Colin Powell, while Couric delivered a funny stand-up monologue on The Tonight Show, then participated in a skit mocking Paula Abdul, and smoothly interviewed Tonight's show-business guests.
After 15 years of stellar ratings on Today, Couric jumped to CBS in 2006, replacing Bob Schieffer as anchor of the CBS Evening News. Women had served as network news co-anchors before Couric, but she was the first woman to regularly anchor an evening newscast without a man beside her. She held the Cronkite chair for five years, leaving in 2011 amid dismal ratings, and was succeeded by Scott Pelley. She later hosted Katie, a daily TV chat show.
---
[1] Couric's father is Episcopalian, and her mother is Jewish. Couric has occasionally described herself as Jewish by heredity, but she was raised in her father's church.

Father: John M. Couric (newspaper reporter, d. 22-Jun-2011 Parkinson's disease)
Mother: Elinor Hene (b. circa 1923, d. 4-Sep-2014)
Sister: Emily (Virginia state senator, d. 18-Oct-2001 pancreatic cancer)
Sister: Clara Couric Batchelor (owns landscaping firm)
Brother: John M. Couric Jr.
Boyfriend: Larry King (talk show host, briefly dated in late 1980s)
Husband: John Paul Monahan III ("Jay", MSNBC lawyer, m. 1989, d. 24-Jan-1998 colon cancer)
Daughter: Elinor Tully Monahan (b. 23-Jul-1991)
Daughter: Caroline Couric Monahan (b. Jan-1996)
Boyfriend: Carroll Lesesne (plastic surgeon, dated 1999-2000)
Boyfriend: Tom Werner (TV sitcom producer, dated intermittently 2000-2004)
Boyfriend: Chris Botti (musician, dated in 2005)
Boyfriend: Jimmy Reyes (billionaire, co-owner of Reyes Holdings, dated 2006-)
Husband: John Molner (financier, m. 21-Jun-2014)


High School: Yorktown High School, Arlington, VA (1975)
University: BA American Studies, University of Virginia (1979)


CNN Assignment editor
Pizza Hut waitress
Delta Delta Delta Sorority
Council on Foreign Relations
UNICEF
Broadcasting and Cable Hall of Fame
Emmy
Peabody 2001
Colonoscopy 2000
Wedding: Donald Trump and Melania Knauss (2005)
Funeral: Tim Russert (2008)
Risk Factors: Smoking, Bulimia


TELEVISION
CBS Evening News Anchor (2006-11)
60 Minutes Correspondent (2006-)
Today Co-Host (1991-2006)
Today Substitute Anchor (1989-91)
Dateline NBC Contributing Anchor (1992-)


FILMOGRAPHY AS ACTOR
True Memoirs of an International Assassin (11-Nov-2016)
Before the Flood (9-Sep-2016) · Herself
Sully (2-Sep-2016)
Miss Representation (20-Jan-2011) · Herself
Shark Tale (10-Sep-2004) · Katie Current [VOICE]
Austin Powers in Goldmember (22-Jul-2002) · Prison Guard


Official Website:
http://www.katiecouric.com/

Author of books:
The Blue Ribbon Day (2004, juvenile)
The Brand New Kid (2010, juvenile)
The Best Advice I Ever Got: Lessons from Extraordinary Lives (2011, self-help)





Requires Flash 7+ and Javascript.



Do you know something we don't?
Submit a correction or make a comment about this profile






Copyright ©2019 Soylent Communications