Betsy Ross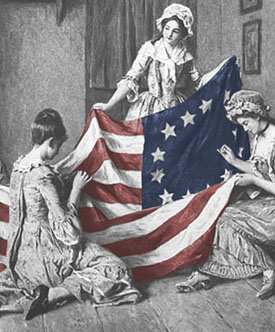 AKA Elizabeth Griscom
Born: 1-Jan-1752
Birthplace: Philadelphia, PA
Died: 30-Jan-1836
Location of death: Philadelphia, PA
Cause of death: Natural Causes
Remains: Buried, Betsy Ross House, Philadelphia, PA

Gender: Female
Religion: Quaker
Race or Ethnicity: White
Sexual orientation: Straight
Occupation: Business
Nationality: United States
Executive summary: Legendary American flagmaker
Legend has it that Elizabeth "Betsy" Griscom Ross designed and sewed the first American flag. On a motion by John Adams, what is now called the Betsy Ross Flag -- 13 stripes with 13 stars in the upper left corner -- was officially adopted by the Continental Congress on 14 June 1777, and there is ample evidence that Mrs Ross manufactured flags for the Pennsylvania State Navy. But the first known claim that her involvement was more than merely sewing came in 1870, when her grandson addressed the Historical Society of Pennsylvania, and said that she had told him on her deathbed that the flag's design was hers and the first flag was sewn by her hand. According to him, Ross was visited in her home in June 1776 by Robert Morris, George Ross (her husband's uncle), and George Washington, who asked her to create a new nation's flag.
Other than her family's claims, there is no serious evidence linking Ross to the flag's design. When the US Post Office announced its Betsy Ross commemorative stamp in 1952, some naysayers and historians objected, citing the lack of documentation to support the story. US Postmaster General Jesse M. Donaldson responded publicly, "Even if it is a myth, it is a pleasant one ... that has been in all the history books and which all the school children love. We can't disprove it, so why not accept it?"
Whether or not she created the Stars and Stripes, the historical Betsy Ross was an impressive woman: Her father owned a construction business, and she was the eighth of seventeen children. She was raised a Quaker, but was shunned by that denomination after eloping with John Ross, an Episcopalian. The Rosses ran an upholstery shop on Arch Street in Philadelphia, where their work involved more than merely sewing -- they repaired chairs, clothing, curtains, rugs and umbrellas. They attended Philadelphia's Christ Church, where General Washington was also frequently in attendance. Her husband was in the Pennsylvania Militia, and was killed in an accident just before the start of the American Revolutionary War.
After his death the widow Ross ran her upholstery shop alone, and during the winter of 1777, as British forces occupied Philadelphia, she was forced to quarter British soldiers in her home. She again became a Quaker, albeit as a member of the rogue group "Fighting Quakers", which disregarded the Quakers' general pacifism to support the colonists in the war. Her second husband was Naval officer Joseph Ashburn, but he was captured by the British, and died in a prisoner-of-war camp in England (several months after the war's official end). Her third husband was John Claypoole, who joined her in running the upholstery shop. They were married for more than thirty years, and after his death she ran the shop alone until her advancing blindness made sewing impossible. She turned the business over to her daughters in 1827, and died nine years later at the age of 84.
Father: Samuel Griscom (carpenter, b. 1717, d. 15-Sep-1793 yellow fever)
Mother: Rebecca James Griscom (b. 1721, m. 6-Feb-1741, d. 21-Sep-1793 yellow fever)
Sister: Deborah Griscom Bolton (b. Apr-1743, d. 1793)
Sister: Susannah Griscom Doane Satterthwaite (b. Jul-1744, d. 30-Apr-1788)
Sister: Sarah Griscom (b. Oct-1745, d. 25-Mar-1747) and Rebecca Griscom (b. Jan-1746)
Brother: William Griscom (b. Apr-1748, d. 18 Aug 1749) and Samuel Griscom (b. Apr-1753, d. 9-Sep-1756)
Sister: Sarah Griscom Donaldson (b. Jul-1749, d. 1785) and Mary Griscom Morgan (b. Oct-1750)
Sister: Martha Griscom (b. Jul-1754. d. 28-Jul-1757)
Sister: Hannah Griscom Levering (b. Nov 1755, d. 21-Dec-1836)
Sister: Ann Griscom (b. Mar-1757, d. 25-Aug-1759)
Brother: Samuel Griscom (b. Jul-1758, d. 23 Jul 1761)
Brother: Joseph Griscom (b. Nov-1759, d. 10-Oct-1762)
Sister: Abigail Griscom (b. 1759, d. 15-Nov-1762)
Sister: Rachael Griscom (b. Nov-1762, d. 18-Nov-1825)
Brother: George Griscom (b. Apr-1761, d. 1835)
Husband: John Ross (upholsterer, b. 1752, m. 11-Apr-1773, d. 21-Jan-1776 military accident, no children)
Husband: Joseph Ashburn (Navy officer, m. 15-Jun-1777, d. 3-Mar-1782 in prison, two daughters)
Daughter: Aucilla Ashburn ("Zillah", b. 15-Sep-1779, d. infancy)
Daughter: Elizabeth Ashburn Claypoole Silliman ("Eliza", b. 25-Feb-1781)
Husband: John Claypoole (upholsterer, m. 8-May-1783, d. 3-Aug-1817, five daughters)
Daughter: Clarissa Sidney Claypoole Wilson (b. 3-Apr-1785, d. 10-Jul-1864)
Daughter: Susannah Claypoole Satterthwaite ("Susan", b. 15-Nov-1786, d. 11-Jun-1875)
Daughter: Rachel Claypoole Jones Fletcher (b. 1-Feb-1789)
Daughter: Jane Claypoole Canby (b. 13-Nov-1792, d. 4-Jan-1873)
Daughter: Harriet Claypoole (b. 20-Dec-1795, d. 8-Oct-1796)

High School: Rebecca Jones School for Quakers, Philadelphia, PA

English Ancestry Paternal
Welsh Ancestry Maternal
Risk Factors: Blindness

Appears on postage stamps:
USA, Scott #1004 (3¢, depicting Ross sewing, issued 2-Jan-1952)

Do you know something we don't?
Submit a correction or make a comment about this profile

Copyright ©2019 Soylent Communications