Pebbles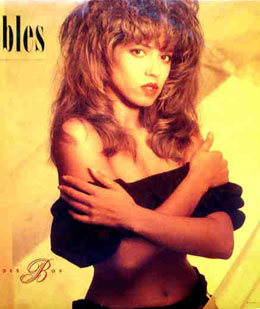 AKA Perri Alette McKissack
Born: 29-Aug-1964
Birthplace: San Francisco, CA

Gender: Female
Religion: Baptist
Race or Ethnicity: Black
Sexual orientation: Straight
Occupation: Singer, Business, Religion
Nationality: United States
Executive summary: R&B singer and Savvy records founder
Perri McKissack, nicknamed "Pebbles" after the cartoon character from The Flintstones, caught the entertainment bug (as is typical) early in life, performing in talent and dance competitions throughout her teen years. She studied ballet for a time, but began to concentrate her energies on singing by the time she entered high school. A demo of her performing the song Mercedes Boy reached the ears of a program director at an Oakland radio station, and before long a contact with MCA records had been arranged.
Before venturing out on her own, Pebbles spent her early career singing and writing for R&B groups such as Con Funk Shun and Sister Sledge. In 1987 a hint of her future solo success was indicated by the popularity of the song Love/Hate, included on the soundtrack to the film Beverly Hills Cop II; that success would fully materialize the following year with her self-titled debut release. The lead single, Girlfriend -- a last-minute addition to the album produced and written by what would become one of the most in-demand production teams of the era, L.A. Reid and Kenneth "Babyface" Edmonds -- quickly climbed to the #1 position on the R&B charts, while the follow-up single, Mercedes Boy, made it to #2.
In 1991 the Reid/Babyface duo produced Pebbles' second offering, Always, which achieved platinum status and spawned three more hit singles for the singer. During this time Pebbles and Reid married, as well as co-creating the label LaFace Records. Pebbles would subsequently focus more on a career in production and management, most notably creating the all-female trio TLC in 1991; under her guidance they would become the most successful girl group of all time. Although originally signed to her own production company, Pebbitone, TLC would eventually graduate to LaFace -- planting the seeds for an ugly legal dispute shortly after the release TLC's debut Oooooooh...On the TLC Tip. The band had become anxious to remove themselves from Pebbles' control and her now ex-husband Reid was happy to oblige: a new contract was drawn up with LaFace leaving his former wife entirely out of the deal. Pebbles filed suit against both parties for a healthy sum of money, contributing in part to TLC's bankruptcy in 1995.
In 1993 Pebbles created the label Savvy records, but it wouldn't be until 1995 that the third record from the singer would materialize. Straight From My Heart did not emulate the success of its predecessors, and shortly afterwards she left both the music business and her nickname behind to found "Women of God Changing Lives Through Christ", a women-oriented church organization with whom (now as Sister Perri) she continues to lead Tuesday night "healing services" in Atlanta.
Husband: George Smith (m. 1983, div.)
Daughter: Ashley Smith
Husband: Antonio "L.A." Reid (record executive, m. 1989, div.)
Son: Aaron Reid
Husband: Otis Nixon (former athlete, m. 2000, div. 2004)

Official Website:
http://wogcl.org/
Do you know something we don't?
Submit a correction or make a comment about this profile

Copyright ©2019 Soylent Communications