James Mackay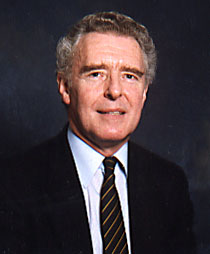 AKA James Alexander Mackay
Born: 21-Nov-1936
Birthplace: Inverness, Scotland
Died: 12-Aug-2007
Location of death: Glasgow, Scotland
Cause of death: unspecified

Gender: Male
Race or Ethnicity: White
Sexual orientation: Straight
Occupation: Historian, Stamp Collector
Nationality: Scotland
Executive summary: Plagiarising historian
In 1998 Mackay published in America a biography of Alexander Graham Bell, the first such published since Robert V. Bruce's Pulitzer Prize-winning Alexander Graham Bell and the Conquest of Solitude in 1973. Mackay's book had previously been published in Britain to good reviews, and Mackay had enough books under his belt that Bruce (still alive) was quite suprised to find Mackay's new work to be largely a carbon copy of the earlier.
The plagiarism was not accidental. While he cited Bruce's work in several places, he made errors of space/time fabric: for instance, thanking the people who previously curated the Bell Archive, instead of the Library of Congress, where the archive has resided for the past twenty-five years, and thanking people whose help he did not actually solicit or receive. Bruce counts instances of plagiarism on 285 of 297 pages, evidence he documented to the American Historical Association's Library Journal for them to render a verdict on the issue. Guilty, of course.
But by then Mackay had already paid his publisher $40,000 to destroy all copies of the Bell biography and withdraw it from sale, in return for a promise from Bruce not to sue. Strangely Mackay continues to write... more biographies. Copies of his 1998 John Paul Jones were withdrawn from sale after similarities were noted between Samuel Eliot Morison's 1942 Pulitzer Prize-winning biography of the seaman.
To illustrate, here are two passages selected by The New York Times. First, from Morison, written 1942:
"During his career, he visited some of the most beautiful parts of the world -- Cape Breton, the Windward Islands, Jamaica, Galicia, Brittany, the Hebrides, the Baltic and the Black Sea; yet not once in his voluminous correspondence does he indicate any appreciation of them; and in only one letter, about the great gale of October 1780, does he mention the majesty of the sea."
And now from James Mackay's 1997 book:
"In the course of his career he visited some of the most beautiful parts of the world -- the Caribbean islands, Nova Scotia, Galicia, the Baltic and the Black Sea as well as the eastern seaboard of America and the coasts of Britain -- yet nowhere in his vast correspondence does he betray any appreciation of them. In only one letter, written in October 1780 in the aftermath of a great storm, does he allude to the majesty of the sea."
The reader may judge whether the above passage is plagiarism. Mackay gave the New York Times his excuse: "There are only a certain number of words in the English language." Now to be fair, it is entirely possible that Mackay has accomplished valuable historical work in his pursuits. Amazon lists him to this day as an "Award-winning historian", which one might suppose is technically correct. Mackay is considered by many to be an authority on Scottish poet Robert Burns, and he is certainly some kind of an authority on philatelic matters. But all of his works must be viewed with great skepticism.

Brother: (older, d. prior to Mackay's birth)
Sister: (younger)
Wife: Mary Jackson (m. 1960, div., one daughter, one son)
Wife: Renate Finlay-Freundlich (m. 1992)


High School: Hillhead High School, Glasgow, Scotland (1954)
University: University of Glasgow (1958)


Appears in articles:
The New York Times, 21-Sep-1999, DETAILS: Plagiarism Accusations Halt Distribution of John Paul Jones Biography, BYLINE: Ralph Blumenthal with Sarah Lyall


Author of books:
St. Kilda, its Posts and Communications (1963, postal history)
Scottish Postmarks, 1693 to 1978 (1978, postal history)
A Biography of Robert Burns (1992, biography)
William Wallace, Braveheart (1996, biography)
Allan Pinkerton, The First Private Eye (1997, biography)
Alexander Graham Bell, A Life (1998, biography)






Do you know something we don't?
Submit a correction or make a comment about this profile






Copyright ©2019 Soylent Communications