Victor Wong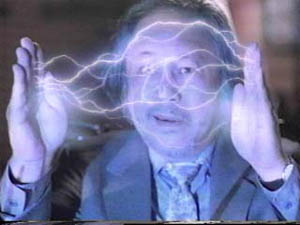 AKA Yee Keung Victor Wong
Born: 31-Jul-1927
Birthplace: San Francisco, CA
Died: 12-Sep-2001
Location of death: Locke, CA
Cause of death: Heart Failure
Remains: Cremated

Gender: Male
Religion: Baptist
Race or Ethnicity: Asian
Sexual orientation: Straight
Occupation: Actor
Nationality: United States
Executive summary: Egg Shen
Victor Wong was a first generation Chinese-American born in San Francisco's Chinatown in 1927 to recent immigrants. His father was a Confucian scholar who had established himself as a journalist in Shanghai before migrating with his Baptist wife. Young Victor and his younger siblings were forced to go to the First Chinese Baptist Church every week, and Victor was affected by this, often proselytizing on the streets of San Francisco with his brother Zepplin.
Victor attended UC Berkeley to study journalism, but his quest for spiritual knowledge sent him to Theology school at the University of Chicago, to study under Martin Buber and Paul Tillich. While in Chicago he also fooled around as a comedian with the Second City comedy troupe, and briefly roomed with Langston Hughes.
Returning to San Francisco for a theatre production, he stayed and continued studies at the Art Institute under Mark Rothko. Around this time Victor started hanging out at the City Lights bookstore with Jack Kerouac and the beat poets. Kerouac even wrote about his friend in Big Sur using the pseudonym Arthur Ma:
"little Arthur Ma who never goes anywhere without his drawing paper and his Yellowjack felt tip pencils is already seated in my chair on the porch (wearing my hat now too) drawing one of his interminable pictures, he'll do 25 a day and 25 the next day too -- He'll talk and go on drawing -- He has felt tips of all colors, red, blue, yellow, green, black, he draws marvelous subconscious glurbs and can also do excellent objective scenes or anything he wants on to cartoons... "
The two of them would stay up all night speeded up and spouting ridiculous non-sequiturs that seemed inspired at the time. Later on Victor would describe his friend:
"He had a lot of hair. He had to shave about three times a day... He had hair on his back, on his shoulders. I asked him whether I could touch him, you know, it was so strange that he had hair all the way down to his you-know-what. And he had some on his butt, too. He had a big dick, too. I think he made good use of it. He had hairy legs, even to his toes. He was a very hairy guy..."
In 1963, Wong was moved by the assassination of JFK to pursue a career in journalism. Five years later he landed a job as a newscaster for KQED, covering Chinatown for Newsroom. The stress of the newsroom may have contributed to his contracting Bell's Palsy in 1974, which caused the left side of his face to droop, and his newscaster career was finished. He became very depressed and turned back to acting, starting in the local Asian-American theatre, and later landing larger roles on the stages New York City. This led to television work and eventually, the attention of directors Bernardo Bertolucci and John Carpenter.

Victor Wong is most famous for this work, in beloved films like The Year of the Dragon, The Last Emperor, Big Trouble in Little China. It was during the filming of this latter film that his son Lyon was killed in a fight, and shortly after his wake Victor suffered his first stroke. Many strokes were to follow, and as his health and acting career waned he turned back to painting, and to his family life in the Sacramento Delta. After the World Trade Center attack, Victor stayed riveted to his television for two days straight, his journalistic training refusing to let him stop. His last words before he died on September 12th, 2001 were, "The world will never be the same."

Father: Sare King Wong (school principal)
Brother: Zepplin Wong
Wife: Olive Thurman Wong
Daughter: Emily
Wife: Dawn Rose
Son: Lyon (d. 1986, killed in a fight)


University: Political Science, Journalism, University of California at Berkeley
Theological: Graduate School of Theology, University of Chicago
University: MFA, San Francisco Art Institute (1962)


Stroke
Second City
Chinese Ancestry
Risk Factors: Bell's Palsy


FILMOGRAPHY AS ACTOR
3 Ninjas: High Noon at Mega Mountain (10-Apr-1998)
Seven Years in Tibet (13-Sep-1997)
Jade (13-Oct-1995) · Mr. Wong
The Stars Fell on Henrietta (15-Sep-1995)
3 Ninjas Knuckle Up (10-Mar-1995)
3 Ninjas Kick Back (6-May-1994) · Grandpa
The Joy Luck Club (8-Sep-1993)
3 Ninjas (7-Aug-1992)
Mystery Date (16-Aug-1991)
Forbidden Nights (10-Apr-1990)
Tremors (19-Jan-1990) · Walter Chang
Life Is Cheap... But Toilet Paper Is Expensive (15-Sep-1989)
Eat a Bowl of Tea (21-Jul-1989) · Wah Gay
Bloodsport (9-Jun-1988)
Prince of Darkness (23-Oct-1987) · Birack
The Last Emperor (15-Oct-1987) · Chen Pao Shen
The Golden Child (12-Dec-1986) · The Old Man
Shanghai Surprise (29-Aug-1986)
Big Trouble in Little China (2-Jul-1986) · Egg Shen
Dim Sum: A Little Bit of Heart (5-Sep-1985)
Year of the Dragon (16-Aug-1985) · Harry Yung





Requires Flash 7+ and Javascript.



Do you know something we don't?
Submit a correction or make a comment about this profile






Copyright ©2019 Soylent Communications