Mancow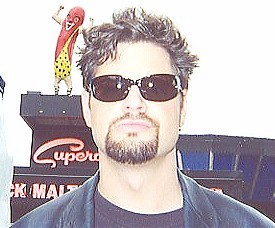 AKA Erich Matthew Muller
Born: 21-Jun-1967
Birthplace: Kansas City, MO

Gender: Male
Race or Ethnicity: White
Sexual orientation: Straight
Occupation: Radio Personality
Party Affiliation: Libertarian [1]
Nationality: United States
Executive summary: Shock jock, shut down the SF Bay Bridge
Erich Muller -- the boy who would be Mancow -- was a child model and actor, appearing in ads for Lee Jeans and Wal-Mart, and playing "the cute kid" in dozens of off-Broadway plays, including long runs of On Golden Pond and The Crucible. He earned Bachelors degrees in public relations and theater at Central Missouri State University in Warrensburg, MO, and that's where he started working in radio, at KOKO-AM.
From small-town Missouri to Kansas City, then to Chicago by way of California, Mancow has always drawn big ratings, and often drawn controversy. Some say his radio show is as funny as fuck, others say it's offensive -- people who don't get it really don't get it. The FCC, cracking down on the notion of free speech in America, has issued fat fines against stations that aired particularly raunchy Mancow moments.
"My show is not for kids," says Mancow. "The whole world can't be aimed at seven-year-olds. Parents tell me, 'Well, my kid listens to you anyway.' I tell them it's sad that they can't control a child."
When he's not being "offensive," Mancow's show has often featured outrageous publicity stunts. He once had live cows delivered to competitors' radio shows, and in another instance draped a "Welcome to Chicago" banner over an arrival gate at the San Francisco International Airport.
Mancow's most infamous bit came in 1993, a few days after celebrity stylist Christophe had given President Bill Clinton a $200 haircut aboard Air Force One at L.A. International Airport. It had been widely (and incorrectly) reported that other landings and take-offs at the airport had been restricted while Christophe perfected Clinton's coiffure, so Mancow, then working at a San Francisco station, concocted this stunt cum political statement:
Mancow and his then-sidekick Chuy "Chewy" Gomez drove onto the Bay Bridge, the double-decked freeway that connects San Francisco to Oakland. Then, at the height of the morning rush hour, they stopped the radio station's van in traffic while Gomez got a haircut. The traffic jam was enormous, and while the haircut only took a few minutes, traffic was clogged on the bridge for the rest of the morning and into the afternoon. The radio station was sued, and ended up paying more than a million dollars. Mancow became nationally famous, and locally both beloved and despised.
He soon left San Francisco, and now hosts Mancow's Morning Madhouse on Chicago's WKQX, where his antics with Heather, Turd, Freak, and DJ Luv Cheese are syndicated to radio stations in several other cities. He's a self-effacing host, and rarely makes fun of his guests, at least while they're in the studio. When he's political he comes from the right, and he's a daily commentator on Fox and Friends on FoxNews.
In his early years, Mancow would announce very special guests at the top of his show -- "President Clinton will be stopping by" or "Today we'll be chatting with Cher" -- and at the end of his show he'd thank his mega-celebrity guests. Of course, such celebrities weren't actually on Mancow's show, but if you were away from the radio for a few minutes you felt you'd really missed something.
In 2004, Mancow sued a listener, David Smith of Chicago. Smith, who is associated with the prude group Citizens for Community Values, has filed more than 60 FCC complaints against Mancow's show since 1999, six of which have led to whopping fines. Mancow said he's willing to fight for free speech, and he can afford to. He's also promised that if he wins the lawsuit, all proceeds will be donated to the Boy Scouts of America and other charities.
---
[1] "I'm not a Republican. I'm a Libertarian." Fox News Channel (6-Dec-2005)

Father: John Muller (salesman, d.)
Mother: Dawn Muller (homemaker)
Wife: Sandy Ferrando (m. 14-Feb-2003)
Daughter: Ava Grace Muller
Daughter: Isabella Sofia Muller
Brother: (2 brothers)


High School: Missouri
University: BA, Central Missouri State University, Warrensburg, MO


Waterboarded (May-2009)
Apache Ancestry
German Ancestry
Italian Ancestry
Risk Factors: Marijuana, Ecstasy


Official Website:
http://www.mancow.com/

Author of books:
Dads, Dames, Demons and a Dwarf: My Trip Down Freedom Road (2003, memoir)






Do you know something we don't?
Submit a correction or make a comment about this profile






Copyright ©2019 Soylent Communications