Giuseppe Sarti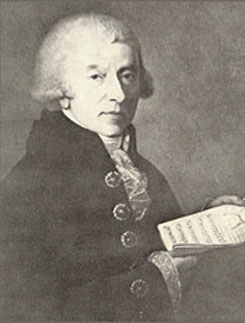 Born: 28-Dec-1729
Birthplace: Faenza, Italy
Died: 28-Jul-1802
Location of death: Berlin, Germany
Cause of death: unspecified

Gender: Male
Religion: Roman Catholic
Race or Ethnicity: White
Occupation: Composer
Nationality: Italy
Executive summary: I Due Litiganti
Italian composer, born at Faenza on the 28th of December 1729. He was educated by Padre Martini, and appointed organist of the cathedral of Faenza before the completion of his nineteenth year. Resigning his appointment in 1750, Sarti devoted himself to the study of dramatic music, becoming director of the Faenza theater in 1752. In 1751 he produced his first opera, Pompeo, with great success. His next works, Il Rč Pastore, Medonte, Demofoonte and L'Olimpiade, assured him so brilliant a reputation that in 1753 King Frederick V of Denmark invited him to Copenhagen, with the appointments of Hofkapellmeister and director of the opera. Here he produced his Ciro riconsosciuto. In 1765 he travelled to Italy to engage some new singers; meanwhile the death of King Frederick put an end for the time to his engagement. In 1769 he went to London, where he could only contrive to exist by giving music lessons. In 1770 he obtained a post in Venice as music master at the Conservatorio dell' Ospedaletto. In 1779 he was elected maestro di cappella at the cathedral of Milan, where he remained until 1784. Here he exercised his true vocation -- composing, in addition to at least twenty of his most successful operas, a vast quantity of sacred music for the cathedral, and educating a number of clever pupils, the most distinguished of whom was Luigi Cherubini.
In 1784 Sarti was invited by the empress Catherine II to St. Petersburg. On his way there he stopped at Vienna, where the emperor Joseph II received him with marked favor, and where he made the acquaintance of Mozart. He reached St. Petersburg in 1785, and at once took the direction of the opera, for which he composed many new pieces, besides some very striking sacred music, including a Te Deum for the victory of Ochakov, in which he introduced the firing of real cannon. He remained in Russia until 1801, when his health was so broken that he solicited permission to return. The emperor Alexander dismissed him in 1802 with a liberal pension; letters of nobility had been granted to him by the empress Catherine. His most successful operas in Russia were Armida and Olega, for the latter of which the empress herself wrote the libretto. Sarti died at Berlin on the 28th of July 1802.
Sarti's opera I Due Litiganti has been immortalized by Mozart, who introduced an air from it into the supper scene in Don Giovanni. It should be noted that Mozart's Nozze di Figaro owed a great deal to the influence of this opera, which was performed in Vienna in 1784. The admirable libretto by Da Ponte, author of the libretti of Figaro and Don Giovanni, shows similar situations, and the complicated finale of the first act served as a model to Mozart for the finale of the last act of Figaro.
Do you know something we don't?
Submit a correction or make a comment about this profile

Copyright ©2019 Soylent Communications