Hermann Staudinger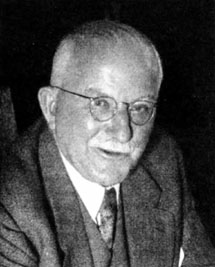 Born: 23-Mar-1881
Birthplace: Worms, Germany
Died: 8-Sep-1965
Location of death: Freiburg, Germany
Cause of death: unspecified
Remains: Buried, Old Cemetery, Freiburg, Germany

Gender: Male
Race or Ethnicity: White
Sexual orientation: Straight
Occupation: Chemist
Nationality: Germany
Executive summary: Macromolecular chemistry
In 1905, German chemist Hermann Staudinger discovered highly reactive ketenes, derivatives of carboxylic acids formed by abstraction of water. In 1919 he discovered the Staudinger reaction (sometimes termed the Staudinger ligation or Staudinger reduction), wherein mixing an azide with a phosphine or phosphite creates a phosphorimidate. In 1920 he proposed the existence of macromolecules, leading to years of intense derision from most other chemists. Textbooks and the accepted understanding of his time held that complex molecules, such as rubber and protein, were clumps of molecules bound together; Staudinger argued that polymers could be much larger than his contemporaries believed, comprised of up to 100,000 atoms.
To rancorous heckling during a speech at a 1925 chemistry conference, he replied from the podium by quoting Martin Luther, "Here I stand, I can do no other". He was widely ostracized from mainstream science until the 1930s, when The Svedberg's development of the ultracentrifuge began providing a steady stream of evidence supporting Staudinger's conception of macromolecules. By the 1940s the scientific community began acknowledging that Staudinger was correct, and in 1943 he launched Die Makromolekulare Chemie (Macromolecular Chemistry), the first scientific journal dedicated to polymer chemistry. In 1953 he was presented with the Nobel Prize for Chemistry. If his theory of macromolecules had not been fundamentally correct, the present-day polymer plastics industry would not be possible.
He also studied diazo compounds, butadiene and isoprene mixtures, oxalyl chloride, pentavalent phosphorus, and the molecular structure of cellulose, natural rubber, polyethylene oxide, polyoxymethylene, polystyrene, and pyrethrins. He was held in public contempt by German officials in the build-up to World War II for his pacifism, and during World War II, when ordinary materials were in short supply, he developed synthetic alternatives to pepper and the aroma of coffee. He died in 1965, and was inducted into the Plastic Academy's Hall of Fame in 2008.
Father: Franz Staudinger (philosophy professor, b. 1845, d. 1921)
Mother: Auguste Wenck Staudinger
Wife: Magda Woit (plant physiologist, b. 1902, d. 1997)

High School: Rudi-Stephan-Gymnasium, Worms, Germany (1899)
University: University of Darmstadt (attended)
University: University of Munich (attended)
University: PhD, University of Halle (1903)
Lecturer: Chemistry, University of Strasbourg (1903-07)
Teacher: Organic Chemistry, Karlsruhe Institute of Technology (1907-12)
Professor: Swiss Federal Institute of Technology, Zürich (1912-26)
Professor: Chemistry, University of Freiburg (1926-51)
Administrator: State Research Institute for Macromolecular Chemistry (1951-56)

Cannizzaro Prize of the Accademia dei Lincei 1933
Nobel Prize for Chemistry 1953
Institut de France Foreign Member
Die Makromolekulare Chemie (Macromolecular Chemistry) Founder & Publisher, 1943-65
German Ancestry
Plastic Academy's Hall of Fame 2008

Author of books:
Die Ketene (Ketenes) (1912, chemistry)
Anleitung zur organischen qualitativen Analyse (Introduction to Organic Qualitative Analysis) (1923, chemistry)
Tabellen zu den Vorlesungen über allgemeine und anorganische Chemie (Tables for the Lectures on General and Inorganic Chemistry) (1927, chemistry)
Die hochmolekularen organischen Verbindungen, Kautschak und Cellulose (The High-Molecular Organic Compounds, Rubber and Cellulose) (1932, chemistry)
Organische Kolloidchemie (Organic Colloid Chemistry) (1940, chemistry)
Fortschritte der Chemie, Physik und Technik der makromolekularen Stoffe (Progress of the Chemistry, Physics and Technique of the Macromolecular Substances) (1939-42, chemistry, 2 vols., with Vieweg and Röhrs)
Makromolekulare Chemie und Biologie (Macromolecular Chemistry and Biology) (1947, chemistry)
Vom Aufstand der technischen Sklaven (The Uprising of the Technical Slave) (1947, chemistry)
Arbeitserinnerungen (From Organic Chemistry to Macromolecules) (1961, memoir)

Do you know something we don't?
Submit a correction or make a comment about this profile

Copyright ©2019 Soylent Communications