Stanley Pons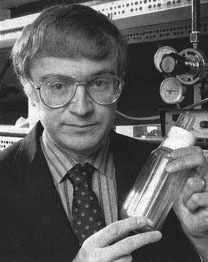 AKA Bobby Stanley Pons
Born: 8-Feb-1943
Birthplace: Valdese, NC

Gender: Male
Race or Ethnicity: White
Occupation: Physicist
Nationality: United States
Executive summary: Cold fusion crank
Stanley Pons is an electrochemist and former chair of the Department of Chemistry at the University of Utah. He is best known for his work with Martin Fleischmann, specifically their 1989 media announcement of the discovery of cold fusion. After other scientists failed to replicate Pons and Fleischman's results (especially an MIT team whose work was much publicized), the pair were ridiculed and their "discovery" was deemed a hoax.
After the fiasco the pair left the university to work in a lab in Provence, their research funded by Minoru Toyoda (of Toyota Motor Company wealth). Fleischman left the work in 1995, citing conflict over the direction of research. Pons left the project in 1996.
Significantly, a number of researchers have since had increasing success with replicating the team's original test results. Equally important, it has been found that palladium, one of the key ingredients in the experiement is tremendously difficult to work with, being highly subject to contamination and, therefore, extremely non-uniform in its compostion. Evidence has also come to light (via scientist Eugene Mallove) that the famed MIT team may have altered the graphs of their results in order to hide the "small amount of anomalous heat".
University: BS, Wake Forest University, Winston-Salem, NC (1965)
University: PhD, University of Southampton, England (1978)

Do you know something we don't?
Submit a correction or make a comment about this profile

Copyright ©2019 Soylent Communications