Edward Burne-Jones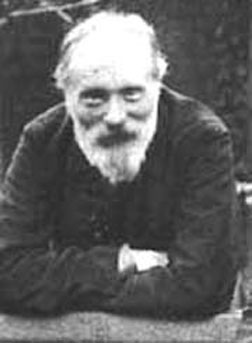 AKA Edward Coley Jones
Born: 28-Aug-1833
Birthplace: Birmingham, England
Died: 16-Jun-1898
Location of death: Kensington, Fulham, England
Cause of death: unspecified
Remains: Buried, St. Margaret Churchyard, Rottingdean, East Sussex, England

Gender: Male
Race or Ethnicity: White
Sexual orientation: Straight
Occupation: Painter
Nationality: England
Executive summary: British Pre-Raphaelite painter
English painter and designer, born on the 28th of August 1833 at Birmingham. His father was a Welsh descent, and the idealism of his nature and art has been attributed to this Celtic strain. An only son, he was educated at King Edward's school, Birmingham, and destined for the Church. He retained through life an interest in classical studies, but it was the mythology of the classics which fascinated him. He went into residence as a scholar at Exeter College, Oxford, in January 1853. On the same day William Morris entered the same college, having also the intention of taking orders. The two were thrown together, and grew close friends. Their similar tastes and enthusiasms were mutually stimulated. Burne-Jones resumed his early love of drawing and designing. With Morris he read Modern Painters and the Morte d'Arthur. He studied the Italian pictures in the University galleries, and Albrecht Dürer's engravings; but his keenest enthusiasm was kindled by the sight of two works by a living man, Dante Gabriel Rossetti. One of these was a woodcut in William Allingham's poems, "The Maids of Elfinmere"; the other was the watercolor "Dante drawing an Angel", then belonging to Mr. Coombe, of the Clarendon Press, and now in the University collection. Having found his true vocation, Burne-Jones, like his friend Morris, determined to relinquish his thoughts of the Church and to become an artist. Rossetti, although not yet seen by him, was his chosen master; and early in 1856 he had the happiness, in London, of meeting him. At Easter he left college without taking a degree. This was his own decision, not due (as often stated) to Rossetti's persuasion; but on settling in London, where Morris soon joined him at 17 Red Lion Square, he began to work under Rossetti's friendly instruction and encouraging guidance.
As Burne-Jones once said, he "found himself at five-and-twenty what he ought to have been at fifteen." He had had no regular training as a draughtsman, and lacked the confidence of science. But his extraordinary faculty of invention as a designer was already ripening; his mind, rich in knowledge of classical story and medieval romance, teemed with pictorial subjects; and he set himself to complete his equipment by resolute labor, witnessed by innumerable drawings. The works of this first period are all more or less tinged by the influence of Rossetti; but they are already differentiated from the elder master's style by their more facile though less intensely felt elaboration of imaginative detail. Many are pen-and-ink drawings on vellum, exquisitely finished, of which the "Waxen Image" is one of the earliest and best examples; it is dated 1856. Although subject, medium and manner derive from Rossetti's inspiration, it is not the hand of a pupil merely, but of a potential master. This was recognized by Rossetti himself, who before long avowed that he had nothing more to teach him. Burne-Jones's first sketch in oils dates from this same year, 1856; and during 1857 he made for Bradfield College the first of what was to be an immense series of cartoons for stained glass. In 1858 he decorated a cabinet with the "Prioress's Tale" from Chaucer, his first direct illustration of the work of a poet whom he especially loved and who inspired him with endless subjects. Thus early, therefore, we see the artist busy in all the various fields in which he was to labor.
In the autumn of 1857 Burne-Jones joined in Rossetti's ill-fated scheme to decorate the walls of the Oxford Union. None of the painters had mastered the technique of fresco, and their pictures had begun to peel from the walls before they were completed. In 1859 Burne-Jones made his first journey to Italy. He saw Florence, Pisa, Siena, Venice and other places, and appears to have found the gentle and romantic Sienese more attractive than any other school. Rossetti's influence still persisted; and its impress is visible, more strongly perhaps than ever before, in the two water-colors "Sidonia von Bork" and "Clara von Bork", painted in 1860. These little masterpieces have a directness of execution rare with the artist. In powerful characterization, combined with a decorative motive, they rival Rossetti at his best. In June of this year Burne-Jones was married to Georgiana Macdonald, two of whose sisters were the wives of Sir E. Poynter and Mr. J. L. Kipling, and they settled in Bloomsbury. Five years later he moved to Kensington Square, and shortly afterwards to the Grange, Fulham, an old house with a garden, where he resided until his death. In 1862 the artist and his wife accompanied John Ruskin to Italy, visiting Milan and Venice.
In 1864 he was elected an associate of the Society of Painters in Water-Colors, and exhibited, among other works, "The Merciful Knight", the first picture which fully revealed his ripened personality as an artist. The next six years saw a series of fine watercolors at the same gallery; but in 1870, owing to a misunderstanding, Burne-Jones resigned his membership of the society. He was re-elected in 1886. During the next seven years, 1870-77, only two works of the painter's were exhibited. These were two watercolors, shown at the Dudley Gallery in 1873, one of them being the beautiful "Love among the Ruins", destroyed twenty years later by a cleaner who supposed it to be an oil painting, but afterwards reproduced in oils by the painter. This silent period was, however, one of unremitting production. Hitherto Burne-Jones had worked almost entirely in watercolors. He now began a number of large pictures in oils, working at them in turn, and having always several on hand. The "Briar Rose" series, "Laus Veneris", the "Golden Stairs", the "Pygmalion" series, and "The Mirror of Venus" are among the works planned and completed, or carried far towards completion, during these years. At last, in May 1877, the day of recognition came, with the opening of the first exhibition of the Grosvenor Gallery, when the "Days of Creation", the "Beguiling of Merlin", and the "Mirror of Venus" were all shown. Burne-Jones followed up the signal success of these pictures with "Laus Veneris", the "Chant d'Amour", "Pan and Psyche", and other works, exhibited in 1878. Most of these pictures are painted in gay and brilliant colors. A change is noticeable next year, 1879, in the "Annunciation" and in the four pictures called "Pygmalion and the Image"; the former of these, one of the simplest and most perfect of the artist's works, is subdued and sober; in the latter a scheme of soft and delicate tints was attempted, not with entire success. A similar temperance of colors marks the "Golden Stairs", first exhibited in 1880. In 1884, following the almost sombre "Wheel of Fortune" of the preceding year, appeared "King Cophetua and the Beggar Maid", in which Burne-Jones once more indulged his love of gorgeous color, refined by the period of self-restraint. This masterpiece is now in the National collection. He next turned to two important sets of pictures, "The Briar Rose" and "The Story of Perseus", though these were not completed for some years to come. In 1886, having been elected A.R.A. the previous year, he exhibited (for the only time) at the Royal Academy "The Depths of the Sea", a mermaid carrying down with her a youth whom she has unconsciously drowned in the impetuosity of her love. This picture adds to the habitual haunting charm a tragic irony of conception and a felicity of execution which give it a place apart among Burne-Jones's works. He resigned his Associateship in 1893. One of the "Perseus" series was exhibited in 1887, two more in 1888, with "The Brazen Tower", inspired by the same legend. In 1890 the four pictures of "The Briar Rose" were exhibited by themselves, and won the widest admiration. The huge tempera picture, "The Star of Bethlehem", painted for the corporation of Birmingham, was exhibited in 1891. A long illness for some time checked the painter's activity, which, when resumed, was much occupied with decorative schemes. An exhibition of his work was held at the New Gallery in the winter of 1892-93. To this period belong several of his comparatively few portraits. In 1894 Burne-Jones was made a baronet. Ill-health again interrupted the progress of his works, chief among which was the vast "Arthur in Avalon." In 1898 he had an attack of influenza, and had apparently recovered, when he was again taken suddenly ill, and died on the 17th of June. In the following winter a second exhibition of his works was held at the New Gallery, and an exhibition of his drawings (including some of the charmingly humorous sketches made for children) at the Burlington Fine Arts Club.
Burne-Jones's influence has been exercised far less in painting than in the wide field of decorative design. Here it has been enormous. His first designs for stained glass, 1857-61, were made for Messrs. Powell, but after 1861 he worked exclusively for Morris & Co. Windows executed from his cartoons are to be found all over England; others exist in churches abroad. For the American Church in Rome he designed a number of mosaics. Reliefs in metal, tiles, gesso-work, decorations for pianos and organs, and cartoons for tapestry represent his manifold activity. In all works, however, which were only designed and not carried out by him, a decided loss of delicacy is to be noted. The coloring of the tapestries (of which the "Adoration of the Magi" at Exeter College is the best known) is more brilliant than successful. The range and fertility of Burne-Jones as a decorative inventor can be perhaps most conveniently studied in the sketchbook, 1885-95, which he bequeathed to the British Museum. The artist's influence on book illustration must also be recorded. In early years he made a few drawings on wood for Dalziel's Bible and for Good Words; but his later work for the Kelmscott Press, founded by Morris in 1891, is that by which he is best remembered. Besides several illustrations to other Kelmscott books, he made eighty-seven designs for the Chaucer of 1897.
Burne-Jones's aim in art is best given in some of his own words, written to a friend: "I mean by a picture a beautiful, romantic dream of something that never was, never will be -- in a light better than any light that ever shone -- in a land no one can define or remember, only desire -- and the forms divinely beautiful -- and then I wake up, with the waking of Brynhild." No artist was ever more true to his aim. Ideals resolutely pursued are apt to provoke the resentment of the world, and Burne-Jones encountered, endured and conquered an extraordinary amount of angry criticism. Insofar as this was directed against the lack of realism in his pictures, it was beside the point. The earth, the sky, the rocks, the trees, the men and women of Burne-Jones are not those of this world; but they are themselves a world, consistent with itself, and having therefore its own reality. Charged with the beauty and with the strangeness of dreams, it has nothing of a dream's incoherence. Yet it is a dreamer always whose nature penetrates these works, a nature out of sympathy with struggle and strenuous action. Burne-Jones's men and women are dreamers too. It was this which, more than anything else, estranged him from the age into which he was born. But he had an inbred "revolt from fact" which would perhaps have estranged him from the actualities of any age. That criticism seems to be more justified which has found in him a lack of such victorious energy and mastery over his materials as would have enabled him to carry out his conceptions in their original intensity. Representing the same kind of tendency as distinguished his French contemporary, Puvis de Chavannes, he was far less in the main current of art, and his position suffers accordingly. Often compared with Botticelli, he had nothing of the fire and vehemence of the Florentine. Yet, if aloof from strenuous action, Burne-Jones was singularly strenuous in production. His industry was inexhaustible, and needed to be, if it was to keep pace with the constant pressure of his ideas. Invention, a very rare excellence, was his preeminent gift. Whatever faults his paintings may have, they have always the fundamental virtue of design; they are always pictures. His fame might rest on his purely decorative work. But his designs were informed with a mind of romantic temper, apt in the discovery of beautiful subjects, and impassioned with a delight in pure and variegated color. These splendid gifts were directed in a critical and fortunate moment by the genius of Rossetti. Hence a career which shows little waste or misdirection of power, and, granted the aim proposed, a rare level of real success.
Father: Edward
Mother: Elizabeth (died shortly after his birth)
Wife: Georgina Macdonald (m. 1860)
Son: Sir Philip Burne-Jones (painter, b. 1861)
Daughter: Margaret (b. 1866)

High School: King Edward's School, Birmingham
University: Exeter College, Oxford University (dropped out)

Do you know something we don't?
Submit a correction or make a comment about this profile

Copyright ©2019 Soylent Communications