Eric S. Raymond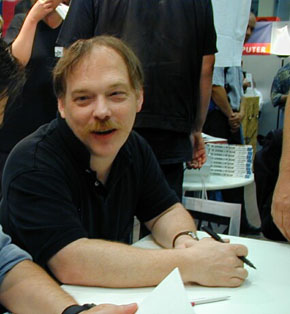 AKA Eric Steven Raymond
Born: 4-Dec-1957
Birthplace: Boston, MA

Gender: Male
Race or Ethnicity: White
Sexual orientation: Straight
Occupation: Computer Programmer, Lexicographer
Nationality: United States
Executive summary: The New Hacker's Dictionary
Eric Raymond is a computer programmer, and a loud and avowed libertarian. He was quoted as saying Linux, the open-source operating system, couldn't be much good since it was "written by a mob". Then he tried it, loved it, and re-thought his assumptions about open source software (OSS). Since then, Raymond has become famous for his gospel-like proselytizing in favor of OSS. His book, The Cathedral and the Bazaar, is credited with convincing Netscape executives to release their browser code online in 1998. Then again, Netscape didn't survive long after that, yet they were already being squished by Microsoft's antitrust tactics when they released the code.
In Raymond's lexicon, proprietary software is the "cathedral" approach, where customers receive whatever is offered, take it or leave it. Open source software, by contrast, is the bazaar -- a wild marketplace where everyone can grab the software they want, adapt it to their specific needs, debug and re-jigger everything at will, and then anyone else can grab the new and improved, debugged and re-jiggered software.
Critics say Raymond is more a publicity hound than an actual participant in OSS programming, and his own OSS contributions have been sparse. He wrote an alternative kernel configuration system for Linux which was rejected, apparently not up to Linus Torvalds's technical snuff.
Raymond is also the keeper of the "Jargon File", a huge and constantly growing database of lingo for geeks, hackers, and related high-tech subcultures. The Jargon File was started at Stanford in 1975, but contains entries dating back to the 1960s. A book version, The Hacker's Dictionary, was edited by Guy Steele and published in 1983. A new compilation, called The New Hacker's Dictionary, has been published since 1991, edited by Raymond.
Raymond, of course, uses "hackers" in its jargon sense, not like the mainstream media, where hackers are usually nefarious programmers writing malicious, destructive, or simply annoying code, worms, or viruses, or breaking into and vandalize websites, etc. In techie slang, a hacker is an enthusiast with expertise and a playful spirit, while the bad guys the media calls "hackers" are called "crackers". According to the Jargon File, this more neutral meaning may date back as far as the 1950s, originally used to describe ham radio enthusiasts and other amateur electronics buffs.
Raymond's father was one of the first programmers at Sperry-Univac.
Wife: Catherine C. Olanich ("Cathy")

FILMOGRAPHY AS ACTOR
Revolution OS (15-Feb-2002) · Himself

Official Website:
http://www.catb.org/~esr/
Do you know something we don't?
Submit a correction or make a comment about this profile

Copyright ©2019 Soylent Communications