Vlad the Impaler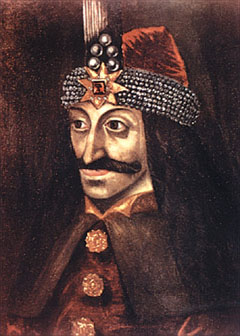 AKA Vlad III Dracula
Born: Dec-1431
Birthplace: Sighisoara, Transylvania
Died: Dec-1476
Location of death: Bucharest
Cause of death: War
Remains: Buried, Snagov, near Bucharest

Gender: Male
Religion: Roman Catholic
Race or Ethnicity: White
Sexual orientation: Straight
Occupation: Royalty
Nationality: Romania
Executive summary: Dracula, rather fancied impaling folk
Bram Stoker named his famous novel Dracula after this friendly prince, though it is doubtful he knew much about him, and others suggest it is actually based on the Bloody Lady, Elizabeth BŠthory.
On St. Bartholomew's Day, 1459, he impaled 30,000 merchants and officials from Brasov for alleged corruption. Afterwards he sat down for a picnic amongst the corpses. Their bodies were left to rot outside the city walls as a reminder of what would happen to any who disobeyed him. Later a famous woodcut commemorating the event was made.
In 1460, 10,000 persons were impaled in the Transylvanian city of Sibiu. In 1462, Mehmed the Conqueror, during his campaign against Wallachia, was greeted by the sight of 20,000 impaled Turkish prisoners of war outside of Dracula's capital of T'rgoviste. Thoroughly sickened and unable to continue, he delegated command to one of his subordinates and returned to Constantinople.
Father: Vlad II Dracul
Mother: (Moldavian princess, daughter of Prince Alexandru cel Bun)
Brother: Mircea (d. 1447, buried alive)
Brother: Vlad IV the Monk
Brother: Radu the Handsome
Sister: Alexandra
Wife: (Romanian nobility, d. 1462, suicide)
Son: Mihnea cel Rau (Prince of Wallachia)
Wife: Ilona Szilágyi (a relative of Matthias Corvinus)
Son: Vlad

Tortured (by his Turkish captors)
Converted to Catholicism 1475

Rotten Library Page:
Vlad the Impaler
Is the subject of books:
Vlad Dracula: The Dragon Prince, 2004, BY: Michael Augustyn
Vlad the Impaler: In Search of the Real Dracula, 2004, BY: M.J. Trow
Vampires From Vlad Drakul To the Vampire, 2001, BY: Anna Szigethy
Dracula, Prince of Many Faces: His Life and His Times, 1989, BY: Radu R. Florescu

Do you know something we don't?
Submit a correction or make a comment about this profile

Copyright ©2019 Soylent Communications