Camilo José Cela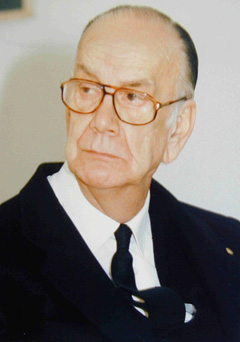 AKA Camilo José María Manuel Juan Ramón Francisco Javier de Jeróni Cela y Trulock
Born: 11-May-1916
Birthplace: Iria Flavia, Galicia, Spain
Died: 17-Jan-2002
Location of death: Madrid, Spain
Cause of death: Heart Failure
Remains: Buried, Cementerio de Iria Flavia, A Coruña, Galicia, Spain

Gender: Male
Religion: Roman Catholic
Race or Ethnicity: Hispanic
Sexual orientation: Straight
Occupation: Author
Nationality: Spain
Executive summary: Spanish novelist and Nobel laureate
Military service: Spanish Army (1938-39, Cpl.)
Spanish novelist Camilo José Cela won the Nobel Prize for Literature in 1989, recognition for a career spent scrutinizing Spanish life and infuriating Spanish bureaucrats and high society. His first novel, La Familia de Pascual Duarte (The Family of Pascual Duarte), was published in 1942 but soon banned for its excessive violence and its subject matter, the story of a lower-class Spaniard awaiting execution. As often happens when ideas are banned, the book became popular and increasingly influential as it circulated through unofficial channels, and it is now widely seen as having reinvigorated Spanish literature.
Cela's 1951 novel La Colmena (The Hive) was also banned in Spain, for its harsh portrayal of life in Madrid as some 200 characters deal with their fear, hunger, and loneliness in the years following that Spanish Civil War. During that conflict Cela served in Generalissimo Francisco Franco's rebel army, and ironically was assigned to censorship duties himself after being wounded at the front. After the war, though, he worked with an underground anti-fascist newspaper that opposed Franco's regime.
He was expelled from several schools as a boy, including one instance where he brawled with his teacher and bit his teacher on the ankle. He spent a year of his adolescence in a sanitarium recuperating from tuberculosis, an experience he fictionalized in his novel Pabellón de Reposo (Convalescence Wing). His college studies were interrupted by the war, and he returned to the University of Madrid at the war's conclusion, but never earned a degree. He once told a reporter that his tombstone should read, "Here lies someone who tried to screw his fellow man as little as possible".
In his public life he reveled in the shocking, including public feuds with other celebrities, and statements of sexism and homophobia long after such remarks came to be considered rude. He attended bullfights with Ernest Hemingway, divorced his wife of 46 years to marry his mistress, and he was estranged from his only son and never met his granddaughter.
By the time of his death in 2002, Cela's once-censored Family of Pascual Duarte was the second most-widely translated work in all of Spanish literature, behind only Miguel de Cervantes' Don Quixote. Among his dozens of other books, he also compiled Diccionario Secreto (The Secret Dictionary), a thesaurus of Spanish-language vulgarities, obscenities, and other expressions deemed inappropriate by the prudish.
Father: Don Camilo Cela Fernandez (Customs Bureau worker)
Mother: Doña Camila Enmanuela Trulock y Bertorini
Wife: María del Rosario Conde Picavea (m. 12-Mar-1944, div. 1990, one son)
Son: Camilo José Cela Conde (anthropologist, b. 17-Jan-1946)
Wife: Marina Castaño (journalist, m. 10-Mar-1991, until his death)

University: University of Madrid (attended, 1934-36 and 1940-43)

Prince of Asturias Prize in Literature 1987
Nobel Prize for Literature 1989
Cervantes Prize 1995
Life Peerage 1996 (as Marquis of Iria Flavia)
Real Academia Española
Spanish Royal Academy
Expelled from School
English Ancestry (paternal)
Italian Ancestry (maternal)
Spanish Ancestry (maternal)
Welsh Ancestry (paternal)
Risk Factors: Depression, Tuberculosis

FILMOGRAPHY AS ACTOR
The Beehive (11-Oct-1982)

Author of books:
La Familia de Pascual Duarte (The Family of Pascual Duarte) (1942, novel)
Pabellón de Reposo (Convalescence Wing a/k/a Rest Home) (1944, novel)
Nuevas Andanzas y Desventuras de Lazarillo de Tormes (New Fortunes and Misfortunes of Lazarillo de Tormes) (1944, novel)
Mesa Revuelta (1945, essays)
Esas Nubes que Pasan (1945, short stories)
Pisando la Dudosa luz del Dia (Treading the Dubious Light of Day) (1945, poetry)
Viaje a la Alcarría (Journey to the Alcarria) (1948, travelogue)
El Gallego y su Cuadrilla (1949, short stories)
La Colmena (1951, novel)
Del Miño al Bidasoa (1952, travelogue)
Mrs. Caldwell Habla con su Hijo (Mrs. Caldwell Speaks to Her Son) (1953, novel)
La Catira (1955, novel)
Judíos, Moros y Cristianos (1956, travelogue)
El Molino de Viento (The Windmill) (1956, short stories)
Nuevo Retablo de Don Cristobita (1957, short stories)
Cajón de Sastre (1957, essays)
Primer viaje Andaluz (1959, travelogue)
Cuatro Figuras del 98 (1959, essays)
Los Viejos Amigos (1960, short stories)
Gavilla de Fabulas sin Amor (1962, short stories)
Tobogán de Hambrientos (1962, novel)
El Solitario y los Sueños de Quesada (1963, short stories)
Garito de Hospicianos (1963, essays)
Toreo de Salón (1963, short stories)
Once Cuentos de Fútbol (1963, short stories)
Izas, Rabizas y Colipoterras (1964, novel)
Nuevas Escenas Matritenses (1965, short stories)
Viaje al Pirineo de Lerida (Journey to the Pyrenees of Lerida) (1965, travelogue)
Diccionario Secreto (The Secret Dictionary) (1968, reference work)
Al Servicio de Algo (1969, essays)
San Camilo, 1936 (1969, novel)
Oficio de Tinieblas 5 (1973, short stories)
Rol de Cornudos (1976, short stories)
Los Aueños Vanos, los Ángeles Curiosos (1979, essays)
Vuelta de Hoja (1981, essays)
Los Vasos Comunicantes (1981, essays)
El Juego de los Tres Madroños (1983, essays)
Mazurca Para dos Muertos (Mazurka for Two Dead Men) (1983, novel)
Nuevo Viaje a la Alcarría (1986, travelogue)
El Asno de Buridán (1986, essays)
Cristo versus Arizona (1988, novel)
Memorias, Entendimientos y Voluntades (Memorials, Judgments and Intentions) (1993, memoir)
La Cruz de San Andrés (St. Andrew's Cross) (1994, novel)
Madera de Boj (Boxwood) (1999, novel)

Do you know something we don't?
Submit a correction or make a comment about this profile

Copyright ©2019 Soylent Communications