Sidney Sheldon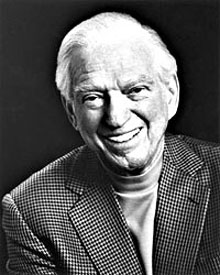 Born: 11-Feb-1917
Birthplace: Chicago, IL
Died: 30-Jan-2007
Location of death: Rancho Mirage, CA [1]
Cause of death: Pneumonia

Gender: Male
Race or Ethnicity: White
Sexual orientation: Straight
Occupation: Author, Screenwriter
Party Affiliation: Democratic
Nationality: United States
Executive summary: Annie Get Your Gun
Military service: US Army Air Force (WWII, 1941-43)
Sidney Sheldon was rarely accused of writing great literature, but many of his works were wildly popular. He first became a published author at the age of ten, when his father, unbeknownst to Sheldon, submitted one of the boy's poems to Wee Wisdom magazine. He received five dollars in payment. In his youth he submitted several stories to Collier's and The Saturday Evening Post, but received only rejection slips. In his late teens, with a bottle of whisky and dozens of sleeping pills, Sheldon said he was just minutes from suicide when his father walked in, and talked him out of killing himself.
Sheldon worked as an usher in a movie theater, where he unavoidably saw the same films day after day, and finally decided he could write better stories than he was seeing on the screen. He moved to California, and quickly found work as a reader -- the low-level worker who reads and evaluates scripts and script proposals that come in over the transom. After hours, he began writing his own scripts.
The first Sheldon film to reach theaters was a now-forgotten thriller called South of Panama, with no stars and almost no budget. Over the next five decades more than 25 Sheldon movies were made, some from his scripts, others from his novels. He wrote or co-wrote the delightful Fred Astaire-Judy Garland musical Easter Parade, the last and best pairing of Astaire and Ginger Rogers The Barkleys of Broadway, the sharpshooting musical Annie Get Your Gun with Betty Hutton, and the Dean Martin & Jerry Lewis comedy You're Never Too Young.
Without a co-writer, Sheldon wrote The Bachelor and the Bobby-Soxer, wherein high school girl Shirley Temple fell for 43-year-old Cary Grant. The screenplay won Sheldon an Oscar. He also wrote several plays that made it to Broadway, and won the Tony in 1959 for Redhead, starring Gwen Verdon and Richard Kiley. Television was also Sheldon's territory: ABC asked him to craft a situation comedy for Patty Duke, and it was he who devised the concept of "identical cousins" and wrote most of the series' episodes. He also created I Dream of Jeannie for Barbara Eden and Larry Hagman, and Hart to Hart for Robert Wagner and Stefanie Powers.
Sheldon's first novel, The Naked Face, was published in 1969. Like many of his books, it sold briskly and was soon made into a movie. For the rest of his life, Sheldon was among the world's most popular authors. About 300,000,000 copies of his books were sold, and the Guinness Book of World Records lists Sheldon as the world's most translated author. His books were published in, at last count, 51 languages in 108 nations.
His protagonists were usually women, and often had libido in mind. His books were called 'trashy' or 'melodramatic' by critics, but were always best-sellers. In The Other Side of Midnight a woman spends years plotting vengeance on a man who betrayed her; in If Tomorrow Comes a woman seeks revenge after being convicted of a crime she did not commit; in Rage of Angels a female attorney is falsely accused of being involved with organized crime. Sheldon also wrote page-turning thrillers like Windmills of the Gods and The Sky is Falling, and even tried science fiction with The Doomsday Conspiracy.
---
[1] Eisenhower Medical Center, Rancho Mirage, CA.

Wife: Jorja Curtright (interior designer, b. 14-Aug-1923, m. 1951, d. 11-May-1985, one child)
Daughter: Mary Sheldon (author, Wish upon a Star)
Wife: Alexandra Kostoff (advertising executive, m. 1989, until his death)


University: Northwestern University (dropped out)


Metro-Goldwyn-Mayer
Democratic Congressional Campaign Committee
Democratic Senatorial Campaign Committee
Friends of Hillary
Gore 2000
John Kerry for President
Oscar for Best Screenplay 1948 for The Bachelor and the Bobby-Soxer
Tony 1959 for Redhead (co-author)
Hollywood Walk of Fame 1988 at 6739 Hollywood Blvd.
Suicide Attempt
Risk Factors: Bipolar Disorder


FILMOGRAPHY AS DIRECTOR
The Buster Keaton Story (May-1957)
Dream Wife (19-Jun-1953)


Author of books:
The Naked Face (1970, novel)
The Other Side of Midnight (1974, novel)
A Stranger in the Mirror (1975, novel)
Bloodline (1977, novel)
Rage of Angels (1980, novel)
Master of the Game (1982, novel)
If Tomorrow Comes (1985, novel)
Windmills of the Gods (1987, novel)
The Sands of Time (1988, novel)
Memories of Midnight (1990, novel)
The Doomsday Conspiracy (1991, novel)
Nothing Lasts Forever (1994, novel)
Morning, Noon & Night (1995, novel)
The Best Laid Plans (1997, novel)
Tell Me Your Dreams (1998, novel)
The Sky is Falling (2000, novel)
The Other Side of Me (2005, memoir)





Requires Flash 7+ and Javascript.



Do you know something we don't?
Submit a correction or make a comment about this profile






Copyright ©2019 Soylent Communications