Margaret O'Brien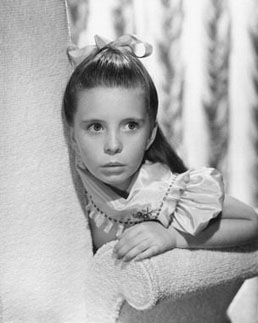 AKA Angela Maxine O'Brien
Born: 15-Jan-1937
Birthplace: San Diego, CA

Gender: Female
Religion: Roman Catholic
Race or Ethnicity: White
Sexual orientation: Straight
Occupation: Actor
Nationality: United States
Executive summary: Meet Me in St. Louis
Margaret O'Brien's father was a Irish-American circus performer who died before she was born; her mother was a famous flamenco dancer who had, years earlier, taught a few dance steps to a very young Rita Hayworth. O'Brien's mother had enough show-business savvy to recognize her daughter's talent, and young Margaret was working as a model by the time she was three years old. At four, she had a tiny, uncredited role in the Busby Berkeley's Babes on Broadway.
In her second film, Journey for Margaret, O'Brien played a frightened child orphaned by World War II. In her Oscar-winning role, O'Brien played Tootie, Judy Garland's kid sister in the classic Meet Me in St. Louis. When she won the award, O'Brien was eight years old. Her mother had written a short acceptance speech, and told her to walk, not run to the stage if she won, but O'Brien misplaced the speech and ran to the podium shrieking like, well, an 8-year-old child. She has said that what she remembers most about winning the Oscar is meeting the evening's master of ceremonies, Bob Hope.
Despite her youth, O'Brien was a serious actress, never a song-and-dance girl like Shirley Temple, but instead played believable girls of her time. Unlike many child stars, O'Brien was never in trouble in her teens or later, for which she credits her level-headed parents, who crafted her trust fund so she had no access to most of her earnings until her 40th birthday.
She chaffs at the oft-repeated myth that Meet Me director Vincente Minnelli induced her to cry for the camera by telling her that her dog had died. The truth is less outrageous: She could always cry on cue. But more to the point, O'Brien remembers Minnelli as far too kind to attempt such a cruel trick.
Also contrary to popular myth, O'Brien's career did not end when she was unable to find work as an actress after her cute childhood years. The studios' attempts to transform her into a grown-up star failed, but O'Brien continued to work steadily on stage, on television, and occasionally in movies. Her last film was Sunset After Dark in 1996.
In the late 1970s, in addition to frequent appearances on television, she did publicity work for the Army recruiting office. In the 1980s and '90s, she worked for AIDS-related charities. O'Brien's Oscar was stolen by a maid, and missing for many years, but it was recovered when it was offered for sale at a Los Angeles flea market in 1996.
Father: Lawrence O'Brien (circus performer, d. 1936)
Mother: Gladys Flores (flamenco dancer)
Husband: Harold Allen, Jr. (artist, m. 1959, div. 1968)
Husband: Roy Thorsen (businessman, m. 8-Jun-1974, one daughter)
Daughter: Mara Tolene Thorsen (sociologist, b. 1977)

Oscar (Juvenile) 1945 for Meet Me in St. Louis
Hollywood Walk of Fame 6608 Hollywood Blvd. (motion pictures)
Hollywood Walk of Fame 1620 Vine St. (television)

FILMOGRAPHY AS ACTOR
Carol Channing: Larger Than Life (20-Jan-2012) · Herself
The Mystery of Natalie Wood (10-Feb-2004) · Herself
Off the Menu: The Last Days of Chasen's (Oct-1997) · Herself
Amy (20-Mar-1981)
Heller in Pink Tights (29-Feb-1960)
Glory (11-Jan-1956)
Her First Romance (4-May-1951)
The Secret Garden (30-Apr-1949) · Mary Lennox
Little Women (10-Mar-1949) · Beth
Big City (25-Mar-1948) · Midge
Tenth Avenue Angel (20-Feb-1948) · Flavia Mills
The Unfinished Dance (19-Sep-1947) · "Meg" Merlin
Three Wise Fools (26-Sep-1946)
Bad Bascomb (22-May-1946) · Emmy
Our Vines Have Tender Grapes (6-Sep-1945) · Selma Jacobson
Music for Millions (18-Dec-1944) · "Mike"
Meet Me in St. Louis (28-Nov-1944) · Tootie Smith
The Canterville Ghost (22-May-1944) · Lady Jessica de Canterville
Jane Eyre (7-Apr-1944) · Adele Varens
Lost Angel (23-Dec-1943) · Alpha
Madame Curie (15-Dec-1943) · Irene Curie
Thousands Cheer (13-Sep-1943)
Dr. Gillespie's Criminal Case (May-1943) · Margaret
Journey for Margaret (28-Oct-1942) · Margaret

Official Website:
http://www.missmargaretobrien.com/
Do you know something we don't?
Submit a correction or make a comment about this profile

Copyright ©2019 Soylent Communications