Muzio Clementi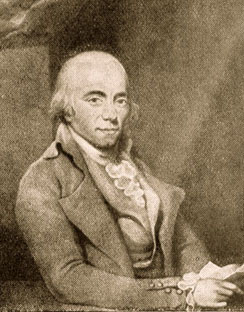 Born: 24-Jan-1752
Birthplace: Rome, Italy
Died: 10-Mar-1832
Location of death: Evesham, Worcestershire, England
Cause of death: unspecified
Remains: Buried, Westminster Abbey, London, England

Gender: Male
Religion: Roman Catholic
Race or Ethnicity: White
Sexual orientation: Straight
Occupation: Composer
Nationality: Italy
Executive summary: Gradus ad Parnassum
Italian pianist and composer, considered by some the "father of the piano", was born at Rome between 1750 and 1752. His father, a jeweller, encouraged his son's early musical talent. Buroni and Cordicelli were his first masters, and at the age of nine Clementi's theoretical and practical studies had advanced to such a degree that he was able to win the position of organist at a church. He continued his studies under Santarelli and Carpani, and at the age of fourteen wrote a mass which was performed in public. About 1766 Beckford, the author of Vathek, persuaded Clementi to follow him to England, where the young composer lived in retirement at one of the country seats of his protector in Dorsetshire until 1770. In that year he first appeared in London, where his success both as composer and pianist was rapid and brilliant. In 1777 he was for some time employed as conductor of the Italian opera, but he soon afterwards left London for Paris. Here also his concerts were crowded by enthusiastic audiences, and the same success accompanied Clementi on a tour about the year 1780 to southern Germany and Austria. At Vienna, which he visited between 1781 and 1782, he was received with high honor by the emperor Joseph II, in whose presence he met Mozart, and fought a kind of musical duel with him. His technical skill proved to be equal if not superior to that of his rival, who on the other hand infinitely surpassed him by the passionate beauty of his interpretation. It is worth noting that one of the finest of Clementi's sonatas, that in B flat, shows an exactly identical opening theme with Mozart's overture to the Flauto Magico.
In May 1782 Clementi returned to London, where for the next twelve years he continued his lucrative occupations of fashionable teacher and performer at the concerts of the aristocracy. He took shares in the pianoforte business of a firm which went bankrupt in 1800, He then established a pianoforte and music business of his own; under the name of Clementi & Co. Other members were added to the firm, including Collard and Davis, and the firm was ultimately taken over by Messrs. Collard alone. Among his pupils on the pianoforte during this period may be mentioned John Field, the composer of the celebrated Nocturnes. In his company Clementi paid, in 1804, a visit to Paris, Vienna, St. Petersburg, Berlin and other cities. While he was in Berlin, Giacomo Meyerbeer became one of his pupils. He also revisited his own country after an absence of more than thirty years. In 1810 Clementi returned to London, but refused to play again in public, devoting the remainder of his life to composition. Several symphonies belong to this time, and were played with much success at contemporary concerts, but none of them seem to have been published. His intellectual and musical faculties remained unimpaired until his death, on the 9th of March 1832, at Evesham, Worcester.
Of Clementi's playing in his youth, Moscheles wrote that it was "marked by a most beautiful legato, a supple touch in lively passages, and a most unfailing technique." Mozart may be said to have closed the old and Clementi to have founded the newer school of technique on the piano. Among Clementi's compositions the most remarkable are sixty sonatas for pianoforte, and the great collection of Études called Gradus ad Parnassum.
Father: Nicolò Clementi (silversmith)
Mother: Magdalena Kaiser
Wife: (married three times)

Do you know something we don't?
Submit a correction or make a comment about this profile

Copyright ©2019 Soylent Communications