James McGreevey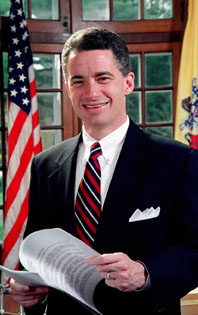 AKA James Edward McGreevey
Born: 6-Aug-1957
Birthplace: Jersey City, NJ

Gender: Male
Religion: Anglican/Episcopalian
Race or Ethnicity: White
Sexual orientation: Gay [1]
Occupation: Politician
Party Affiliation: Democratic
Nationality: United States
Executive summary: Governor of New Jersey, 2002-04
James McGreevey was a Democrat member of the New Jersey Legislature from 1990 to 1997, and Mayor of Woodbridge, NJ from 1992 to 2001. He was the Governor of New Jersey from 2002 to 2004. He was 47 years old, holding his wife's hand at a press conference, when he came out of the closet as a "gay American", admitted an extramarital gay affair, and resigned as Governor. He was replaced as Acting Governor by State Senate president Richard J. Codey, also a Democrat.
McGreevey's resignation was the culmination of a political scandal that began when he appointed Golan Cipel as his lead advisor for homeland security in February 2002 -- though Cipel couldn't get a federal security clearance because he is not an American (he is an Israeli citizen), and his security-related background is minimal and exaggerated. Cipel is a former Israeli naval officer who first met McGreevey several years earlier, when Cipel was working as a tour guide and McGreevey, then Mayor of Woodbridge, visited Israel. In his homeland security position, Cipel was paid $110,000 a year and supervised a staff of three.
When questions were raised about Cipel's fat paycheck and skinny credentials, McGreevey refused to explain what exactly Cipel's job would entail, and Cipel refused to talk to the press. When the Senate Judiciary Committee demanded that Cipel testify about his duties, McGreevey reassigned him to a job as "counselor to the governor". Cipel's new job had no specified duties at all, with the same pay and with the same staff. Press accounts began referring to Cipel as the Governor's "mysterious advisor", until Cipel resigned in August 2002.
In July 2004, Cipel's attorney left a message on the Governor's answering machine, informing him that Cipel would soon file a sexual harassment suit. Cipel maintains that he is heterosexual, and has accused McGreevey of making inappropriate sexual advances, including "several instances of nonconsensual sexual activity". McGreevey says their liaisons were a "consensual affair".
While governor, McGreevey signed a domestic partnership law granting inheritance and other rights to same-sex couples. He had refused to endorse a gay marriage performed in New Jersey because it was against the state law.
---
[1] "New Jersey Governor Quits, Comes Out as Gay", CNN, 13 August 2004: "At a point in every person's life, one has to look deeply into the mirror of one's soul and decide one's unique truth in the world, not as we may want to see it or hope to see it, but as it is... And so, my truth is that I am a gay American."

Father: Jack McGreevey (Marine drill instructor)
Mother: Veronica McGreevey (nurse)
Wife: Kari Schutz (div. 1995)
Daughter: Morag Veronica (b. 27-Oct-1992)
Wife: Dina Matos McGreevey (m. 7-Oct-2000, filed for divorce)
Daughter: Jacqueline Matos (b. 7-Dec-2001)
Boyfriend: Mark O'Donnell (dating as of 2005)
Slept with: Golan Cipel (aide, alleged by McGreevey)


High School: St. Joseph's High School, Metuchen, NJ (1974)
University: BA, Columbia University (1978)
Law School: JD, Georgetown University (1981)
University: MA, Harvard University (1982)


Governor of New Jersey (2002-04)
New Jersey State Senate 19th (1994-97)
Mayor of Woodbridge, NJ (1991)
New Jersey State Assembly 19th (1990-91)
Merck Lobbyist (1987-89)
American Red Cross
Jobs for America's Graduates Board of Directors (former)
Converted to Anglicanism formerly Catholic (29-Apr-2007)


FILMOGRAPHY AS ACTOR
Outrage (24-Apr-2009) · Himself


Author of books:
The Confession (2006)





Requires Flash 7+ and Javascript.



Do you know something we don't?
Submit a correction or make a comment about this profile






Copyright ©2019 Soylent Communications