Stone Phillips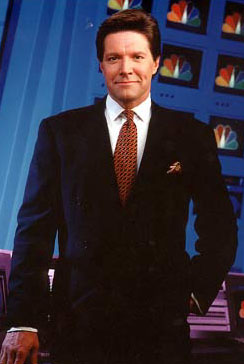 AKA Stone Stockton Phillips
Born: 2-Dec-1954
Birthplace: Texas City, TX

Gender: Male
Race or Ethnicity: White
Sexual orientation: Straight
Occupation: Journalist
Nationality: United States
Executive summary: Blow-dried news reader
Stone Phillips graduated from Yale in 1977 with a degree in philosophy. A year later he landed a reporter job at WXIA-TV in Atlanta. Then he traveled the globe for a while, reporting from various hotspots as a correspondent for ABC's World News Tonight. Then another six years at 20/20 before finally jumping networks for Dateline NBC.
9 February 1993 was not a happy day for the staff of Dateline NBC, but particularly for anchors Phillips and Pauley, who were compelled to spend three-and-a-half minutes reading a retraction negotiated by General Motors attorneys. NBC had agreed to an on-air public apology during primetime over the November 1992 story "Waiting to Explode?" in which GM trucks were subjected to side-impact crash testing which was rigged to cause the vehicles to catch fire. Among other things, the prepared statement revealed:
NBC's contractor did put incendiary devices under the trucks to ensure that there would be a fire if gasoline were released from the truck's gas tank. NBC personnel knew this before we aired the program, but the public was not informed because consultants at the scene told us the devices did not start the fire. We agree with GM that we should have told our viewers about these devices. We acknowledge the placing of the incendiary devices under the truck was a bad idea from start to finish.
The episode marked a low point for the news program's credibility, and by extension its anchors. But the viewing audience stuck around, this despite Phillips' evident physical abnormality. In 1996, Stone's co-anchor Jane Pauley admitted to People magazine: "He's so terribly attractive that it took some getting used to. And he's disabled by having the best hair God ever gave one of us. It troubles people."

Father: Victor Phillips (Monsanto chemical engineer)
Mother: Grace Phillips (schoolteacher)
Brother: Victor III (ecologist)
Sister: Minta (radiologist)
Wife: Debra
Son: Streeter Phillips (b. 1988)
Daughter: (b. Aug-1995, d. Aug-1995)


High School: Parkway West High School, Ballwin, MO (1973)
University: BA Philosophy, Yale University (1977)


Emmy three times
Wedding: Donald Trump and Melania Knauss (2005)


TELEVISION
Dateline NBC 1992-
20/20 Correspondent (1986-92)
Good Morning America
Today
Meet the Press





Requires Flash 7+ and Javascript.



Do you know something we don't?
Submit a correction or make a comment about this profile






Copyright ©2019 Soylent Communications