Joseph Kony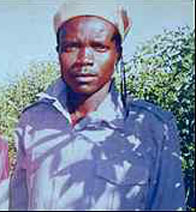 Born: 18-Sep-1964
Birthplace: Atyak, Uganda

Gender: Male
Religion: Cult
Race or Ethnicity: Black
Sexual orientation: Straight
Occupation: Criminal, Military, Religion
Nationality: Uganda
Executive summary: Lord's Resistance Army in Uganda
Joseph Kony considers himself quite a good Christian, and he wants Uganda to be a Christian nation. So in 1987 he formed a resistance group called the Lord's Resistance Army (LRA), and the LRA has been at civil war against the Ugandan government ever since. If the LRA wins, Kony has promised that Uganda will become a theocracy, with laws based on the Biblical Ten Commandments.
Kony's LRA has kidnapped an estimated 20,000 children for use as fighters or sex slaves. As part of their initiation, these children are often required to kill their own parents, so they'll have no homes to return to. (It's not clear which of the Ten Commandments Kony's strategy is based on.) Once kidnapped, children are used as pack mules, carrying LRA supplies until they are too weak to walk, at which time they're killed or simply left to die. Kidnapped boys also serve as targets and decoys, sent to the front lines -- unarmed -- whenever the Ugandan Army engages the LRA. Kidnapped girls that Kony or his senior commanders find attractive become their "wives" (Kony is reputed to have 60). Troublesome captives have their noses, lips, and/or ears cut off, and are then made to eat their own flesh.
Kony and the Ugandan government occasionally issue public statements suggesting that peace negotiations would be welcome, but this seems unlikely. When asked about peace talks recently, Ugandan President Yoweri Museveni said Kony and the LRA's senior commanders must die. "The wages of sin is death", he added. And that's Biblical, too.
As a youngster, Kony was a Catholic altar boy. Now he says he gets strategic advice from angels. There are eight of these angels, he says -- three American, two Sudanese, two Chinese, and one Congolese.
Kony is reported to enjoy wearing women's dresses. The Ugandan Army has offered an $11,000 reward for information leading to Kony's capture. That's right: eleven thousand dollars.
Do you know something we don't?
Submit a correction or make a comment about this profile

Copyright ©2019 Soylent Communications