Ang Lee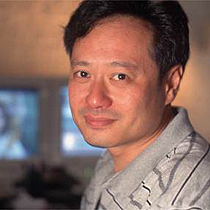 Born: 23-Oct-1954
Birthplace: Pingtung, Taiwan

Gender: Male
Race or Ethnicity: Asian
Sexual orientation: Straight
Occupation: Film Director
Nationality: Taiwan
Executive summary: Brokeback Mountain
Ang Lee's grandparents were executed after the Chinese Civil War in 1949 for the crime of being landowners. Lee's parents escaped to Taiwan, where he was born. He studied acting there, then came to American and studied theater and filmmaking. While he was a student at New York University, Lee served as assistant cameraman as Spike Lee (no relation) put together his thesis film Joe's Bed-Stuy Barbershop: We Cut Heads. Ang Lee's own thesis film, Fine Line, won both Best Film and Best Director at NYU's film festival.
After graduation, though, Lee found himself in "development hell" for six years, unable to find funding to make a movie until, remarkably, his scripts for Tui Shou and The Wedding Banquet won first and second prize in a Taiwanese screenwriting competition. Tui Shou, is a comedy with serious undertones about an aging Taiwanese Tai Chi master who comes to America to live with his son and American daughter-in-law. Barely released in America (as Pushing Hands), it was well-received in Taiwan. His second film, The Wedding Banquet, is a hilarious comedy about a gay Asian-American who feigns straightness when his Taiwanese parents visit. A hit on both sides of the Pacific Ocean, it was nominated for an Oscar as Best Foreign Language Film, as was Lee's third film: Eat Drink Man Woman, a comedy-drama about a master chef losing his sense of taste and his three daughters letting him know they have grown up.
To the surprise of many, Lee's next film had nothing to do with either his native Taiwan or his adopted America. Instead he filmed Jane Austen's very English period romance Sense and Sensibility, starring and scripted by Emma Thompson, and it won rave reviews and an Oscar for Thompson's script. After that Lee made the heartbreaking '70s suburban wife-swapping drama The Ice Storm with Kevin Kline and Sigourney Weaver, the Civil War western Ride with the Devil starring Tobey Maguire and Skeet Ulrich, and the big-budget medieval martial arts masterpiece Crouching Tiger Hidden Dragon with Chow Yun-Fat and Michelle Yeoh. The top grossing foreign-language film ever released in America, Crouching Tiger Hidden Dragon was nominated for ten Oscars and won four, including Best Foreign Language Film.
Adapting Hulk from the comics by Stan Lee (also no relation), Lee cast Eric Bana as the mild-mannered man who becomes a green brute when he loses his temper, and Nick Nolte as his father. Hulk was well-made, but it was a commercial flop. The audience that would have appreciated the movie's subtle depth had no interest in a giant green monster, while many fans of The Incredible Hulk comic books were bored when Lee spent screen time exploring the character's tortured internal traumas, instead of simply reveling in his monstrous temper tantrums.
Lee's next film was Brokeback Mountain, the first major studio film to offer a gay romance as its central story. Heath Ledger and Jake Gyllenhaal starred, audiences left in tears, and Lee became not just the first Asian but the first non-white person to win the Oscar as Best Director. In communist China, the state newspaper China Daily published an editorial proclaiming, "Ang Lee is the pride of Chinese people all over the world, and he is the glory of Chinese cinematic talent". But Brokeback Mountain was banned in China, and the parts of Lee's acceptance speech where he alluded to the movie's plot were edited out of the Chinese broadcast.
Father: Sheng Lee (school principal, d.)
Mother: Si-chuang Yang Lee (aka Lee Yangsi)
Brother: Kang Lee (film director-script writer)
Wife: Janice Lin ("Jane", molecular biologist, m. 1983, two sons)
Son: Haan Lee (b. 1984)
Son: Mason Lee (b. 1990)

High School: Tainan First Senior High School, Taiwan City, Taiwan (1971)
University: Drama, National Taiwan University of Arts, Ban Ciao City, Taiwan (1975)
University: BFA Theater, University of Illinois at Urbana-Champaign (1979)
University: MFA, New York University (1982)

Oscar for Best Director 2006 for Brokeback Mountain
Oscar for Best Director 2013 for Life of Pi
Golden Globe 2006 for Brokeback Mountain
Golden Globe 2001 for Crouching Tiger, Hidden Dragon

FILMOGRAPHY AS DIRECTOR
Billy Lynn's Long Halftime Walk (14-Oct-2016)
Life of Pi (28-Sep-2012)
Taking Woodstock (16-May-2009)
Lust, Caution (30-Aug-2007)
Brokeback Mountain (2-Sep-2005)
Hulk (17-Jun-2003)
Crouching Tiger, Hidden Dragon (16-May-2000)
Ride with the Devil (9-Sep-1999)
The Ice Storm (12-May-1997)
Sense and Sensibility (13-Dec-1995)
Eat Drink Man Woman (3-Aug-1994)
The Wedding Banquet (4-Aug-1993)
Pushing Hands (1992)

Do you know something we don't?
Submit a correction or make a comment about this profile

Copyright ©2019 Soylent Communications