Al Lewis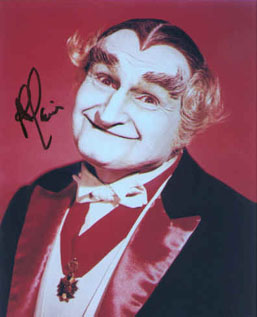 AKA Alexander Meister
Born: 30-Apr-1923 [1]
Birthplace: Wolcott, NY
Died: 3-Feb-2006
Location of death: New York City
Cause of death: unspecified

Gender: Male
Religion: Jewish
Race or Ethnicity: White
Sexual orientation: Straight
Occupation: Actor
Nationality: United States
Executive summary: Grandpa on The Munsters
Al Lewis says he worked as a circus dung-shoveler at age 13, and worked his way up to clown, unicyclist, and trapeze artist. He also worked as a waiter, a basketball scout, and a labor organizer in the 1930s and 40s. He claimed to have earned a Ph.D. in child psychology (Columbia University has no record of this), then decided to study drama, and had some success on stage and early TV dramas. He was Machine Gun Manny in the 1960 gangster melodrama, Pretty Boy Floyd.
In the sitcom Car 54, Where Are You?, Lewis played Officer Leo Schnauser, while Joe E. Ross and Fred Gwynne starred as comical cops. After Car 54 was parked, Gwynne and Lewis went to The Munsters, where Lewis played the vampire "Grandpa" to Gwynne's Frankensteinesque father figure. Both shows ran only two seasons, but both have played in omnipresent reruns ever since. Just about everyone -- even his wife -- called Lewis "Grandpa".
Lewis was a life-long radical, dating back to the Sacco and Vanzetti Defense Committee. He had been an activist against racism since the 1930s. Lewis hosted Al Lewis Live, a cantankerous radio talk show on WBAI in New York City, where he talked politics and had little patience for politicians. He was the Green Party's candidate for Governor in 1988, and a centerpiece of his campaign was the repeal of Rockefeller-era mandatory sentences for trivial marijuana crimes. Lewis sued to be listed on the ballot as Al "Grandpa" Lewis, but lost in court when the judge decided that would open the door to letting candidates use a "nickname, street name, stage name, title, or any other name created by the fertile imagination." He finished sixth, with about 1% of the vote, with George Pataki winning the election.
Lewis had at least three angioplasties (blood vessel repairs). In 2003, complications during surgery forced doctors to amputate his right leg below the knee, and all five toes of his left foot. He died in 2006.
---
[1] Lewis gave his year of birth as 1910 for his career. Some sources (including his son) put his birthdate in 1923, claiming that he overstated his age because of his work on The Munsters. In April 2006, Lewis' listing on the Social Security Death Index gave his date of birth as 30 April 1923.

Mother: (sweatshop worker, d.)
Wife: Marge Domowitz Lewis (m. 1-Nov-1956, div. 11-Oct-1977, 3 children)
Wife: Karen Ingenthron-Lewis (m. 1984)
Son: Ted Lewis


High School: Thomas Jefferson High School, Brooklyn, NY
University: BA Education, Oswego State Teachers College


Endorsement of McDonald's 1988
Angioplasty (third) 30-Jun-2003
Heart Bypass Operation 30-Jun-2003
Coma 2003
Risk Factors: Amputee, Smoking


TELEVISION
Car 54, Where Are You? Officer Leo Schnauser (1961-63)
The Munsters Grandpa Munster (1964-66)


FILMOGRAPHY AS ACTOR
Porn Star: The Legend of Ron Jeremy (30-Nov-2001) · Himself
South Beach Academy (24-Sep-1996) · Uncle Gene
Fast Money (1995)
Baseball (18-Sep-1994) · Himself
Car 54, Where Are You? (28-Jan-1994)
Married to the Mob (19-Aug-1988) · Uncle Joe Russo
The Munsters' Revenge (27-Feb-1981)
Used Cars (11-Jul-1980)
The Night Strangler (16-Jan-1973)
They Might Be Giants (9-Jun-1971) · Messenger
The Boatniks (1-Jul-1970)
They Shoot Horses, Don't They? (10-Dec-1969)
Munster, Go Home (15-Jun-1966)
The World of Henry Orient (19-Mar-1964) · Store Owner
Pretty Boy Floyd (Jan-1960)





Requires Flash 7+ and Javascript.



Do you know something we don't?
Submit a correction or make a comment about this profile






Copyright ©2019 Soylent Communications