Hugo Chavez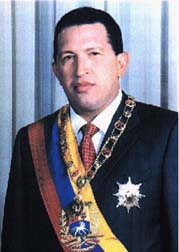 AKA Hugo Chávez Frías
Born: 28-Jul-1954
Birthplace: Sabaneta, Barinas, Venezuela
Died: 5-Mar-2013
Location of death: Caracas, Venezuela
Cause of death: Cancer - Colon

Gender: Male
Religion: Roman Catholic
Race or Ethnicity: Hispanic
Sexual orientation: Straight
Occupation: Head of State
Nationality: Venezuela
Executive summary: President of Venezuela, 1998-2013
Military service: Venezuelan Army
On 11 April 2002 Venezuelan president Hugo Chavez was overthrown in a coup d'etat, and immediately the United States granted its blessing to the new regime. The next day the U.S. State Department issued a press release claiming that the turn of events was undoubtedly beneficial for Venezuela's democracy:
We wish to express our solidarity with the Venezuelan people and look forward to working with all democratic forces in Venezuela to ensure the full exercise of democratic rights.

[...]

Yesterday's events in Venezuela resulted in a transitional government until new elections can be held. Though details are still unclear, undemocratic actions committed or encouraged by the Chavez administration provoked yesterday's crisis in Venezuela. [...] The results of these provocations are: Chavez resigned the presidency. Before resigning, he dismissed the Vice President and the Cabinet. A transition civilian government has promised early elections.

We have every expectation that this situation will be resolved peacefully and democratically by the Venezuelan people.
Actually it was Chavez's successor, Pedro Carmona Estanga, who dissolved the congress, disbanded the Supreme Court, closed the Attorney-General's and comptroller's offices, repealed 48 laws that shifted some of the country's wealth from the elite and oligarchs to the country's poor, and ripped up the constitution.
A few days later, National Security Adviser Condoleezza Rice grudgingly accepted Chavez's return to power but rebuked him on Meet the Press:
"I hope that Hugo Chavez takes the message that his people sent him that his own policies are not working for the Venezuelan people, that heís dealt with them in a high-handed fashion. And I hope what he said in his speech this morning, that he understands that this is a time for national reflection, that he recognizes itís time for him to reflect on how Venezuela got to where it is. He needs to respect constitutional processes. This is no time for a witch-hunt. This is time for national reconciliation in Venezuela. [...] We do hope that Chavez recognizes that the whole world is watching, and that he takes advantage of this opportunity to right his own ship, which has been moving frankly in the wrong direction for quite a long time."
On the 22 August 2005 broadcast of the 700 Club, televangelist and founder of the Christian Coalition Pat Robertson called for Chavez's assassination, citing him as "the launching pad for communist infiltration and Muslim extremism". In case there was any doubt, Robertson added, "I think that we really ought to go ahead and do it [assassination]."

Father: Hugo de los Reyes Chávez (teacher)
Mother: Elena Frías de Chávez (teacher)
Brother: Adán
Wife: (div.)
Wife: Marisabel Rodríguez de Chávez (div. 2004)
Daughter: Rosa Virginia
Daughter: María Gabriela
Son: Hugo Rafael
Daughter: Rosinés


High School: Daniel Florencio O'Leary School, Barinas, Venezuela (1970)
University: Venezuelan Academy of Military Sciences (1975)
University: Simón Bolívar University, Caracas, Venezuela


President of Venezuela (14-Apr-2002 to 5-Mar-2013)
President of Venezuela (Dec-1998 to 11-Apr-2002)
Pardoned for the failed 1992 coup against President Carlos Andres Perez (c. 1994)
Partido Socialista Unido de Venezuela
Audience with the Pope 2006
Ousted in a Coup Caracas (11-Apr-2002)
Surgery for cancer (11-Dec-2012)
Risk Factors: Colon Cancer


FILMOGRAPHY AS ACTOR
South of the Border (7-Sep-2009) · Himself
Crude (18-Jan-2009) · Himself
The War on Democracy (21-May-2007) · Himself
The Revolution Will Not Be Televised (7-Mar-2003) · Himself


Official Website:
http://www.presidencia.gob.ve/




Requires Flash 7+ and Javascript.



Do you know something we don't?
Submit a correction or make a comment about this profile






Copyright ©2019 Soylent Communications