Victoria Woodhull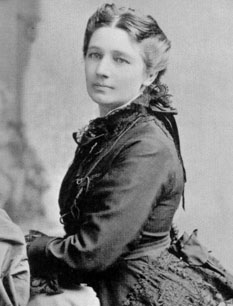 AKA Victoria California Claflin
Born: 23-Sep-1838
Birthplace: Homer, OH
Died: 9-Jun-1927
Location of death: Bredon's Norton, England
Cause of death: Heart Failure
Remains: Cremated (ashes scattered at sea)

Gender: Female
Religion: Presbyterian
Race or Ethnicity: White
Sexual orientation: Straight
Occupation: Activist
Party Affiliation: See Note [1]
Nationality: United States
Executive summary: First woman candidate for US President
According to her opponents, the parents of suffragette and general gadfly Virginia Woodhull ran a traveling medicine carnival, and Victoria and her sister, Tennessee or "Tennie", worked in the show as a clairvoyants. According to Woodhull herself, she had a relatively normal upbringing in Ohio, where her father worked at a mill and, as a sideline, her parents sold a vaguely medicinal elixir. After marrying and divorcing while young, Woodhull came to New York City with her sister, a mistress of millionaire Cornelius Vanderbilt, who fronted funds for the sisters to open a brokerage on Wall Street. It was the first brokerage to be run by women, opened in 14 May 1870, and it was an immediate success, as rich widows and the few other women of means flocked to the offices of Woodhull, Claflin, & Co.
With Woodhull's second husband, the sisters began publishing Woodhull and Claflin's Weekly in the same year. A collection of muckraking and rants, the newspaper argued for moral and legal equality of the genders, women's clothing reform, workers' rights, legalized prostitution, birth control, vegetarianism, the greenback cause (printing more currency, without gold backing), and "pantarchy", which would later be described as free love. Woodhull's political perspectives made her largely unwelcome beyond the political fringe, and she became even more controversial after her newspaper reported that Henry Ward Beecher, America's most famous minister, was involved in an extramarital affair with a married parishioner. Woodhull and her sister were promptly arrested, briefly jailed and prosecuted for obscenity. They were eventually acquitted, but their prosecution became a major scandal of the day, and launched the career of famed censor Anthony Comstock.
In 1872, she became the first woman to run for President, running on the Equal Rights Party ticket almost 50 years before American women had the right to vote. Frederick Douglass was the Party's choice to be her running mate, but he declined the nomination. She garnered little support from the suffragette movement, however, as Susan B. Anthony and Elizabeth Cady Stanton both endorsed Horace Greeley. After Cornelius's death in 1877, Woodhull and her sister moved to England, where they lived the rest of their lives. Woodhull continued writing and working for women's rights, later married a wealthy banker, and published the pro-eugenics magazine Humanitarian. Her second husband, Colonel James Blood, fought for the Union in the American Civil War, and was the first Mayor of Lawrence, Kansas. Her third husband, banker John Biddulph Martin, was President of the Royal Statistical Society at the time of his death in 1897. Her cousin, Caleb S. Woodhull (1792-1866), was Mayor of New York City from 1849-51. Her son, Byron Woodhull, was mentally retarded from a head injury received as a toddler when he was dropped by Woodhull's alcoholic first husband. Her sister, Tennessee Claflin, married Francis Cook, a wealthy London businessman who was later made baronet, making her Lady Cook.
---
[1] Equal Rights.

Father: Reuben Buckman Claflin ("Buck", b. 1796, d. 19-Nov-1885)
Mother: Anna Roxanna Hummel Claflin (b. circa 1804, m. 1825, d. 1890)
Sister: Margaret Ann Claflin (b. 2-Feb-1827)
Sister: Delia Claflin (d. infancy)
Sister: Mary Claflin (b. 6-Jan-1831)
Brother: Hebern Claflin (b. 27-Aug-1835, d. 1897)
Sister: Utica Claflin Booker (b. 1843, d. 1875)
Sister: Tennessee Celeste Claflin Bartels Cook ("Tennie", b. 26-Oct-1844, d. 18-Jan-1923)
Brother: Maldon Claflin (d. 1864)
Sister: Odessa Maldiva Claflin (d. infancy)
Sister: Hester Ann Claflin (d. infancy)
Husband: Canning Woodhull (physician, b. circa 1825, m. 20-Nov-1853, div. 1864, d. 1873)
Son: Byron Woodhull (retarded, b. 31-Dec-1854, d. 17-Jan-1932)
Daughter: Zula Maud Woodhull (b. 28-Apr-1861, d. 1941)
Husband: James Harvey Blood (soldier, b. 29-Dec-1833, m. 14-Jul-1866, div. 1876, d. 29-Dec-1885)
Husband: John Biddulph Martin (banker, b. 1841, m. 31-Oct-1883, d. 1897)


Humanitarian Publisher (1892-1910)
Woodhull and Claflin's Weekly Publisher (1870-76)
Woodhull, Claflin, & Co. Partner (1870-73)
National Women's Hall of Fame 2001
International Workingman's Association
National American Woman Suffrage Association
Women's Aerial League of England
Obscenity 1873 (acquitted)


Author of books:
Origin, Tendencies and Principles of Government (1871)
The Victoria Woodhull Reader (1874)
Stirpiculture, or the Scientific Propagation of the Human Race (1888)
Garden of Eden: Allegorical Meaning Revealed (1889)
The Human Body the Temple of God (1890, with Tennessee Claflin)
Humanitarian Money: The Unsolved Riddle (1892)
Free Lover: Sex, Marriage and Eugenics... (2005, collected speeches; posthumous)
Lady Eugenist (2005, collected speeches; posthumous)






Do you know something we don't?
Submit a correction or make a comment about this profile






Copyright ©2019 Soylent Communications